Tuesday, April 28, 2020
Dallas County Speedway readies for Season Opener
By: Trenton Berry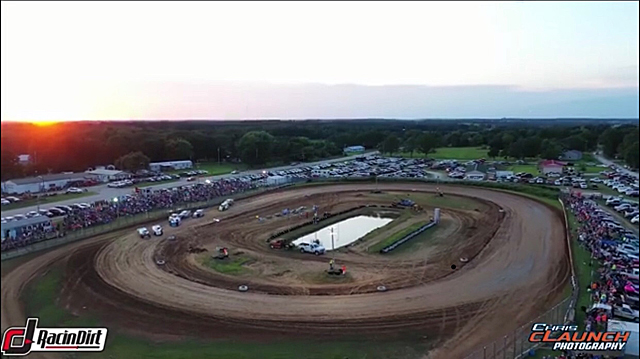 (Photo by: Chris Claunch)
Dallas County Speedway officials are pleased to announce an opening date for the 2020 season and plans for the facility moving forward. Throughout the entire COVID-19 pandemic, track owner Scotty Allen was in constant communication with elected officials, including the Dallas County Commission.
This morning, the commission reviewed and approved a proposed ten step process, submitted to the presiding commissioner, at their weekly meeting. The steps to reopen were specifically outlined and copied below for fans and supporters to view.
Installation of clear shields between customer and employee interaction places

6 ft social distance in grandstands between families

6 ft social distance in all concession, restroom, and entrance lines

Recommendation of facial masks for all in the facility

Sealed condiments at all concession areas

P lacement of hand sanitizer stations throughout the facility

Frequent sanitation of restrooms

10 ft spacing between cars in track parking

10 ft spacing between race haulers in pits

Drivers meeting via public address system
The following stipulations must be in affect and followed by all guests to ensure public safety and smooth operation on race night.
The plan is to hold an open practice session under the lights Friday night May 8, with the Pitts Homes and Realty Bullring Cup opener the following Friday, May 15.
"I'm so excited to be able to share this good news, finally," said Allen. "It's been a long few weeks with a lot of uncertainty. We went to a lot of work to put a responsible plan in place so we can operate. It will be different when we get back to racing, but we will be ready to welcome back all of the great racers and fans."
One of the most popular spots at the track, the backstretch parking area, known as the bullpen, will have vehicles parked with one spot in between all vehicles, as the transition back to racing takes place too.
"We'll all just have to work together to make sure we get through the next few weeks. I can't thank the county leaders enough. They have been exceptional to work with and we are committed to re-opening the right way!"
Dallas County Speedway would like to recognize and thank their 2020 season long marketing partners. We couldn't race without the help of these valued businesses and the leaders and employees behind them. If you get the opportunity to patronize any of the following businesses it would be much appreciated: Pitts Homes, Pitts Realty, White's Marine, Hermitage Lumber, Norris Loggging, Miller's Auto Body, Carson's Corner Napa, 54 Buildings & More, 54 RV Park, Midwest Sheet Metal, Wehrs Machine & Racing Products, Eagle Machine, ALPS Grocery, Brian Hodges Insurance, Scott's Construction, Big Surf Waterpark, D&D Welding & Fabrication, Robert Sawyer Insurance, Sharp Motors, Coffee Cup Cafe, Scotty's Signs & Wraps, Allen Autosports Race Cars, RacinDirt TV, Barker Progressive Insurance and Trading Post at Carson's Corner.