Monday, January 20, 2020
Stepan to Oversee Vado Speedway Park
By: Trenton Berry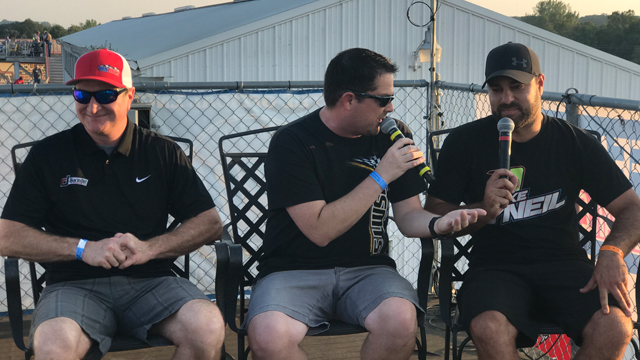 With the beginning of the 2020 regular season for the brand new, state-of-the-art, picturesque Vado Speedway Park in Vado, New Mexico just a few months away, track ownership is pleased to announce the hiring of Chris Stepan as the facility's new General Manager and Promoter.

"I couldn't be more excited about becoming the new General Manager of the Vado Speedway Park," said Stepan. "It's a beautiful facility with endless opportunities ahead. I have always loved my twice a year trips to New Mexico to work the Winter Meltdown and Fall Nationals over the past 15 years. I really like the people, the culture, the weather, the landscape, the food and just everything about the overall area. Plus the racing community is very strong and supportive as well."

Vado Speedway Park is the result of visionary Las Cruces businessman and owner of Mesilla Valley Transportation, Royal Jones. Jones was the longtime lease holder on the Southern New Mexico Speedway and El Paso Speedway Park. This sparkling new facility was carved out of land along Interstate 10, nearly half way between Las Cruces and El Paso.

Nearly three years in the making, Vado Speedway Park officially opened its doors in June of 2019 to much fanfare. They ran upwards of 20 regular season events before hosting the USRA Fall Nationals in late October and the Turkey Bowl in late November. Recently they started off the 2020 season by hosting the first ever visit by the World of Outlaws Late Model Series during the Battle at the Border just after the new year.

"10 years ago I tried to hire Chris to move here and run El Paso Speedway Park, but he wasn't ready to move across the country quite yet, so we just agreed that maybe we'd talk about it again in the future," commented Jones. "Well, the future is now. He has a vast knowledge of the sport, is well respected in the industry and is very good at what he does. Chris will be a great addition to the team and we are excited to have him on board!"

Stepan is busy tying up loose ends in Minnesota, before heading southwest to begin work on the season at hand. Completing the schedule and securing marketing partners for this season and beyond are at the top of the list. He plans to have the 2020 regular season schedule out very soon.

His FYE Motorsports events in the upper Midwest will continue to run as scheduled, with him overseeing them, on-site, just like it has always been. His marketing endeavors and work with race teams will see no change either.

"I look forward to working with the current employees, racers, crews, fans, sponsors and everyone else who's involved to bring big things to Vado Speedway Park into 2020 and beyond," Stepan stated in closing.

For More information on Vado Speedway Park visit their official online home at VadoSpeedwayPark.com.