Wednesday, January 8, 2020
Sanders Sweeps Battle at the Border in New Mexico
By: Jeremy Shields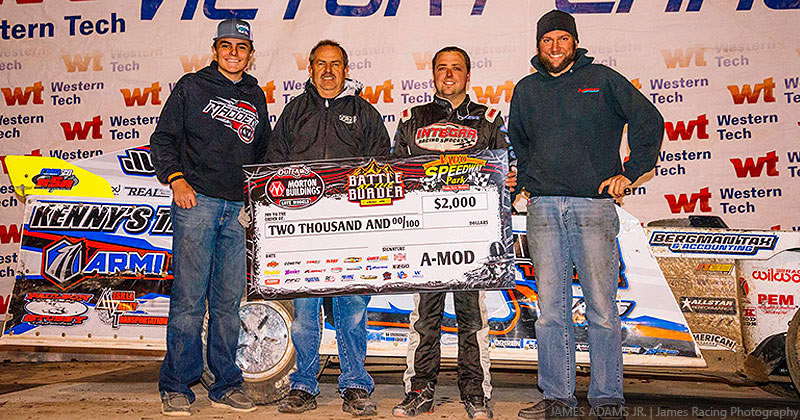 (Photo by: James Adams Jr)
HAPPY, Tex. (01/06/20) – Rodney Sanders completed a weekend sweep of the Rancho Milagro USRA Modifieds at Vado Speedway Park (Vado, N.M.) behind the wheel of his Wichita Tank Racing No. 20 Kenny's Tile/ ARMI Contractors/ MB Customs/ Hatfield Racing Engine Modified.
"Anytime you can get a win it's a good night, winning three nights in a row, that's a great way to start the year," said Sanders. "We had a good car all weekend. I'm looking forward to heading to Arizona this week, we had a lot of success there last year." I would like to thank everyone that helps our racing program. We've got a lot of great folks behind us, who make this all possible."
Friday night's inaugural Battle at the Border drew a field of 29 United States Racing Association (USRA) Modified entries. To start the night, Sanders passed five cars in his heat race to pick up the 8-lap victory. Earning the eighth-starting position for the A-Main, Rodney outdueled Fita Gallardo to capture his first win of the season and a $1,000 payday. Gallardo, Tyler Wolff, Nick Rivera, and Royal Jones complete the Top-5 finishers.
On Saturday evening, Rodney gained two spots in his heat race to place third. Starting the A-Main in tenth, Rodney tracked down polesitter Calvin Iverson early and went on to claim the $1,200 prize over Iverson, Mitch Keeter, Bumper Jones, and Fito Gallardo.
For the final round of the Battle at the Border on Sunday afternoon, Sanders secured his spot into the finale with an 8-lap heat race victory. Streaking to his third win of the season in as many nights, Rodney topped Fit Gallardo, Bumper Jones, Mitch Keeter, and Calvin Iverson at the line to secure the $2,000 finale.
For more results from the weekend's events, please visit www.VadoSpeedwayPark.com .
The upcoming weekend has the Texan geared up for the 14th Annual Keyser Manufacturing Wild West Shootout at FK Rod Ends Arizona Speedway (San Tan Valley, Ariz.) on January 11-19. More details on the six-race miniseries can be found at www.WildWestShootout.net.
Rodney Sanders would like to thank all of his sponsors including Wichita Tank Racing, ARMI Contractors, Swan Energy, Mesilla Valley Transportation, S&S Fishing and Rental, Kenny's Tile, MB Customs, Hatfield Race Engines, Hibner Logging, Bergman Tax and Accounting, Paulson Rock Products, Integra Shocks, Swift Springs, FK Rod Ends, CMD Race Shocks, Wehrs Machine, 87 Automotive, Keyser Manufacturing, Allstar Performance, Speedway Motors, Schoenfeld Headers, JE Pistons, Walker Performance Filtration, Rodney Sanders Racing, Day Motorsports, Real Wheels, Palmer Painting, Deatherage Opticians, Wilwood Brakes, PEM Rearends, Winning Edge Carburetors, McCartney Welding, Simpson Race Products, and MSRMafia.com Marketing Services.
For more information on Rodney Sanders, please visit www.RodneySandersRacing.net.