Tuesday, July 9, 2019
Meeker set to kick off Duvall's Mini-Tour
By: Bryce Hall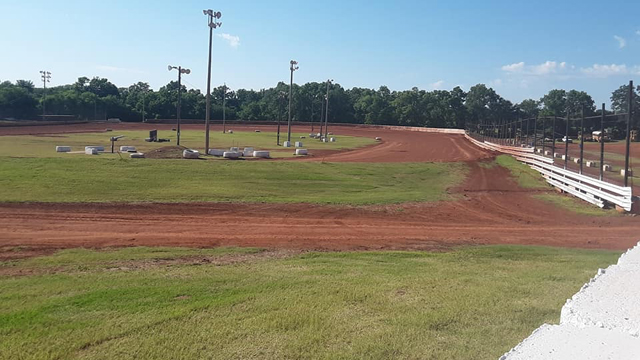 (Photo by: USRA Racing)
Cody Brewer and the staff at the Red Dirt Raceway are ready to welcome USRA Modifieds to Meeker, Oklahoma. Friday, July 19th's running of the Cowboy 100 Proof will be the first time Modifieds have competed on Red Dirt Raceway since Brewer re-opened the facility in 2017.
The highly anticipated event is the opening round of the Club 91 Funkadelic Dirt Track & Honky Tonk Extravaganza promoted by Joe Duvall, which travels to Salina Highbanks Speedway on Saturday, July 20th and Creek County Speedway on Sunday, July 21st. RacinDirt will have on demand video coverage of the first two nights of the swing, with LIVE coverage from Sunday's finale at Creek Coutny Speedway. Get your RacinDirt "Pit Pass" today so you won't miss any of the action.
The event will feature a unique format with sizeable heat races including 8-12 cars depending on car count, which are tentatively slated for 10 laps. From there the top 16 drivers in passing points lock into the A-Main with the top 8 being inverted while the remainder of the field will compete in B-Main(s) to set the rest of the 22-car starting grid for the 100 lap A-Main.
The 100 lap A-Main will be conducted accordingly. Once the green flag drops and a lap is completed yellow flag laps will be scored until lap 80. In the event there is a red flag between laps 40 and 60 the stoppage will serve as a fuel stop and an "open red" in which adjustments can be made but racers doing so will have to go to the rear on the restart. If there is no red flag during that time there will be a "competition red" at lap 60 to refuel.
The Cowboy 100 Proof along with the second and third rounds of the tour will be USRA National points races as well as Summit Racing Equipment Shootout Qualifier events. Red Dirt Raceway's event will pay $2,500 to the winner and $200 to start with a solid payback for the entire field. Non-Qualifiers will receive $100. Additionally drivers will pay no entry fees to compete in all three events.
Admission to the event is $20 for adults in general admission with high school students and younger being admitted for just $5. There is a tailgate area where spectators are permitted up to a 52-quart cooler and can enjoy the races for just $100. Pit passes are $35. Gates swing open at 6:00 p.m., the drivers meeting will take place at 7:00 p.m., and racing begins at 8:00 p.m. Support class action will include the Western Outlaw Pure Stock Series and Mini Mods.
Red Dirt Raceway is located halfway between Meeker, Oklahoma and Chandler, Oklahoma on State Highway 18. Red Dirt Raceway is just 35 miles east of downtown Oklahoma City. More information can be found at RedDirtRaceway.com or on Facebook at Red Dirt Raceway – Meeker, OK.