Tuesday, March 5, 2019
McKinney and Wheeler team up for King of America
By: Trenton Berry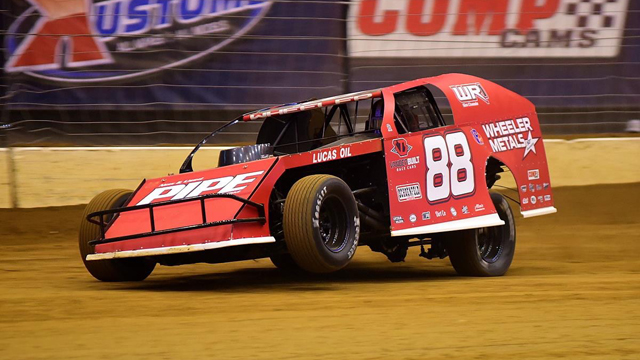 (Photo by: Todd Boyd)
With the King of America right around the corner another new driver has made his plans known to compete at Humboldt Speedway. Plainfield, Illinois standout Mike McKinney is looking forward to running the mega-event in Kansas, March 21-23.
McKinney, last year's runner up in both the UMP Summer Nationals and UMP National points, will be behind the wheel of Chad Wheeler's Vanderbuilt Modified. Wheeler is unable to attend, due to a previous commitment, so the seat opened up.
"I'm excited about it," said Wheeler. "Mike and I have similar backgrounds, but our styles of racing are totally different. I want to learn more about the style of Mod racing he does and I know he wants to see what our cars are like."
The deal for McKinney is to just show up and smash the gas. Wheeler's Crew Chief, Cody Hollis is preparing the car and overseeing the operation.
"Cody was equally as excited about this, which made it nice," Wheeler further elaborated. "He has gotten the car ready, and will haul it to the track and wrench on it all weekend. He has put in the effort to make this happen."
McKinney began racing at 16 years old in 2010. Three seasons later he got his first Modified and has been a fierce competitor in the division ever since. His 20 wins last season is a career high. It will be the first time he has ever ran the American Racer tires in an event too.
"I'm confident in my ability behind the wheel, but I'll have to get adjusted to several things being different," commented McKinney. "It will be important to make the most of the Wednesday night practice. Chad has such good equipment I know I don't have anything to worry about there."
For McKinney running with the USMTS is always something he has wanted to try and being able to make his USMTS debut at Humboldt Speedway made it doubly special. It has always been a dream of his to compete with the best drivers in the country and he is extremely appreciative of Chad Wheeler for making the opportunity possible.
"I know it's one of the top tracks in the country and the King of America is huge. I've watched them on RacinDirt.com in the past and it looks kind of similar to what we race on. The track isn't real big, it's slick and smooth. I've heard nothing but great things about it!"
The entire event will be streamed live here on RacinDirt for fans unable to attend in person. The weekend will also include the Battle at the Bullring for the B-Mods, which was postponed from earlier in the season. The B-Mods will be racing for an $8,500 payday, in what has become the most coveted B-Mod prize in the country.