Friday, February 15, 2019
Duvall planning three race throw down for July
By: Trenton Berry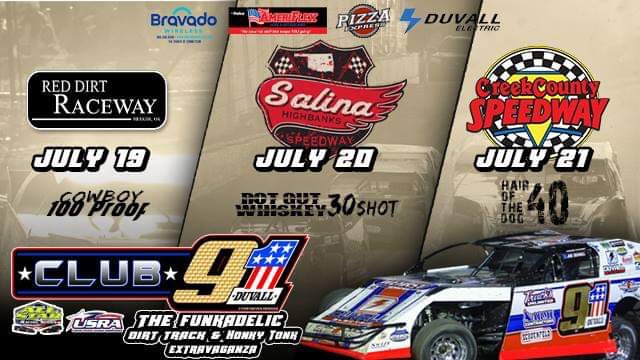 Recently, Claremore, Oklahoma's Joe Duvall put the finishing touches on a three race run he is promoting in July. Staying close to his sooner roots, Duvall is contesting them all in the state of Oklahoma. Dubbed the "Funkadelic Dirt Track & Honky Tonk Extravaganza" Duvall promises more than just a race.
Action is slated to begin Friday, July 19 at Red Dirt Raceway in Meeker, Oklahoma for the "Cowboy 100 Proof." This race is slated for 100 laps, with the final ten counting as green flag only. There will likely be a competition red at some point during the event too.
From there the action moves to the Salina Highbanks Speedway in Salina, Oklahoma for the "Rot Gut Whiskey 30" on Saturday, July 20. The conclusion to the weekend is at Creek County Speedway in Sapulpa, Oklahoma on Sunday, July 21 and is appropriately named the "Hair of the Dog 40."
These events follow up on a hugely successful USMTS show he promoted at Creek County in May of 2018, his first time ever moving to the other side of the fence.
"Where I'm at there's not just a whole lot of buzz for Modified racing, it seems like the competitors are so sporadic. I just want to try and give it a shot in the arm and get drivers and fans excited about it. I feel like I'm the one to do it."
All three of the July events will boast a winner's share of $2,000, with additional lap leader money available for the 100 lapper at Red Dirt Raceway. While there is good money on the line Duvall fashions these USRA events as more geared to the racer who works an outside job.
"The guys I want running this know what an alarm clock is," Duvall stated. "They also know about a time clock and everything that goes into a real job."