Friday, February 1, 2019
Harrison readies for Humboldt Speedway
By: Trenton Berry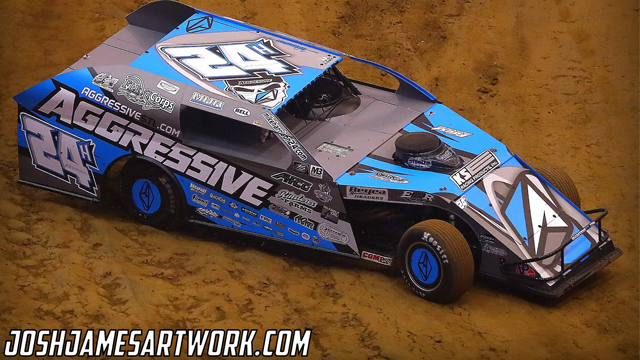 (Photo by: Josh James)
Humboldt Speedway will again begin the season with the running of the 5th Annual G-Style Transport Battle at the Bullring, highlighting several of the best B-Mod racers in the country. With each passing year however, the Modified portion of the show has grown to become very formidable. This year will be no exception. Recently, Highland, Illinois racer Mike Harrison made his intentions known. He plans to debut at the southeastern Kansas oval during the February 28 through March 2nd event.
Harrison, a seven time UMP Modified Champion and six time Summit Summer Nationals champion has never laid eyes on the track, but is looking forward to competing there at both March mega events.
"We're gonna just show up and race Thursday," commented Harrison. "If I go out Wednesday and test, I'm sure there's something I will want to tinker with and I don't want to get in my own head. I really want to give it our best shot, right out of the box and adjust from there, if we need to."
He is no slouch when it comes to big money events and the team knows the work it will require to be fast at Humboldt. This past year over Labor Day weekend, Harrison swept a four race weekend in Illinois with the American Modified Series. The total haul for their effort was $20,000, including $10,000 of that at Fairbury American Legion Speedway in one of the biggest UMP Modified events in the country.
Harrison also won the final night of the Summit Mod Mania at Tri-City Speedway and the Gateway Dirt Nationals at the Dome at America's Center. He eclipsed the 500 win mark, with 32 checkered flags in 2018, pushing his career total to 523 wins.
Among those wins are three with the USMTS, among five starts. He went to victory Lane at both Lake Ozark Speedway and Midway Speedway in Missouri and also a preliminary night score at 67 Raceway Park in Illinois.
There will be several changes Harrison will make to his car to run. The biggest will be the tires. UMP races on a few different Hoosier compounds and he will be on American Racer KK704 tires, for both the Battle at the Bullring and King of America. He will add a little weight in the front of the car, to compensate for his open engine and he will put a spoiler at the rear of the deck. He will also make some other body changes, including adjusting the front bumper and nose from its typical placement.
"I've only ran on those tires two or three times in my entire career, so it'll be a change for sure." Harrison further elaborated. "I'm really glad to run full shows each night during, the Battle at the Bullring so we can get several laps at different points in the night."
Harrison will be behind the wheel of the same Impressive Race Car he drove to the Gateway Nationals win in December, with nearly the same scheme on the car.
"I just want to compete and have fun," Harrison said of his expectations. "I don't get to travel a ton, due to work and the expense of it all, so we're looking forward to this one. It's good to try something different every once in a while. I've heard a lot of good things about the track, and the racers tell me how much fun the place is. We'll be ready to get after it here in a few weeks."
Practice for the 5th Annual G-Style Transport Battle at the Bullring will take place Wednesday, February 27, from 6-9 PM, with racing to follow the next three nights. Modifieds will run for $1,000 to win each night, with bonuses of $500 for two wins and $2,000 for a weekend sweep. The B-Mods will compete for $8,500 to win.
The entire event will be streamed LIVE on RacinDirt.com for those fans unable to attend.