Thursday, September 27, 2018
14th Annual Mod Mania LIVE Tonight!
By: Trenton Berry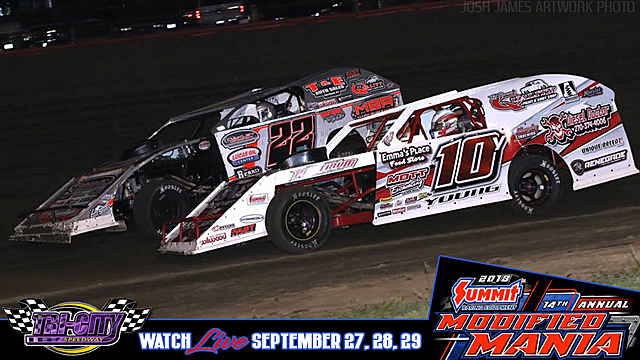 (Photo by: Josh James)
This evening one of the biggest Modified events in the country throws the green flag. The 14th Annual Summit Racing Equipment Modified Mania originates from Tri-City Speedway in Granite City, Illinois. Each night is an individual show, with an overall point champion crowned Saturday.
New for 2018 is a revamped format, where fans will witness more racing. Done is group qualifying time trials. In its place drivers will run a heat race, with the top 40 cars advancing to one of four qualifiers, to set the front eight rows for each night's feature.
Next, four b features will set the balance of the field, in positions 17 through 24. spots 25 and 26 will be awarded through provisionals.
Thursday's race pays $3,000 to win. $4,000 is on the line Friday and $5,000 goes to Saturday's winner.
Joining in will be Super Late Models, with $2,000, $2,500 and $3,000 for the winner each night. The Late Models will group qualify and heat race as normal.
If you can't make it to the track, we will have LIVE PPV COVERAGE of the entire event, with multiple cameras, announcers, FK Rod Ends Instant Replay and all the typical bells and whistles of a normal full scale production.
Last year Nick Hoffman was the overall Mod Mania Champion. He won the final two features, with six time UMP National Champion Mike Harrison grabbing the opening night win.