Sunday, September 2, 2018
Michael Altobelli, Jr wins MAM Feature at Potomac
By: Mike Donald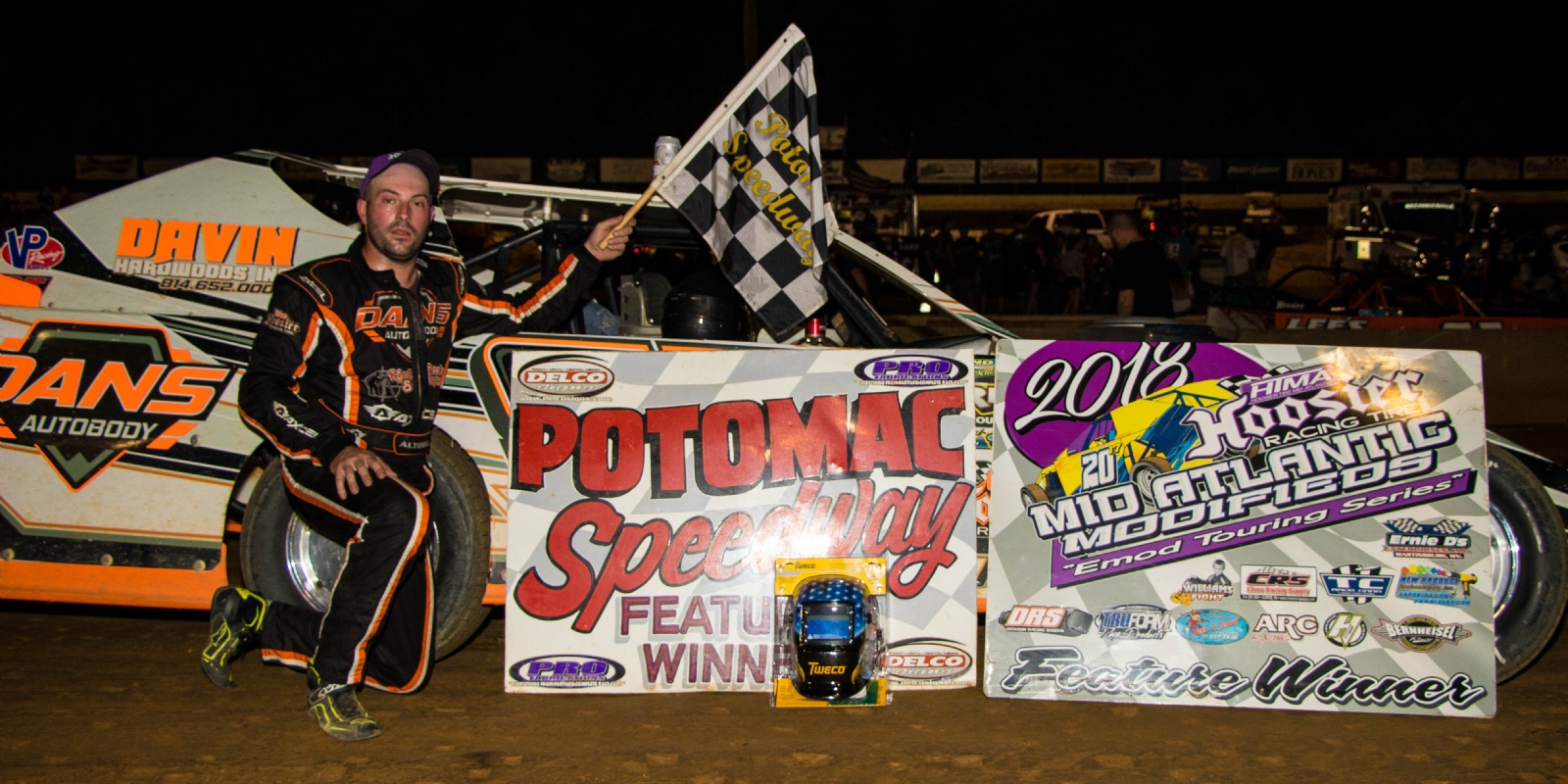 (Photo by: Jimmy Saffell)
(Mechanicsville, Maryland) - Saxton, Pennsylvania's Michael Altobelli, Jr. led flag-to-flag to claim victory in the first-ever Hoosier Tire Mid-Atlantic Modifieds Series race held at Potomac Speedway, Sunday. For Altobelli, this marked his eighth MAM win of the season, and ninth overall MAM victory in his career. "It has been an awesome year," Altobelli said in Victory Lane. "I hope things keep going the way it has," he added.
The victory allowed Altobelli to shave just two points from the nine-point advantage that current points leader, Rick Hulson, held on him prior to the event. But Altobelli was just happy to be in the event. Altobelli made the four-hour tow to Potomac Speedway in a hauler that he borrowed from his friend and long-time Late Model competitor, Rick Singleton. "My hauler blew a motor on the way home from the Hagerstown race last weekend," explained Altobelli. "With the long haul here and having to repair my hauler, I had to win tonight," Altobelli said with a laugh. His Potomac victory was worth $1,000.
Altobelli won his heat race earlier in the evening, and he started the 20-lap feature from the outside of the front row. Although Clement, Maryland's Mike Reynolds kept Altobelli in his sights for the majority of the event, Altobelli was not seriously challenged in his No. 95 machine. Reynolds finished second.
Hulson, of Glen Burnie, Maryland, finished third to maintain the points lead with three races remaining in the 2018 MAM season. Defending MAM champion, Brad Kling, of Mount Union, Pennsylvania, finished fourth. Sykesville, Maryland's Ray Kable rounded out the top five.
Powhatan, Virginia's Joey Polevoy, who won an unsanctioned event the night before at Virginia Motor Speedway, finished sixth. Manchester, Maryland's Justin Cullum took seventh. Hanover, Virginia's Lance Grady, who was making his first MAM start of the season, finished eighth. Severn, Maryland's Cody Oliver took ninth, and Sharpsburg, Maryland's Bryan Green finished 10th.
Reynolds and Kable won the other two heat races earlier in the evening. Twenty-two cars entered the event. The Mid-Atlantic Modifieds Series returns to action, Saturday, Sept. 8, at Winchester Speedway in Virginia.
Feature results (20 laps) – 1. Michael Altobelli, Jr., 2. Mike Reynolds, 3. Rick Hulson, 4. Brad Kling, 5. Ray Kable, 6. Joey Polevoy, 7. Justin Cullum, 8. Lance Grady, Jr., 9. Cody Oliver, 10. Bryan Green, 11. Haley Kaiser, 12. Gary Moreland, Sr., 13. Mike Corbin, 14. Chase Butler, 15. Chris Arnold, 16. Keith Reed, 17. Jeff McCauley, 18. Bret Hamilton, 19. George Gutridge, 20. James Sparks, 21. Kyle Lloyd DNS: Frank DiBella
Heat 1 results (8 laps) - 1. Michael Altobelli, Jr., 2. Brad Kling, 3. Mike Corbin, 4. Lance Grady, Jr., 5. Chris Arnold, 6. Justin Cullum, 7. Bryan Green, 8. Haley Kaiser
Heat 2 results (8 laps) – 1. Mike Reynolds, 2. Chase Butler, 3. Joey Polevoy, 4. Bret Hamilton, 5. Kyle Lloyd, 6. Frank DiBella, 7. George Gutridge
Heat 3 results (8 laps) – 1. Ray Kable, 2. Rick Hulson, 3. Cody Oliver, 4. James Sparks, 5. Keith Reed, 6. Jeff McCauley, 7. Gary Moreland, Sr.