Tuesday, August 7, 2018
Rick Hulson Victorious at Hagerstown
By: Mike Donald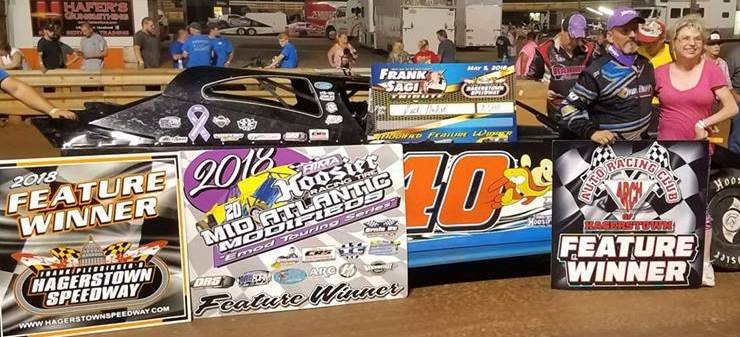 (Photo by: Jimmy Saffell)
Rick Hulson's days as a bridesmaid are finished. After seven, second-place finishes in the 2018 Hoosier Tire Mid-Atlantic Modifieds Series season, Hulson finally punched his ticket to Victory Lane, Sunday, in the Cool Weld Classic Frank Sagi Tribute at Hagerstown Speedway.
"Finally," Hulson exclaimed as he exited his No. 40 Rocket chassis E-Mod on the front stretch following the event. "This feels real good," he said. Hulson pocketed $1,000 for his efforts by leading every lap of the 20-lap race.
Hulson, of Glen Burnie, Maryland, paced the impressive 27-car field on the Maryland half-mile oval. Mount Union, Pennsylvania's Brad Kling ran second for the entire event. While Kling was able to keep Hulson in his sights, he was never able to mount a serious threat for the top spot. He settled for second. Michael Altobelli, Jr., who won the first leg of the Cool Weld Classic the night before at Winchester Speedway, finished third after starting 10th. Winchester, Virginia's Mike Corbin claimed fourth after starting 14th and Sykesville, Maryland's Ray Kable finished fifth after starting 15th.
Sixth through 10th were Hampstead, Maryland's Josh Hughes; Chambersburg, Pennsylvania's Alyssa Rowe; Powhatan, Virginia's Bret Hamilton; Winchester's Haley Kaiser and Manchester, Maryland's Fred Cullum.
The MAM Series returns to action, Saturday, Aug. 11, at Selinsgrove Speedway in Pennsylvania.
Feature results (20 laps) - 1. Rick Hulson, 2. Brad Kling, 3. Michael Altobelli, Jr., 4. Mike Corbin, 5. Ray Kable, 6. Josh Hughes, 7. Alyssa Rowe, 8. Bret Hamilton, 9. Haley Kaiser, 10. Fred Cullum, 11. Bryan Green, 12. Justin Cullum, 13. Tim Schulte, 14. Keith Reed, 15. Jeff McCauley, 16. Hunter Nester, 17. Adam Hoegerl, 18. Andy Bosley, 19. (DNF) Jason Sarver, 20. (DNF) Joey Polevoy, 21. (DNF) Derek Deusenberry, 22. (DNF) Vic Vandergrift, 23. (DNF) Mark Jones, 24. (DNF) Brandon Churchey, 25. (DNF) Ray Ciccarelli, 26. (DNF) Frank DiBella, 27. (DNF) Gary Moreland, Sr.
Heat 1 results (8 laps) – 1. Rick Hulson, 2. Josh Hughes, 3. Vic Vandergrift, 4. Michael Altobelli, Jr., 5. Haley Kaiser, 6. Frank DiBella, 7. Hunter Nester, 8. Adam Hoegerl, DNS: Gary Moreland, Sr.
Heat 2 results (8 laps) – 1. Brad Kling, 2. Tim Schulte, 3. Joey Polevoy, 4. Alyssa Rowe, 5. Mike Corbin, 6. Keith Reed, 7. Jeff McCauley, 8. Bret Hamilton, 9. Jason Sarver
Heat 3 results (8 laps) – 1. Justin Cullum, 2. Ray Ciccarelli, 3. Derek Deusenberry, 4. Fred Cullum, 5. Ray Kable, 6. Mark Jones, 7. Bryan Green, 8. Brandon Churchey, 9. Andy Bosley