Sunday, July 29, 2018
Altobelli Jr. Wins MAM Event at Lincoln Speedway
By: Mike Donald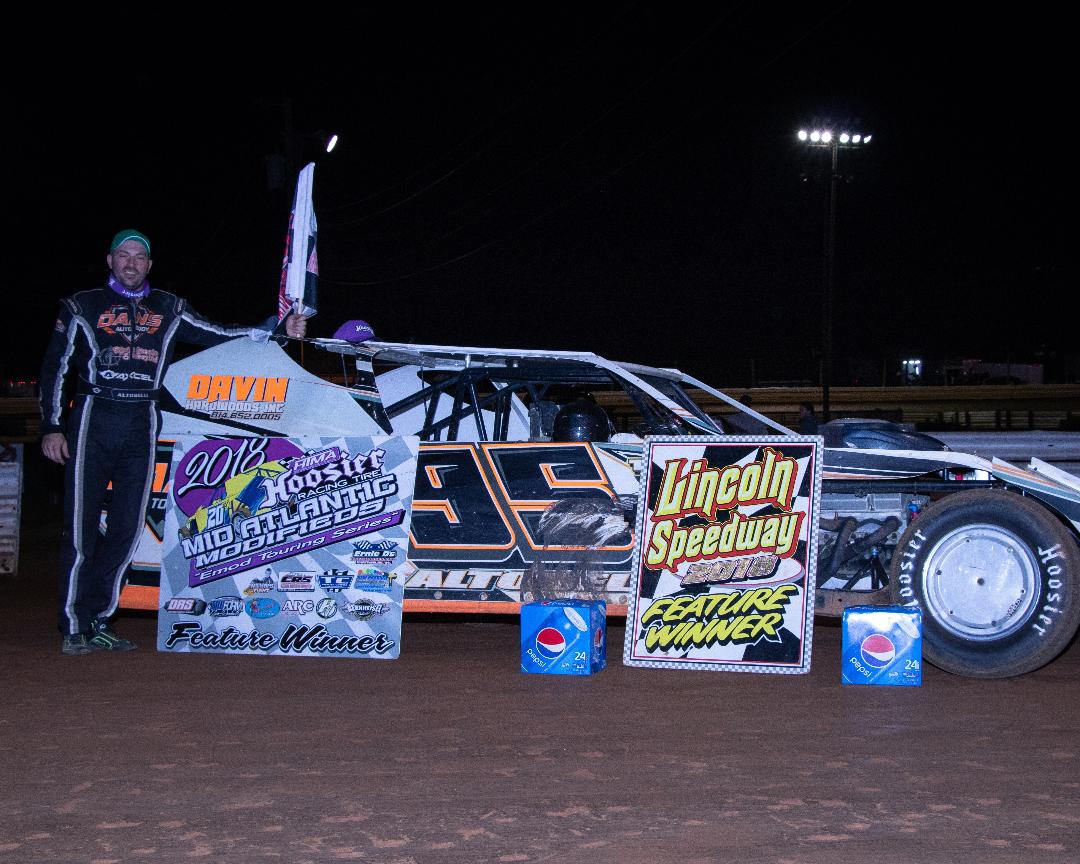 (Photo by: Jimmy Saffell)
Saturday's Hoosier Tire Mid-Atlantic Modifieds Series race at Lincoln Speedway provided the taste of sweet redemption and scored a record-setting night for race-winner, Michael Altobelli, Jr.
Altobelli, of Saxton, Pennsylvania, grabbed the lead from Rick Hulson on lap two, and he never looked back as he stormed to his fifth MAM Series win of the season and his first at Lincoln. His victory also broke a three-way tie with Vic Vandergrift and Craig Ramich as Altobelli became the all-time leader in MAM victories with six wins. The victory also proved to be a bit of redemption as Altobelli finished a disappointing 14th at Lincoln, June 16.
"I didn't know if I was going to get him (Hulson) or not, but he looked like his car got tight. He opened the door for me and I was able to get by," Altobelli said of his race-winning maneuver in his No. 95 Rocket by Ruhlman chassis. Altobelli moved to the inside of Hulson off turn four on the second lap, and he led the remaining 19 laps to grab the checkers. For Hulson, of Glen Burnie, Maryland, this marked his sixth second-place finish in MAM competition in 2018.
Hulson and Altobelli won the second and third heat races, respectively, earlier in the evening. Mount Union, Pennsylvania's Brad Kling won the first. Hulson drew the number four invert pill and this placed him on the outside of the front row to start the feature beside Hollywood, Maryland's James Sparks. At the drop of the green, Hulson and third-starting Altobelli were able to maneuver by Sparks who was running third. Sparks battled with fourth-starting Kling while Altobelli made his move past Hulson for the eventual race win.
Sparks held on for third to mark his second-consecutive top-five finish in MAM competition. Manchester, Maryland's Justin Cullum crossed the stripe in fourth. Cullum has not finished outside the top 10 in MAM competition in 2018. Sykesville, Maryland's Ray Kable, a two-time MAM winner in 2018, rounded out the top five. Kling, who won at Winchester Speedway, July 7, retired from the event after he and Cullum made contact on a lap-four restart following a brief caution.
Powhatan, Virginia's Bret Hamilton finished sixth after starting ninth. Winchester, Virginia's Mike Corbin took seventh. Corbin and Hamilton found themselves locked in a side-by-side battle late in the going before Hamilton took the advantage. Hamilton challenged Cullum for fifth on lap 19, but he was unable to secure the spot at the finish. Reisterstown, Maryland's Ray Ciccarelli, who competed in the NASCAR Camping World Truck Series earlier in the day at Pocono, ran strong to finish eighth. Hampstead, Maryland's Josh Hughes finished ninth after starting 13th, and Cody Oliver, of Severn, Maryland, rounded out the top 10.
The Mid-Atlantic Modifieds Series will be busy this coming weekend as its drivers will compete in a double-header weekend. The Cool Weld Shootout, highlighted by $1,000 to-win features, will begin Saturday, Aug. 4, at Winchester Speedway in Virginia and culminate with the Frank Sagi Tribute race at Hagerstown Speedway in Maryland, Sunday, Aug. 5.
Hoosier Tire Mid-Atlantic feature finish (20 laps) - 1. Michael Altobelli, Jr., 2. Rick Hulson, 3. James Sparks, 4. Ray Kable, 5. Justin Cullum, 6. Bret Hamilton, 7. Mike Corbin, 8. Ray Ciccarelli, 9. Josh Hughes, 10. Cody Oliver, 11. Fred Cullum, 12. Hunter Nester, 13. Frank DiBella, 14. Bryan Green, 15. Jeff McCauley, 16. Rusty Pennington, 17. Gary Moreland, Sr., 18. (DNF) Haley Kaiser, 19. (DNF) Keith Reed, 20. (DNF) Brad Kling, 21. (DNF) Kyle Lloyd, DNS: Josh Roberson
Heat race finish No. 1 (8 laps) – 1. Brad Kling, 2. James Sparks, 3. Mike Corbin, 4. Ray Ciccarelli, 5. Josh Hughes, 6. Jeff McCauley, 7. Fred Cullum, 8. Gary Moreland, Sr.
Heat race finish No. 2 (8 laps) – 1. Michael Altobelli, Jr., 2. Justin Cullum, 3. Cody Oliver, 4. Josh Roberson, 5. Rusty Pennington, 6. Frank DiBella, 7. Kyle Lloyd
Heat race finish No. 3 (8 laps) – 1. Rick Hulson, 2. Ray Kable, 3. Bret Hamilton, 4. Keith Reed, 5. Hunter Nester, 6. Haley Kaiser, 7. Bryan Green