Tuesday, July 24, 2018
The Inside Dirt: 2018 Volume 8
By: Chris Stepan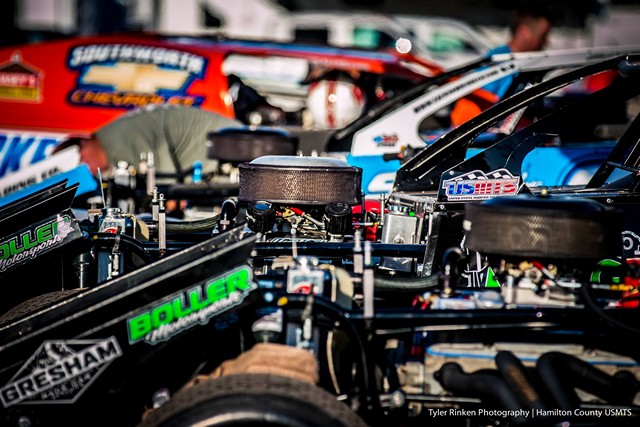 (Photo by: Tyler Rinken)
First thing's first… If Rodney Sanders was gone, he is definitely back! Rodney's start to the 2018 season didn't go as planned with several freak mechanical troubles while leading a pair of USMTS events in Texas in February hampering his title hopes early in the year, but it's safe to say, he and his team have hit their stride right now. Rodney ran away with the $40,000 Masters at the Cedar Lake Speedway in Wisconsin back in mid-June and just wrapped up a very impressive week to keep his momentum rolling along.
Rodney added a USMTS victory at the Southern Iowa Speedway in Oskaloosa, Iowa this past Wednesday night, a track that he had not ever won at previously and then rolled into the I-80 Speedway in Greenwood, Nebraska and ran away with the $8,000 payday during the Silver Dollar Nationals, holding off defending USMTS Champ Jason Hughes for the victory. Rodney and I-80 have had a love-love relationship over the years with Sanders winning 8 of his last 10 starts at the Nebraska oval. And to top off the weekend, Rodney raced away with a $2,000 USRA main event victory on Sunday at the Mason City Motor Speedway in Iowa on the way home. Rodney's win was his 85th career USMTS victory, ironically last year's Silver Dollar Nationals Champion Ryan Gustin won his 85th career USMTS race at this race one year ago.
Johnny Scott leap frogged Jake O'Neil at the top of the $50,000 championship chase for the Casey's Cup several weeks ago, but he may soon have a new challenger in Sanders if Rodney keeps on the roll he is currently on.
Speaking of Scott, Johnny raced from the third row to the victory in Webster City, Iowa last Tuesday to keep his incredible season on point and then jumped into his brother's backup car for the non-points Silver Dollar Nationals weekend and wheeled his way from his 23rd starting spot up to a very respectable 6th place finish, right behind his brother, who started 16th.
Lucas Schott continues his solid season as well, after leading the majority of the event at the Hamilton County Speedway in Webster City on Tuesday night, only to come home second, he was the only driver in either division at the Silver Dollar Nationals to win both of his qualifying heat races and then he ran off with the qualifying dash, wrapping up his weekend with a third place finish in the finale on Saturday night.
A few other weekend notes… It was good to see Jason Hughes back on tour. He has been spending a majority of his time this year building cars and working with clients, so he has scaled back his racing efforts for the time being, but he didn't have any appearance of rust as he chased Sanders around for 40-laps, coming home with a solid second on the weekend.
Darron Fuqua has had a great first half of the season and jumped into the USRA National point lead for his efforts. He has entered a few USMTS races as of late and had a top five run going in Oskaloosa before suffering a flat tire on Wednesday night and then was running inside the top ten on Saturday night, only to suffer a mechanical issue as well. He certainly has to be the favorite to take home the USRA title this season if he continues running like he currently is.
One final thing from the weekend. The Thursday night unsanctioned race at I-80 between RC Whitwell and Jordan Grabowski was one of the best lead-swapping shows I have seen in a long time. The duo traded the top spot lap after lap over the final 7 or 8 circuits with Grabo sneaking by for the win on the final lap. Kudos to both drivers for an entertaining event and even bigger kudos to the Kosiski family for a very, very entertaining three night weekend and a perfectly prepared race track all three nights as well.
The USMTS takes this weekend off before the grinding Hunt for the Casey's Cup kicks back into action with fifteen events over five straight weekends through Labor Day so we will be back with the next edition of The Inside Dirt after once the series kicks back into action in a couple weeks.