Sunday, July 8, 2018
Defending MAM Series champion Brad Klin Wins at Winchester
By: Mike Donald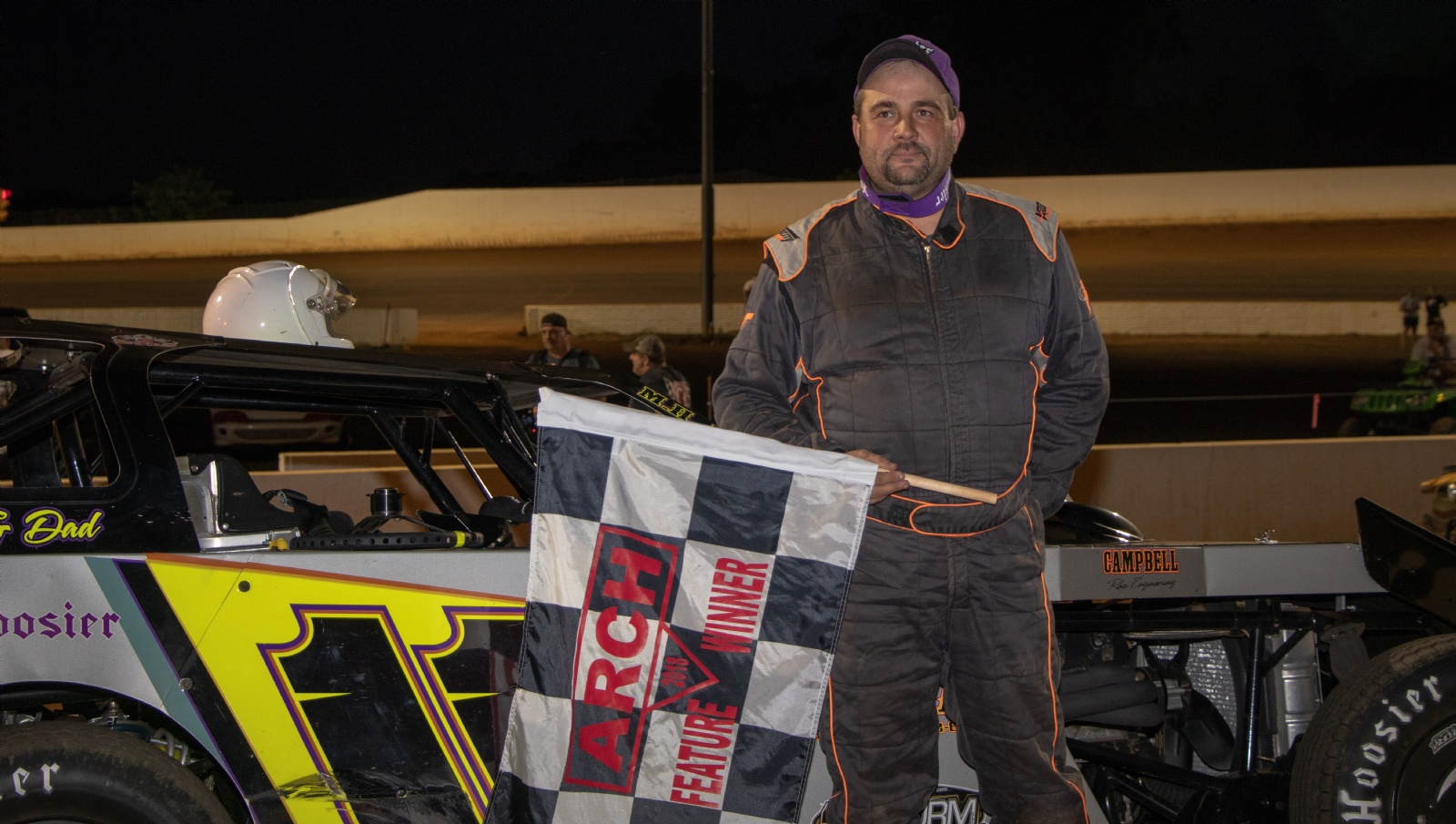 (Photo by: Jimmy Saffell)
Defending Hoosier Tire Mid-Atlantic Modifieds (MAM) Series champion, Brad Kling, served notice that he plans to retain his championship crown as he led flag-to-flag to win the MAM race at Winchester Speedway, Saturday. This marks Kling's first MAM victory of 2018 and his third-overall MAM Series victory in his career.
"This feels really good," said a happy Kling in Victory Lane. "It feels good to be in Victory Lane at Winchester," he added. Kling, of Mount Union, Pennsylvania, covered a stout 25-car field en route to his victory. His win was aided by his strong performance in his heat race, earlier in the evening. Kling began the heat race in the fourth spot, but he quickly moved to the lead to win it. "That heat race paid off. This really worked out for us," Kling stated. Mike Corbin, who won the third heat race, pulled the number two inversion pill and that placed Kling on the pole for the feature.
Ray Kable, who won the first heat race, began the feature outside of Kling. Baking sun and windy conditions caused the track surface to be slicker than normal, and drivers knew that passing would be a premium. The focus was on Kling and Kable at the onset to see who could grab the early lead. Kling jumped to the front on the start, but a first-lap incident that involved Haley Kaiser and Josh Hughes would bring out the caution, and this would force Kling to repeat the action. On the restart, Kling again grabbed the lead from Kable, and Kling never looked back at the competition. Kling, in his No. 11 Gun Slinger by Shaw chassis, held a comfortable advantage when he crossed the line to claim the checkered flag.
Kable, of Sykesville, Maryland, found himself in a hotly-contested battle with Michael Altobelli, Jr. for most of the affair. Kable and Altobelli have combined for six MAM victories in 2018, and they battled side-by-side and nose-to-tail for the 20-lap race. When the dust settled, Kable claimed the runner-up spot and Saxton, Pennsylvania's Altobelli took third.
The battle for fourth proved to be interesting, as well. Hollywood, Maryland's James Sparks and Winchester, Virginia's Mike Corbin engaged in battle, and at times they seemed to reel in Kable and Altobelli. Corbin and Sparks, though, maintained their focus on each other, and this allowed a little separation to exist between them and the Kable/Altobelli tandem by race's end. When the checkered flag fell, Sparks took fourth and Corbin rounded out the top-five, respectively.
Chambersburg, Pennsylvania's Alyssa Rowe periodically came within striking distance of Sparks and Corbin throughout the feature. Rowe crossed the stripe in sixth as she continued her impressive streak of combined top-5/top-10 efforts in the MAM Series. Rowe now holds 31 top finishes, more than any other competitor in Series' history.
Rick Hulson, of Glen Burnie, Maryland, shook off a disappointing finish at Great Cumberland Speedway last week to come home seventh. Manchester, Maryland's Justin Cullum finished eighth. He continues to impress .He has not finished outside the top-10 all season. Crimora, Virginia's Josh Roberson made his first MAM start of 2018, and it paid off dividends. He crossed the stripe in ninth. Bryan Green, of Sharpsburg, Maryland, put together another strong effort by rounding out the top 10.
The race was slowed three times by caution periods. The first involved the aforementioned Kaiser and Hughes. After a quick trip to the infield pit area, Kaiser was able to continue. Hughes, unfortunately, retired from the event. The second caution was brought out by Rusty Pennington, who spun in turn three on the fifth circuit. He was able to continue. The final caution came out on lap 12 when Mike Reynolds and Hunter Nester were involved in separate incidents at opposite ends of the speedway. Reynolds suffered mechanical issues and came to stop in turn four. He was finished for the night. Nester spun out in the first turn, but he was able to continue the race.
On the pace laps, the full-field of all-star MAM drivers thrilled the crowd with a patriotic four-wide salute, as each driver displayed a large American flag from the driver's window of each car. This marked the second-consecutive week the MAM Series has performed this salute to the fans. After taking next Saturday off, the MAM Series will be back in action at Winchester Speedway, Saturday, July 21.
Feature results (20 laps) – 1. Brad Kling, 2. Ray Kable, 3. Michael Altobelli, Jr., 4. James Sparks, 5. Mike Corbin, 6. Alyssa Rowe, 7. Rick Hulson, 8. Justin Cullum, 9. Josh Roberson, 10. Bryan Green, 11. Tim Schulte, 12. Ray Ciccarelli, 13. Frank DiBella, 14. Haley Kaiser, 15. Cody Oliver, 16. Rusty Pennington, 17. Gary Moreland, Sr., 18. Hunter Nester, 19. George Gutridge, 20. (DNF) Bret Hamilton, 21. (DNF) Mike Reynolds, 22. (DNF) Josh Hughes DNS: Jeff McCauley, Kyle Lloyd and Mike Franklin (substituting for Brock Kerns)
Heat race No. 1 (8 laps) - 1. Ray Kable, 2. Michael Altobelli, Jr., 3. Josh Hughes, 4. Rick Hulson, 5. Bryan Green, 6. Bret Hamilton, 7. Frank DiBella, 8. Rusty Pennington, 9. Cody Oliver
Heat race No. 2 (8 laps) – 1. Brad Kling, 2. Josh Roberson, 3. Alyssa Rowe, 4. Ray Ciccarelli, 5. Tim Schulte, 6. Mike Reynolds, 7. George Gutridge, 8. (DNF) Gary Moreland, Sr.
Heat race No. 3 (8 laps) – 1. Mike Corbin, 2. James Sparks, 3. Haley Kaiser, 4. Justin Cullum, 5. Hunter Nester, 6. Jeff McCauley, 7. DNF Mike Franklin (substituting for Brock Kerns), 8. DNS Kyle Lloyd
About Brad Kling- He is the 2015 MAM Series champion and former Late Model track champion at Path Valley Speedway. He has 22 Late Model victories, and he has combined for five E-Mod wins, three of which have been MAM sanctioned. His sponsors include Wm Brian Miller Auctioneering; Fulton Electric; BDR Race Products; Seville Custom Wraps; Brooks Graphics; Troy Swindell Trucking and Campbell Race Engineering.