Saturday, June 30, 2018
Drake Troutman wins at Greater Cumberland Speedway
By: Mike Donald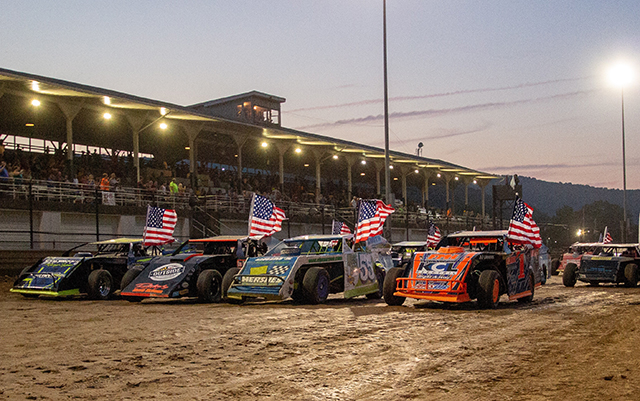 (Photo by: Jimmy Saffell)
"The Mid-Atlantic Modifieds drivers sure are stiff competition. I had to hustle my car, but I also had to be patient. This win feels amazing," said Drake "The Kid" Troutman after claiming his career-first MAM Series victory. But for James Sparks, who led the first 17 laps, it was a different story. "I feel disgusted. I kept looking at the board. Only three to go I said to myself. I kept counting down the laps," Sparks said as he shook his head in disbelief that he finished 12th.
Yes, last night's Hoosier Tire Mid-Atlantic Modifieds Series race at the Greater Cumberland Speedway was one of triumph for Hyndman Pennsylvania's Troutman and one of heartbreak for Hollywood, Maryalnd's Sparks.
The 17th circuit proved to be the difference in the race. Entering the third turn, leader Sparks; second-place runner, Brad Kling; and Troutman encountered the lapped cars of Jeff McCauley and Frank DiBella. Troutman moved to the inside of Kling to grab second. Coming off turn four, McCauley and DiBella were side-by-side. The two seasoned veterans maintained their line, and this forced Sparks and Troutman to pick which way to go around them. "The lapped traffic made me a little scared. They were two-wide. I just shot the gap, and the car stuck," Troutman explained. This allowed Troutman to move inside of Sparks entering turn one. "I didn't know he (Troutman) had shot to the inside of me," Sparks explained. "I knew I had to move up to get grip. I got sideways. Going that speed it's hard to get it back and that caused me to make contact with the guardrail," said a dejected Sparks. The forced his retirement from the 20-lap race. "Still, though, this is a great confidence booster," he acknowledged.
For defending Series champion, Kling, of Mount Union, Pennsylvania, the race proved to be a gambit of emotions. Kling maintained the second position for 17 laps, and he challenged Sparks for the lead on multiple occasions before relinquishing the runner-up spot to Troutman late in the race. "I guess it is what it is," Kling said as he tried to manage a smile after the race.
Sykesville, Maryland's Ray Kable, who won two weeks ago at Lincoln Speedway, made nice moves through the field to finish third after starting sixth. Chambersburg, Pennsylvania's Alyssa Rowe began the race from the pole and maintained a good pace to finish fourth. Rowe leads all drivers in MAM Series history with a combined 30, top-five/top-10 finishes. Doug Stine, of Hagerstown, Maryland, drove a very strong race to round out the top five. Stine battled side-by-side with Troutman for a couple laps earlier in the race. Troutman, who broke a fan belt in the night's earlier heat race, began the race from the 16th position. He made nice moves through the field in his No. 7 Diamond Select Chassis, and he moved by Stine for fifth by lap nine.
Manchester, Maryland's Justin Cullum kept his string of top-10 finishes intact with a fine sixth-place effort. Bryan Green, of Sharpsburg, Maryland, finished seventh to net his second-consecutive top-10 finish in the MAM Series. Three more drivers departed Cumberland with strong top-10 finishes, as well. Keedysville, Maryland's Hunter Nester; Winchester, Virginia's Haley Kaiser and Mt. Airy, Maryland's DiBella finished eighth, ninth and 10th, respectively. McCauley, of Big Pool, Maryland, finished 11th and was the last car running at race's end.
Sparks took 12th after being towed from the track following his altercation with the guardrail. Winchester's Mike Corbin, who ran a strong race early, spun in turn three on the 10th lap. He left the race on lap 17 to finish 12th. Keith Reed, David Green, Gary Moreland, Sr., Rick Hulson and Rusty Pennington encountered an assortment of difficulties to place 14th through 18th.
All 18 drivers brought a large crowd to its feet, prior to the race, as the drivers all displayed the American flag from their cars in a patriotic, four-wide salute to the fans. The MAM Series heads back to Virginia, Saturday, July 7, to compete at Winchester Speedway.
Greater Cumberland Raceway MAM Series Results (20 laps) - 1. Drake "The Kid" Troutman, 2. Brad Kling, 3. Ray Kable, 4. Alyssa Rowe, 5. Doug Stine, 6. Justin Cullum, 7. Bryan Green, 8. Hunter Nester, 9. Haley Kaiser, 10. Frank DiBella, 11. Jeff McCauley, 12. (DNF) James Sparks, 13. (DNF) Mike Corbin, 14. (DNF)Keith Reed, 15. (DNF) David Green, 16. (DNF) Gary Moreland, Sr., 17. (DNF) Rick Hulson, 18. (DNF) Rusty Pennington
Heat race No. 1 results (8 laps) - 1. Brad Kling, 2. James Sparks, 3. Doug Stine, 4. Mike Corbin, 5. Hunter Nester, 6. Bryan Green, 7. Haley Kaiser, 8. Gary Moreland, Sr., 9. (DNF) Keith Reed
Heat race No. 2 results (8 laps) - 1. Rick Hulson, 2. Alyssa Rowe, 3. Ray Kable, 4. Justin Cullum, 5. Rusty Pennington, 6. David Green, 7. Frank DiBella, 8. Jeff McCauley, 9. (DNF) Drake "The Kid" Troutman