Sunday, July 1, 2018
Lyle Captures 5 Grand at the 'Burg
By: Sam Stoecklin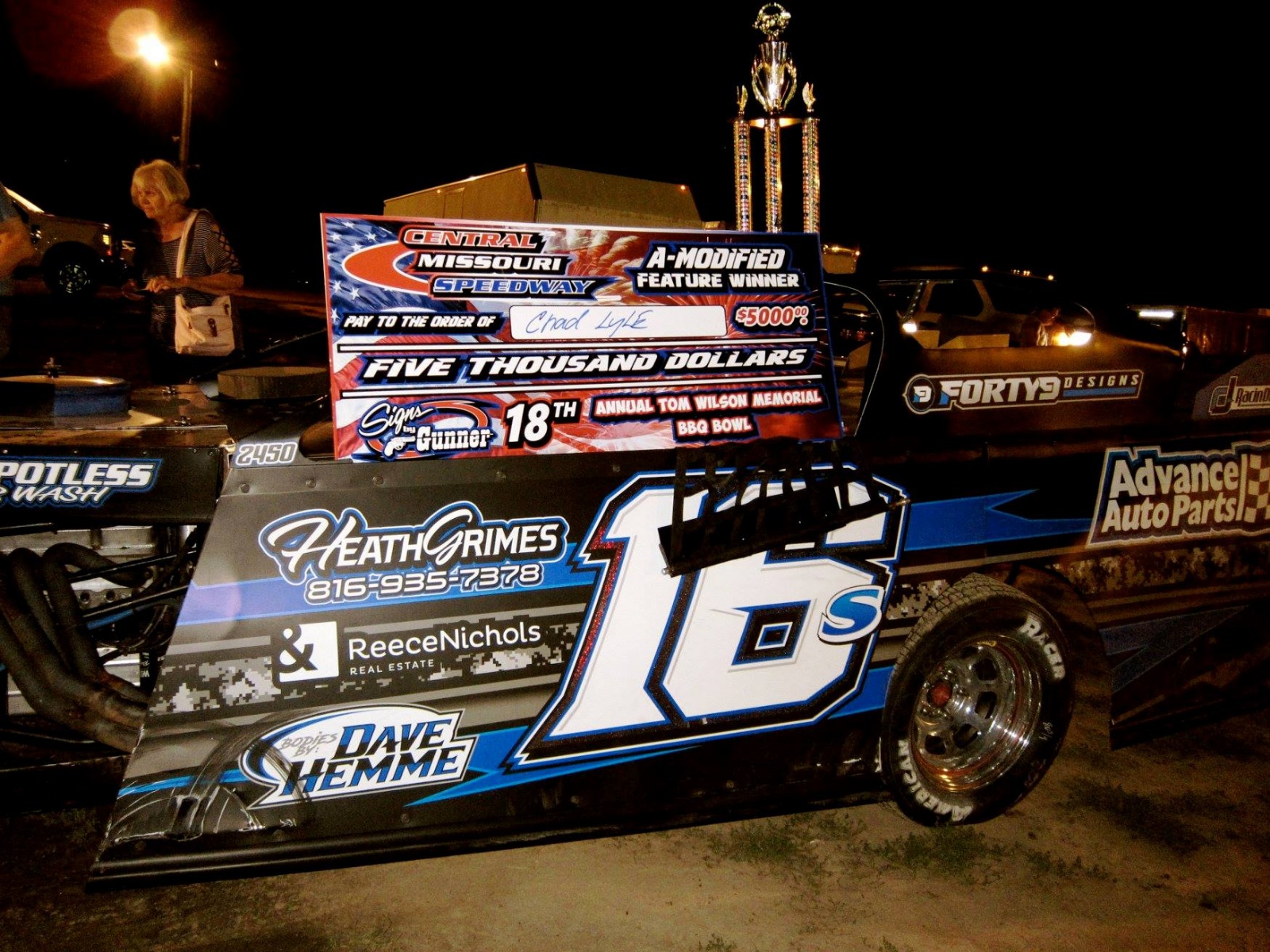 (Photo by: Tiffany Smith)
(Warrensburg, MO) Night two of the 18th Annual Tom Wilson Memorial BBQ Bowl took place Sunday evening to conclude the weekend of special events at Central Missouri Speedway. A total of 68 cars were on hand with 36 Modifieds, 22 Mod-Lites, and 10 E-Mods.
Preliminary Action Recap: Mod-Lites began the night with their heat races. Ed Griggs began the night with a prelim win over Mike Kennedy of Boone, Iowa and Donnie Dannar. Dillon Raffurty took the checkers in heat two with Justin Raffurty and Nathan Wolfe second and third. The final heat, Corey Babbitt of Huffman, Texas captured the final heat of the night over David Raffurty and J.J. Borden of Little Rock, Arkansas. For the E-Mods on hand a pair of heat races were contested with Colt Cheevers taking command of the event over Gary Ainsworth and Shaunie Lanning. In heat two, Ben Stockton captured the win ahead of Jeremy Curless and Leroy Morrison.
For the Modified C-Main, Scotty Martin held off a strong-running Tanner Mullins to take the win over Mullins, Nick Pence, Ronnie Woods, Kameron Grindstaff, and Kaleb Bray inside the top six. The B-Main later in the night determined the final 12 starters for the night's A-main with Dalton Kirk racing to the victory over Lewis Jackson, Jimmy Dowell, Jessy Willard, Tanner Mullins, and Nathan Vaughn.
Main Events Recap: For the second half of the program, drivers competed in the night's main events, beginning with the 15-lap main event for the E-Mods. Colt Cheevers, Ben Stockton, and Jeremy Curless ran hard for the win early on until Stockton eventually emerged for his first-ever CMS victory capturing the win over seventh-starting Jessie Mulich and Curless inside the top three. Dillon and Justin Raffurty began the Mod-Lite main event from the front row for the $1,000-to-win track special event. As he has nearly the entire season, Dillon Raffurty established himself as the car to beat, only receiving some pressure late in the event from long-distance traveler Corey Babbitt who crossed the line second with David Raffurty advancing from seventh on the grid to claim third at the line.
In the featured 50-lap race of the night, the 'Mighty' Modifieds returned for the race paying $5,000-to win and $1,000-to-start. Terry Schultz launched to the front early on leading the opening laps ahead of previous event winner Jim Moody and Tim Karrick. Moody then took command of the event by lap five relegating Schultz to battle with Kevin Blackburn for second. Yellow conditions flew for the first time on lap 10 for debris and again on laps 12 and 19, also debris cautions as Moody continued to hold the lead. Just after lap 20, Kevin Blackburn experienced a spin, drawing a caution while battling near the front. In the meantime, Chad Lyle was on the move as he advanced to third for the restart. On lap 27, Lyle advanced to the front and took command of the race ahead of Moody, who experienced some problems maneuvering the corners with Darron Fuqua, Tanner Mullins, and Dalton Kirk now inside the top five. On lap 30, the fifth caution flew for Blackburn's stalled car atop turn three. On the restart, Lyle led Moody, Fuqua, Kirk, and Mullins. Fuqua turned up the wick by lap 38 for the sixth caution and looked poised to capture another CMS special-event victory; however, Lyle's car was absolutely hooked up on this night as he went on to claim the big prize. Fuqua was second with 13th-starting Dalton Kirk finishing third. Mullins was fourth with Schultz rounding out the top five.
Central Missouri Speedway would like to wish everyone a Happy Fourth of July Independence Day Week and would like to remind drivers and fans that the speedway is closed on Saturday, July 7th and will return to action on Saturday, July 14th for Logan Contractors Supply Race Night, featuring a $1,500-to-win Street Stock special event on a night that will also feature Modifieds, Mod-Lites, B-Mods, and Pure Stocks.
For complete information head to the CMS website at www.centralmissourispeedway.net. When racing resumes on July 14th, Pit Gates will open at 4:30 followed by Spectator Grandstands at 5. Driver pill-draw ends at 6:15, the pit meeting takes place at 6:30, practice 'hot laps' begin at 7, and racing begins at 7:30. Special-event weekend pricing is in effect with Adult general admission is $15, Active Military and Senior Citizens ages 65 to 74 $12, Kids ages 6 to 12 are $6. Seniors 75 and over and patrons permanently confined to a wheelchair are free in the grandstands. All pit passes regardless of age are $35. Information subject to change for special events. There is a Family 4-Pack option for general admission on both Saturday and Sunday. Admission for two adults and two kids, ages 6 to 12 is $40. This option includes the four admissions plus two hot dogs and two kid's drinks.
Stay tuned to the track website for continuing news and information and for the recently updated race schedule by pointing your browser to www.centralmissourispeedway.net. Stay current with CMS on Twitter @CMSgoing_green. Like us on Facebook at www.facebook.com/pages/Central-Missouri-Speedway. Join our email group by emailing info@centralmissourispeedway.net. Find CMS on YouTube at CMS Going Green!
Complete results may be found on the track's website at www.centralmissourispeedway.net.
A-Main Results from 7-1-18
E MOD A-Feature
PLACE
START
DRIVER
POINTS
3.
4.
Jeremy Curless (33)
5.
10.
Anthony Hill (124)
6.
6.
Leroy Morrison (50)
7.
3.
Gary Ainsworth (14)
10.
5.
Shaunie Lanning (09)
MOD LITE A-Feature
PLACE
START
DRIVER
POINTS
1.
1.
Dillon Raffurty (46)
3.
7.
David Raffurty (64)
7.
2.
Justin Raffurty (75)
10.
9.
Donnie Dannar (171)
11.
20.
Michael Raffurty (41)
12.
10.
Blake Wilson (18)
14.
19.
Travis Alexander (36)
15.
18.
Jeff Raffurty (98)
18.
14.
Brian Ziegler (65z)
19.
15.
Anthony Lane (02)
20.
17.
Tyler Furrell (34)
MODIFIED A-Feature
PLACE
START
DRIVER
POINTS
4.
5.
Tanner Mullins (02)
5.
14.
Terry Schultz (90)
8.
18.
Johnny Fennewald (03)
9.
8.
Jason Pursley (38c)
10.
2.
Lewis Jackson (3J)
11.
19.
Brian Johnson (97K)
12.
10.
Mike Striegel (17)
0
14.
7.
Scotty Martin (75RPM)
15.
3.
Jimmy Dowell (88J)
16.
9.
Dalton McKenney (21M)
18.
21.
Mickey Burrell (73)
19.
24.
Gunner Martin (75)
20.
23.
Kevin Blackburn (26K)
22.
6.
Nathan Vaughn (12V)
24.
4.
Jessy Willard (40)