Monday, June 11, 2018
Modified Masters Entry List
By: Jeff Nun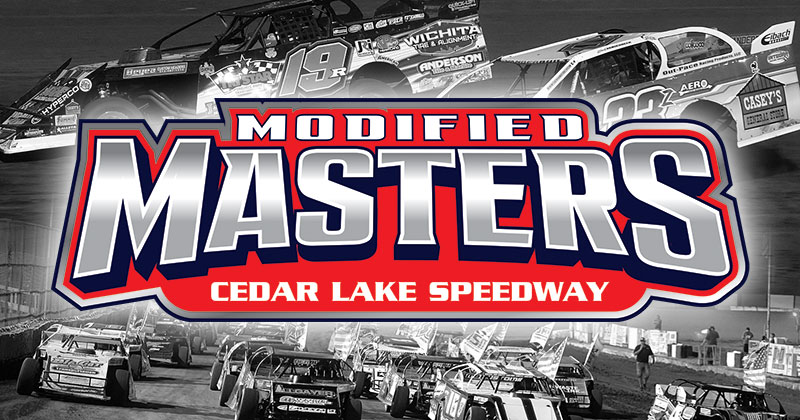 USMTS entry list as of June 10 for the Modified Masters at the Cedar Lake Speedway in New Richmond, Wis., Thursday-Saturday, June 14-16, 2018:
1. 99 Josh Angst, Winona, Minn.
2. 10 Austin Arneson, Fargo, N.D.
3. 2 Casey Arneson, Fargo, N.D.
4. 3c Chet Atkinson, Hugo, Minn.
5. 04jr Adam Ayotte, St. Paul, Minn.
6. 4b Cory Bruggeman, Mahtomedi, Minn.
7. 8c Chris Clark, Jackson Hole, Wyo.
8. 91 Andy Davey, Hibbing, Minn.
9. 89 A.J. Diemel, Elk Mound, Wis.
10. 97 Cade Dillard, Robeline, La.
11. 94 John Doelle, Arcadia, Wis.
12. 48 Brent Dutenhoffer, Watertown, S.D.
13. 91 Joe Duvall, Justice, Okla.
14. 2g Troy Girolamo, Williston, N.D.
15. 12 Jason Gross, Osceola, Wis.
16. 19r Ryan Gustin, Marshalltown, Iowa
17. 05 Jake Hartung, Elmwood, Wis.
18. 71 Jessie Hoskins, Longdale, Okla.
19. 12 Jason Hughes, Salina, Okla.
20. V2 Joey Jensen, Harris, Minn.
21. 23 Adam Kates, Tonganoxie, Kan.
22. 88xxx Randy Klein, Lisbon, N.D.
23. 27L Trevor Latham, Rogers, Ark.
24. 30 Matt Leer, Bruce, Wis.
25. 11x Rich Lofthus, Bloomer, Wis.
26. 55 Cory Mahder, Eau Claire, Wis.
27. 19sb Lance Mari, El Centro, Calif.
28. 28 Jimmy Mars, Elk Mound, Wis.
29. 1m Curt Myers, Cameron, Wis.
30. 44 Darrell Nelson, Hermantown, Minn.
31. 42 Paul Niznik, Medford, Wis.
32. 51 Chris Oertel, Marshfield, Wis.
33. 0 Jake O'Neil, Tucson, Ariz.
34. 75 Terry Phillips, Springfield, Mo.
35. 4r Dereck Ramirez, Woodward, Okla.
36. 23 Logan Robertson, Shamrock, Texas
37. 20 Rodney Sanders, Happy, Texas
38. 8s Tony Schill, Oakdale, Minn.
39. 69 Lucas Schott, Chatfield, Minn.
40. 1st Johnny Scott, Las Cruces, N.M.
41. 2s Stormy Scott, Las Cruces, N.M.
42. 19 Dustin Sorensen, Rochester, Minn.
43. 35 Grant Southworth, Bloomer, Wis.
44. 98 Alex Stanford, Chowchilla, Calif.
45. 20rt Ricky Thornton Jr., Chandler, Ariz.
46. 49 Jake Timm, Winona, Minn.
47. 111jr Keith Tourville, Webster, Wis.
48. 16 Jason VandeKamp, Scandia, Minn.
49. 33z Zach VanderBeek, New Sharon, Iowa
50. 14w Clayton Wagamon, Ramsey, Minn.
51. 71t R.C. Whitwell, Saurita, Ariz.
52. 2c Dave Cain, Corcoran, Minn.
53. 07 Cory Crapser, Chippewa Falls, Wis.
54. 95 Keith Foss, Winona, Minn.
55. 2x Brady Gerdes, Villard, Minn.
56. 00 Owen Grube, Cambridge, Minn.
57. 44h Adam Hensel, Baldwin, Wis.
58. 71 Philip Houston, Odessa, Texas
59. 111 Bumper Jones, Mesilla Park, N.M.
60. 7k Jason Krohn, Slayton, Minn.
61. 29 Tony Leiker, Gillette, Wyo.
62. 4m Bobby Malchus, Red Oak, Texas
63. 05 Mike Mashl, DePere, Wis.
64. 65 Jake Miller, Somerset, Wis.
65. 11n Gene Nicholas, Lowell, Ark.
66. 4v Billy Vogel, West Fargo, N.D.
67. 24 Brad Waits, Rochester, Minn.
68. 4w Tyler Wolff, Fayetteville, Ark.
69. 07 Cory Crapser, Chippewa Falls, Wis.
70. 48 Marcus Simonson, Milltown, Wis.
71. 44 Adam Hensel, Baldwin, Wis.
72. 7 A.J. Roschen, Somerset, Wis.
To learn more about the United States Modified Touring Series, visit www.usmts.com online or call 515-832-7944. You can also like us on Facebook at www.facebook.com/usmts, follow us on Twitter at www.twitter.com/usmts and Instagram at www.instagram.com/usmts or subscribe to our YouTube channel at www.youtube.com/usmtstv. Keep up to speed with everything USMTS by joining our email list at www.usmts.com/subscribe.
= = = = = = = = = = = = = = =
USMTS OFFICIAL SPONSORS: Alpinestars, American Racer Racing Tires, Argo Manufacturing, Casey's General Stores, Chevrolet Performance, CP-Carrillo, Deatherage Opticians, Eibach Springs, Fast Shafts, Intercomp, Jerovetz Motorsports Racing Parts, KSE Racing Products, Leaf Racewear & Safety Equipment, Malvern Bank, Mesilla Valley Transportation, MSD Performance, Nitroquest Media, Pace Performance, RacinDirt.com, S&S Fishing & Rental, Summit Racing Equipment, VP Racing Fuels.
USMTS PARTICIPATING SPONSORS: Arizona Sport Shirts, ASi Racewear, Boubin Tire & Automotive, Brodix Cylinder Heads, Duvall Electric, Eagle Moon Farm, ElbowsUp.com, Evolution Powersports, Oreo Cookies, PBM Performance Products, Production Jars, Rancho Milagro Racing, River's Edge Scrap Management, Snickers, Spike Hardcore Energy, Top of the World Ranch, YouDirt.com.
USMTS CONTINGENCY SPONSORS: 905 Ink, AFCO Racing Products, Allstar Performance, Beyea Custom Headers, Brown & Miller Racing Solutions, BSB Manufacturing, Champ Pans, Edelbrock, FK Rod Ends, Forty9 Designs, Genesis Racing Shocks, GRT Race Cars, Holley Performance Products, Hooker Harness, Integra Shocks & Springs, Keyser Manufacturing, Maxima Racing Oils, Mr. Gasket, Out-Pace Racing Products, QA1, RacerWebsite.com, Real Racing Wheels, RHRSwag.com, Simpson Performance Products, Swift Springs, Sybesma Graphics, Tire Demon, Wehrs Machine & Race Products, Wilwood Disc Brakes.