Tuesday, May 29, 2018
Fuqua, Fennewald, Smith, and Burns Find Central Missouri Speedway Victory Lane
By: Sam Stoecklin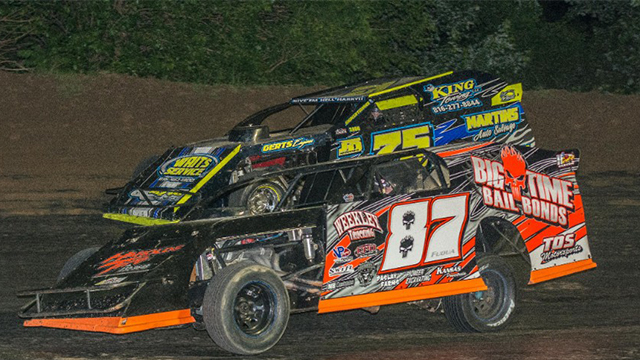 (Photo by: Lisa Burlington)
Fuqua Captures $2,000-to-win Memorial Weekend Finale along with Fennewald, Smith, and Burns also Finding Central Missouri Speedway Victory Lane!
Warrensburg, MO, Event #6, May 27, 2018
Ninety-One Extreme Sports Action Athlete drivers checked in for competition during night two of the annual Memorial Day weekend events at Central Missouri Speedway (CMS). Among competitors on hand for racing were 24 Modifieds, 27 B-Mods, 22 E-Mods, and 18 ULMA Late Models.
Preliminary Events Recap: Heat-race victories went to Darron Fuqua and Lance Town in Modifieds. Brad Smith, Steven Clancy, and Dakota Foster in B-Mods Chris Brockway captured the B-Mod, B-Main. E-Mods made their first guest-class appearance with a nice field on hand as Shawn Burns, Chris Mercer, and Jason Earls collected heat wins. ULMA Late Models also made their first appearance this year with Johnny Fennewald, Aaron Poe, and Aaron Marrant capturing prelim victories.
Main Events Recap: For the second half of the program, drivers returned for the main events. In E-Mod action the drivers had a furious battle at the front of the field with Justin Marrant and Chris Mercer pressuring leaders Shawn Burns and Leroy Morrison. Despite heavy pressure from each of these drivers, Shawn Burns prevailed to capture his first-ever CMS victory ahead of Mercer and Morrison. Brad Smith made it two in-a-row for the weekend after overtaking race-long leader Dakota Foster, Steven Clancy finished behind the lead pair in third. Dustin Hodges appeared to be on his way to a ULMA Late Model win until Johnny Fennewald came on strong in the final laps to capture the win ahead of Cody Holtkamp, Tommy Cordray, Hodges, and Jon Binning.
The $2,000-to-win Modified feature closed out the night with a dominating performance by Darron Fuqua of Mayetta, Kansas. Fuqua held off all challengers during the late-race caution restarts to capture his third weekend victory over Gunner Martin, pole-sitter Chad Lyle, Colson Kirk, and Lance Town.
Racing resumes Saturday, June 2nd for Championship Weekly Racing at CMS. For complete information head to the CMS website at www.centralmissourispeedway.net. Pit Gates open at 4:30 followed by Spectator Grandstands at 5. Driver pill-draw ends at 6:15, the pit meeting takes place at 6:30, practice 'hot laps' begin at 7, and racing begins at 7:30. Adult general admission is $12, Active Military and Senior Citizens ages 65 to 74 $10, Kids ages 6 to 12 are $6. Seniors 75 and over and patrons permanently confined to a wheelchair are free in the grandstands. All pit passes regardless of age are $30. Information subject to change for special events.
Stay tuned to the track website for continuing news and information and for the recently updated race schedule by pointing your browser to www.centralmissourispeedway.net. Stay current with CMS on Twitter @CMSgoing_green. Like us on Facebook at www.facebook.com/pages/Central-Missouri-Speedway. Join our email group by emailing info@centralmissourispeedway.net. Find CMS on YouTube at CMS Going Green!
A-Main Events from Central Missouri Speedway 5-27-18. Quick-view top-three results. For complete results visit www.centralmissourispeedway.net.
B MOD A-Feature
PLACE
START
DRIVER
POINTS
7.
8.
Kameron Grindstaff (14)
10.
7.
Jake Richards (7J)
11.
15.
Doug Wetzel (10M)
15.
19.
Gary McGinnis (38)
16.
18.
Kraig Maple (13M)
17.
20.
Chris Kitch (13K)
20.
14.
Daniel Harris (07)
21.
12.
Dylan Hoover (22)
22.
23.
Chris Brockway (03)
23.
22.
Jason Sivils (317)
24.
24.
Michael King (14K)
E MOD A-Feature
PLACE
START
DRIVER
POINTS
3.
3.
Leroy Morrison (50)
4.
5.
Justin Marrant (28)
5.
8.
Shaunie Lanning (09)
6.
13.
Dakota Earls (15E)
11.
20.
Jeff Duncan (87D)
12.
16.
Keith Myers (55K)
15.
14.
Doug Brisbin (86)
17.
18.
Logan Headley (23)
19.
9.
Jeremy Curless (33)
DNS.
17.
Eric Atwood (13x)
ULMA LATE MODELS A-Feature
PLACE
START
DRIVER
POINTS
1.
4.
Johnny Fennewald (21)
4.
2.
Dustin Hodges (22H)
10.
13.
Troy Reasoner (25JR)
11.
16.
Mark McGuire (72M)
12.
10.
John Willard (10)
13.
1.
Aaron Marrant (1x)
16.
15.
Greg Truelove (47)
18.
17.
Greg Clemons (55)
MODIFIED A-Feature
PLACE
START
DRIVER
POINTS
6.
14.
Steven Bowers (77)
8.
22.
Kyle Westerhold (17K)
9.
11.
Scotty Martin (75RPM)
11.
21.
Jessy Willard (40)
12.
3.
Jimmy Dowell (88J)
13.
16.
Kyle Prauner (5K)
14.
20.
Kyle Covert (7d7)
15.
6.
Terry Schultz (90)
16.
17.
Dalton McKenney (21M)
20.
19.
Brian Johnson (97K)
21.
13.
Lewis Jackson (33J)
23.
24.
Steve Tiedeman (s21)
DNS.
8.
Johnny Fennewald (03)