Sunday, May 13, 2018
Michael Altobelli Jr. Wins MAM at Winchester Speedway
By: Mike Donald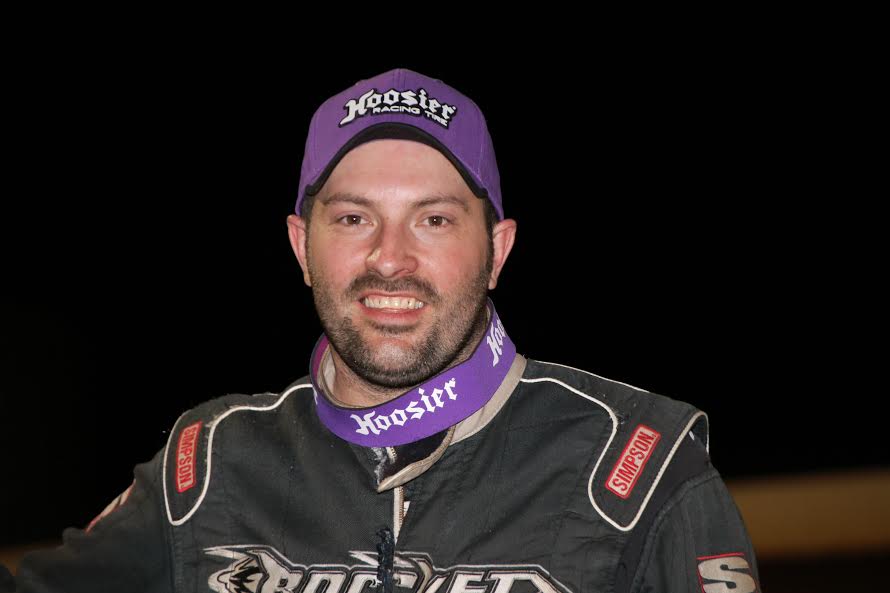 (Photo by: Jimmy Saffell)
Sometimes, things that occur in early-evening heat races dictate everything. After Saturday's Hoosier Tire Mid-Atlantic Modifieds Series (MAM) race at Winchester Speedway, Saxton, Pennsylvania's Michael Altobelli, Jr. claimed his fourth win of the season; Glen Burnie, Maryland's Rick Hulson earned his fourth-consecutive, second-place finish and Manchester, Maryland's Justin Cullum left the facility thinking, perhaps, "could've, would've, should've."
So, what caused this to occur? It began with Hulson winning the first heat race of the evening. The second heat race, however, proved to be everything. Cullum led Altobelli for six of the eight laps. Coming to the white flag, Altobelli passed Cullum to win the heat. Mount Union's Brad Kling, who won the third heat, drew the No. 2 inversion pill. This put Altobelli on the pole, and he led flag-to-flag to beat a 25-car field, the highest MAM car count of the season and highest E-Mod car count in the Tri-State area of 2018. Oh, and incidentally, it relegated Cullum to a fifth-place start in the feature.
"I definitely let one slip away in the heat race," said Cullum. "The car was great, just the driver screwed up. He (Altobelli) is a tough guy to beat, so one mistake was all it took and he was there. But it felt good to run up front. Overall it was a solid night for us and we're really happy with everything," he added. Altobelli knew the significance of the events. "The car was really good, but it was good to start up front," Altobelli said in Victory Lane. For Hulson, he knew the outside line might prove to his detriment on the initial start. "Mike (Altobelli) and I knew it was a race to the bottom in the first turn, then after that it was keep your pace and see if lapped traffic will come into play. Mike is tough to beat, which is great to finish second to him because he makes me work harder to achieve more out of my car," Hulson explained.
Thus far, Altobelli has won every MAM race he's entered in 2018. The sole event he did not win was one he did not enter when his team's hauler had mechanical issues on the way to the track. Hulson looked at his string of second-place finishes in an upbeat fashion. "Hopefully, I won't be a good bridesmaid," he said with a laugh. Kling, the MAM defending champion, drove a great race to finish third. Winchester, Virginia's Mike Corbin took fourth to take his fourth consecutive, top-five finish. Cullum rounded out the top five.
The battle from sixth to tenth entertained a strong crowd at Winchester as drivers diced for position throughout the 20-lap affair. At race's end, Sykesville, Maryland's Ray Kable crossed the stripe in sixth; Powhatan Virginia's Joey Polevoy; Troy, Virginia's Tim Schulte and Powhatan's Bret Hamilton, all making their first MAM start of the season, finished seventh through ninth, respectively. Keith Reed, of Hagerstown, Maryland, took 10th.
Chambersburg, Pennsylvania's Alyssa Rowe, who had finished in the top-five in every MAM race leading into Saturday's event at Winchester, suffered a flat tire and finished a disappointing 21st. One notable incident involved Winchester's Haley Kaiser and Reistertown, Maryland's Ray Ciccarelli, who competes part-time in the NASCAR Camping World Truck Series. Both made contact with each other in turn one in the early-going; ending their night early and placing them 22nd and 23rd in the finishing order.
The Series is back in action, Saturday, May 19 at Hagerstown Speedway in Maryland.
Feature finish (20 laps) – 1. Michael Altobelli, Jr., 2. Rick Hulson, 3. Brad Kling, 4. Mike Corbin, 5. Justin Cullum, 6. Ray Kable, 7. Joey Polevoy, 8. Tim Schulte, 9. Bret Hamilton, 10. Keith Reed, 11. James Sparks, 12. Kyle Lloyd, 13. Bryan Green, 14. Jeff McCauley, 15. Rusty Pennington, 16. Hunter Nester, 17. Frank DiBella, 18. Gary Moreland, Sr., 19. Josh Hughes, 20. George Gutridge, 21. Alyssa Rowe (DNF), 22. Haley Kaiser (DNF), 23. Ray Ciccarelli (DNF) DNS: Jerry Fifield and Brock Kerns
Heat No. 1 finish – 1. Rick Hulson, 2. Keith Reed, 3. Ray Kable, 4. Josh Hughes, 5. Kyle Lloyd, 6. Rusty Pennington, 7. Hunter Nester, 8. Frank DiBella (DNF) DNS: Gary Moreland, Sr.
Heat No. 2 finish – 1. Michael Altobelli, Jr., 2. Justin Cullum, 3. Mike Corbin, 4. Alyssa Rowe, 5. Bret Hamilton, 6. Ray Ciccarelli, 7. George Gutridge, DNS: Brock Kerns
Heat No. 3 finish – 1. Brad Kling, 2. Tim Schulte, 3. Haley Kaiser, 4. Joey Polevoy, 5. James Sparks, 6. Bryan Green, 7. Jeff McCauley 8. Jerry Fifield (DNF)