Monday, May 7, 2018
Nix holds of Dycus in TOMS thriller at Ardmore
By: TOMS PR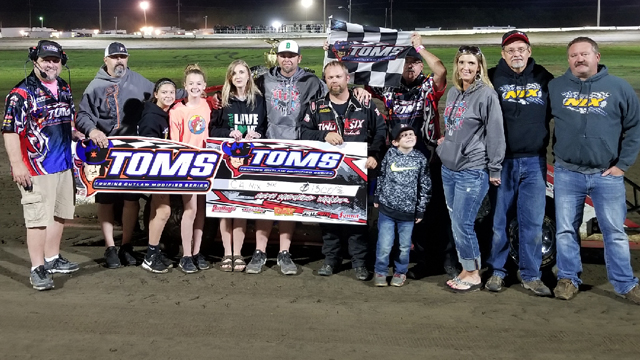 (Photo by: TOMS PR)
With 30 cars rolling into Southern Oklahoma Speedway after a week where the track received close to 5" of rain, John Webb and the crew were able to put together a racing surface for the racers to put a show on for the fans. The TOMS Series did not let the fans down.
At the drop of the green C.A. Nix, lead the field to complete lap 1 with Colby Smith by his door following within inches, close on their bumper was Mike Dillard and Triston Dycus. Nix would set the high line tempo with the run off turn 2 to keep all at bay. Caution came out on lap 5 to stack up the field.
Nix would lead the field on the restart to the flag stand again with Smith at his door, close on their bumpers were Dycus and Bo Day who had put his hat in the ring to challenge Nix for the lead. Lap 10 still had Nix, Smith and Dycus leading the way with Clyde Dunn Jr squeezing past Day for fourth.
Late caution came out to stack up the field one more time, Nix again lead the field to the green flag with 5 laps with to go but this time Dycus took over the second spot that is when things really get dicey, As Nix came to the flag stand for the white flag, Dycus would start making his move going to the bottom of turns 1&2 to slide up to Nix's quarter panel, then going into turn 3&4 Dycus went low and Nix on the high side, Nix had a small bobble that allowed Dycus to slide up in front of Nix, but Nix moved down to go inside with a crossover move and the high side momentum to take the win by a bumper at the flag stand. Top 5 finishers were C.A. NIX, Triston Dycus, Colby Smith, Bo Day and Mitchell Clement
With another positive race under our belts the TOMS series are geared and ready to visit Devil's Bowl Speedway May 19.
TOMS - Touring Outlaw Modified Series
Awards N More Heat #1 - (32) Mitchell Clement, (4d) Bo Day, (9) Kevin Rutherford, (211h) Chase Hatton, (14) Travis Bragg, (82) Jimmy Williams, (15c) Cam Case, (RG3) Ron Gould III,
Dynamic Drive lines Heat #2 - (34n) C.A. Nix, (88xxx) Clyde Dunn Jr, (56) Troy Taylor, (11x) Wesley Veal, (25d) Donnie Shipp, (121) Dylan Ballard, (8) Skip O'Neal,
Big Tex Auto Heat #3 - (66x) Mike Dillard, (01) Colby Smith, (5x) Danny Veal, (74) Jasen Hammonds, (2c) Chris Huckeba, (3c) Charlie Smith, (110) Juhn Hunt,
Deatherage Opticians Heat #4 - (14t) Triston Dycus, (3) Sam Cox, (55) Buddy Honaker, (99) Jeff Needham, (412) Mark Beltz, (3cc) Cary Collins, (w71) Harold Winton Sr., (34) Mickey Lassiter-DQ,
Day Motorsports B-Main #1 - (11x) Wesley Veal, (3c) Charlie Smith, (2c) Chris Huckeba, (74) Jasen Hammonds, (RG3) Ron Gould III, (110) Juhn Hunt, (82) Jimmy Williams, (55) Buddy Honaker, (15c) Cam Case,
Smileys Racing B-Main #2 - (8) Skip O'Neal, (25d) Donnie Shipp, (121) Dylan Ballard, (211h) Chase Hatton, (14) Travis Bragg, (w71) Harold Winton Sr. (412) Mark Beltz, (3cc) Cary Collins, (34) Mickey Lassiter,
Summit Racing A-Main - (34n) C.A. Nix, (14t) Triston Dycus, (01) Colby Smith, (4d) Bo Day, (32) Mitchell Clement, (88xxx) Clyde Dunn Jr, (8) Skip O'Neal, (56) Troy Taylor, (25d) Donnie Shipp, (3c) Charlie Smith, (74) Jasen Hammonds, (9) Kevin Rutherford, (99) Jeff Needham, (211h) Chase Hatton, (14) Travis Bragg, (11x) Wesley Veal, (5x) Danny Veal, (3) Sam Cox, (2c) Chris Huckeba, (66x) Mike Dillard, (w71) Harold Winton Sr. (121) Dylan Ballard, (412) Mark Beltz,
Lap Leaders 1-25 - (34n) C.A Nix
Day Motor Sports Tire Winner (3c) Charlie Smith
Pulse Racing (5x) Danny Veal, (211h) Chase Hatton
GRT Contengicies (412) Mark Beltz
Smiley's Hard Charger (74) Jasen Hammond
Superior Hard Charger (74) Jasen Hammond
Special Thanks to our Sponsors:
Summit Racing
Day Motor Sports
Smiley's Racing
Big Tex Auto
Pulse Racing Products
Fritz Photo
Deatherage Opticians
Allstar Signs by Wesley
GRT
Love's Graphics
Dynamic Drive Lines
Dirt Defender
Wichita Tank
Milt Clark Performance Whse
MB Custom
Superior Steering
Five1Seven Design
Frozen Ropes Training
Awards n More Love Graphics
Special thanks to the John and Nicky Webb and all of the Southern Oklahoma Speedway staff for your help and support of the TOMS Series