Monday, April 16, 2018
Michael Altobelli, Jr. wins Hoosier Tire Mid-Atlantic Modifieds Series at Winchester Speedway
By: Mike Donald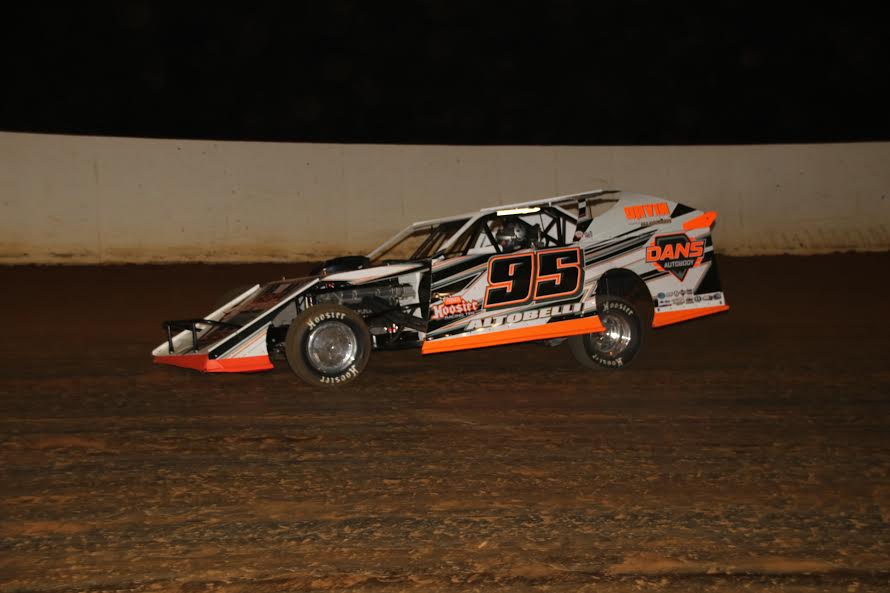 (Photo by: Jimmy Saffell)
Michael Altobelli, Jr. pulled the proverbial "double-down", Saturday, by winning the Hoosier Tire Mid-Atlantic Modifieds Series (MAM) event at Winchester Speedway. The victory made it two-for-two for the Saxton, Pennsylvania driver as he claimed the season-opening MAM race at Winchester, March 31.
"This car is awesome…so far, so good," Altobelli stated about his win and early-season success. "I knew the 25 (Mike Corbin) was there, but once I got some heat in the tires, the car was better," he added. Saturday's win at Winchester marked Altobelli's second win of the weekend. He took top honors at Bedford Speedway in an unsanctioned event, Friday.
After winning his heat race, Altobelli started on the pole beside Chambersburg, Pennsylvania's Alyssa Rowe, who won her heat earlier in the evening. When the feature began, Altobelli grabbed the lead. Corbin, who started behind Altobelli in third, moved to second and kept pace with Altobelli for the first four laps. Rick Hulson, of Glen Burnie, Maryland, charged from the sixth-starting position to third by lap four. Corbin and Hulson engaged a hotly-contested battle for second and this helped Altobelli pull away from the field. Atobelli led flag-to-flag, winning by 3.079 seconds at the finish line.
The Hulson-Corbin battle lasted for much of the 20-lap race. The two raced nose-to-tail and side-by-side. Hulson worked the inside line while Corbin stayed up top. On lap 18, Hulson made the inside groove work for him as he moved past Corbin coming off turn two. Hulson hung on to beat Corbin by a mere .914-second advantage. "These young boys are killing me," Hulson quipped after the race. "I had the preferred line. I kept showing him (Corbin) my nose, and it made him run into the turn harder. He used up his tires and I got by him," Hulson said. Corbin corroborated Hulson's version. "Yeah, the longer I ran the worse it was getting and the right front was pushing bad," Corbin explained. "He raced me clean and used a veteran move on me," Corbin added. "We are taking baby steps…this result is better than last time." Corbin finished sixth in MAM action two weeks ago.
Rowe, of Chambersburg, Pennsylvania, maintained a good pace to finish fourth and Manchester, Maryland's Justin Cullum rounded out the top five. This marked the second-consecutive top-five MAM finish for both drivers. Third-starting Ray Kable, of Sykesville, Maryland, finished sixth, and Hagerstown, Maryland's Keith Reed took seventh. Veteran driver Doug Stine, of Hagerstown, claimed eighth in his first MAM start of the season. Big Pool, Maryland's Jeff McCauley claimed ninth and Mt. Airy, Maryland's Frank Dibella crossed the stripe in tenth. This marked the first-ever top-10 MAM finish for Stine, McCauley and Dibella.
The race was slowed just once by caution. This occurred on lap three when Mill Creek, West Virginia's Dave Defibaugh suffered a broken left-front suspension component. With more than 100-career wins, Defibaugh was making his first MAM start of the season. Two drivers were unable to start the feature due to complications in the heat races. Pasadena, Maryland's Kyle Lloyd broke a U-joint, and Sharpsburg, Maryland's Bryan Green hit the wall and suffered significant damage to his machine.
The Hoosier Tire Mid-Atlantic Modifieds Series returns to Winchester Speedway, Saturday, April 21, before heading to Maryland's Hagerstown Speedway, Saturday, April 28, for the Series' first visit to the Dirt Capital in the 2018 season.
Feature results (20 laps) - 1. Michael Altobelli, Jr., 2. Rick Hulson, 3. Mike Corbin, 4. Alyssa Rowe, 5. Justin Cullum, 6. Ray Kable, 7. Keith Reed, 8. Doug Stine, 9. Jeff McCauley, 10. Frank Dibella, 11. Rusty Pennington, 12. Gary Moreland, Sr., DNF: 13. Dave Defibaugh, 14. Haley Kaiser. DNS: Kyle Lloyd and Bryan Green
Heat No. 1 results (8 laps) - 1. Michael Altobelli, Jr., 2. Mike Corbin, 3. Justin Cullum, 4. Dave Defibaugh, 5. Rusty Pennington, 6. Gary Moreland, Sr., 7. Frank Dibella DNF: 8. Haley Kaiser
Heat No. 2 results (8 laps) - 1. Alyssa Rowe, 2. Ray Kable, 3. Rick Hulson, 4. Keith Reed, 5. Doug Stine, 6. Jeff McCauley DNF: 7. Bryan Green DNS: Kyle Lloyd
About Michael Altobelli, Jr. - 33 years old; former Late Model champion at Bedford and Hesston Speedways; chassis is Rocket by Ruhlman; car owners are Dan and Roy Harding; crew chief is Gerald Markle; sponsors are Dan's Auto Body, Davin Hardwoods, Inc. and Rick Steele Surveying.
About MAM-An open-wheel, or economy modified, racing series sponsored by Hoosier Tire Mid-Atlantic. The Series has been in operation since 2014 and competes at multiple dirt tracks throughout the Mid-Atlantic region. The Series owner/promoter is Ryne Pennington of Woodstock, Virginia
Media contact-MikeDonald@midatlanticmods.com