Monday, April 2, 2018
Michael Altobelli, Jr wins at Winchester
By: Mike Donald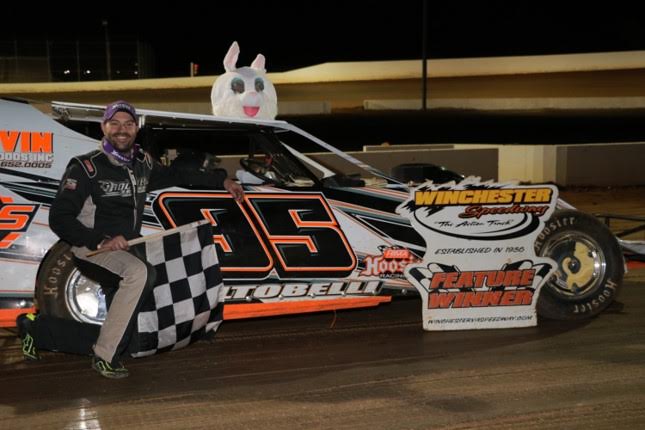 (Photo by: Jimmy Saffell)
The opening race of the 2018 Hoosier Tire Mid-Atlantic Modifieds Series' season belongs to Michael Altobelli, Jr. The Saxton, Pennsylvania driver grabbed the lead from Drake "The Kid" Troutman on lap 13, and he never looked back, as he punched his ticket to Victory Lane at Winchester Speedway in Virginia, Saturday.
"I want to thank all my sponsors and crew," said a jubilant Altobelli in Victory Lane. "Drake did a great job, and I knew I wasn't going to be able to get underneath him, and that's why I made my move to the outside," he added.
Troutman, the 12-year-old sensation from Hyndman, Pennsylvania, led the first 13 laps of the 20-lap affair. Troutman used the low line for much of the event. Coming off turn two on the 13th circuit, however, he was bogged down a bit on the racing surface and lost some momentum. This allowed Altobelli to spring to the outside on the backstretch and claim the lead going into turn three. From that point forward, Altobelli steadily pulled away and was the first to reach the checkered flag in the Roy and Dan Harding-owned No. 95. This was Altobelli's second-career Mid-Atlantic Modifieds (MAM) Series victory. His first came, last year, at Port Royal Speedway.
Troutman claimed the runner-up spot, and that marked his first top-five finish in MAM competition. Troutman was piloting the No. 7 owned by his father, D.J. Troutman, a long-time Late Model competitor. Third went to Chambersburg, Pennsylvania's Alyssa Rowe; Sykesville, Maryland's Ray Kable took fourth and Manchester, Maryland's Justin Cullum crossed the stripe for fifth. Rowe, Kable and Cullum kept the fan entertained as they engaged in a tight battle for position for much of the duration.
A little farther back, Winchester, Virginia's Mike Corbin; Hollywood, Maryland's James Sparks and Winchester's Haley Kaiser were locked into a hard-fought battle for sixth as the three battled, three-wide at times, for position. When the dust settled, Corbin was sixth, Sparks took seventh and Kaiser finished eighth. Rounding out the top-10 were Hagerstown, Maryland's Keith Reed in ninth and Sharpsburg, Maryland's Bryan Green in tenth.
Three drivers suffered misfortune and retired early from the event. Mt. Airy, Maryland's Frank Dibella, who was making his first-ever Modified start had mechanical issues and pulled off the track on lap two. Elm City, North Carolina's Austin Holcombe suffered a broken shock and retired at lap five, and Glen Burnie, Maryland's Rick Huslon, a two-time winner in MAM competition, had issues and left the event at lap 11.
Altobelli and Troutman won the heat races earlier in the evening. In the first heat race, Williamsburg, Virginia's Hunter McClendon made contact with another car, ending his night early. He was unable to start the main event.
Feature event results (20 laps) - 1. Michael Altobelli, Jr., 2. Drake "The Kid" Troutman, 3. Alyssa Rowe, 4. Ray Kable, 5. Justin Cullum, 6. Mike Corbin, 7. James Sparks, 8. Haley Kaiser, 9. Keith Reed, 10. Bryan Green, 11. Kyle Lloyd, 12. Gary Moreland, Sr., 13. Jeff McCauley, 14. Adam Hoegerl, 15. Rick Hulson (DNF) 16. Austin Holcombe (DNF), 17. Frank Dibella (DNF). DNS-Hunter McClendon
Heat race No. 1 results- 1. Drake "The Kid" Troutman, 2. Alyssa Rowe, 3. Ray Kable, 4. Kyle Lloyd, 5. Keith Reed, 6. Haley Kaiser, 7. Jeff McCauley, 8. Adam Hoegerl, 9. Hunter McClendon
Heat race No. 2 results- 1. Michael Altobelli, Jr., 2. Austin Holcome, 3. Rick Hulson, 4. Justin Cullum, 5. James Sparks, 6. Mike Corbin, 7. Jeff McCauley, 8. Frank Dibella, 9. Bryan Green
About Michael Altobelli, Jr. - 33 years old; former Late Model champion at Bedford and Hesston Speedways; chassis is Rocket by Rulhman; car owners are Dan and Roy Harding; crew chief is Gerald Markle; sponsors are Dan's Auto Body, Davin Hardwoods , Inc. and Rick Steele Surveying.
About MAM-An open-wheel, or economy modified, racing series sponsored by Hoosier Tire Mid-Atlantic. The Series has been in operation since 2014 and competes at multiple dirt tracks throughout the Mid-Atlantic region. The Series owner/promoter is Ryne Pennington of Woodstock, Virginia