Monday, March 26, 2018
Summit Racing Equipment USRA Frost Busters set for April 5-7
By: Jeff Nun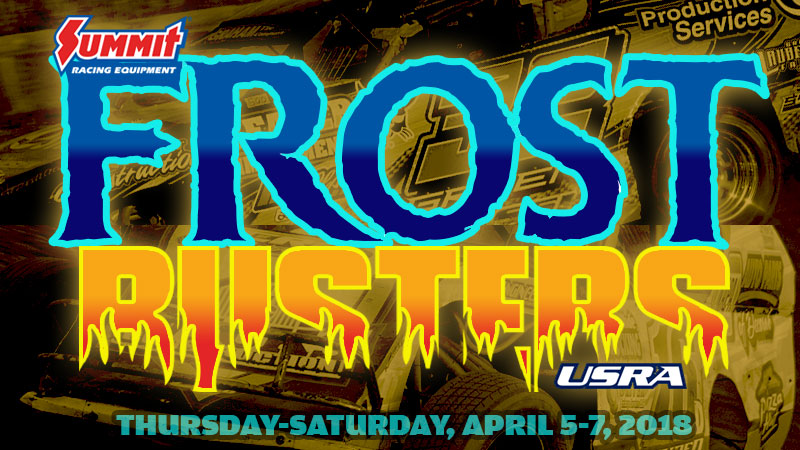 WICHITA, Kan. (March 25)—Don't be an April's fool. Get out and see something cool when the Summit USRA Frost Busters heat up three exciting dirt ovals in Kansas and Missouri on Thursday, Friday and Saturday, April 5-7.
A trio of events are on tap for featuring USRA Modifieds, Holley USRA Stock Cars presented by Medieval Chassis and Out-Pace USRA B-Mods, beginning at the 81 Speedway in Wichita, Kan., on Thursday, April 5 with the first heat race slated for 7:30 p.m.
Built in 1954 on the outskirts of Wichita, the facility opened as Robbins Speedway and operated on Sunday nights for four years before it was sold to Wichita businessman O.L. Douglas in 1958, who changed the name to its present 81 Speedway.
Five years later, the track was sold to Bill Hall of Newton, and in 1971 he turned the daily operations over to his son, Charles (known to most as C. Ray Hall). The 2018 season will be his 47th year as the head man in charge of daily operations.
The 81 Speedway is located north of Wichita on I-135 to exit 16, then 0.7 mile west on 77th St. (7700 N. Broadway, Park City, KS 67219). For more information call 316-755-1781 or visit www.race81speedway.com online.
Friday, April 6, takes the tour to the Lakeside Speedway in Kansas City, Kan. The pit gate opens at 4:30 p.m., grandstands open at 5, hot laps begin at 6:45 and racing starts at 7:30 p.m.
The track originally opened in 1955 at 92nd and Leavenworth Road in Kansas City, but three deaths during the 1956 racing season forced its closure. Five years later, Lakeside Speedway opened under new management in 1961 and continued at the Leavenworth Road location through 1988 when developers for The Woodlands dog and horse racing track purchased the property.
Lakeside Speedway then moved to its present location at 5615 Wolcott Drive in Kansas City, Kan. The move enabled not only construction of modern grandstands, suites and a press box, but also provided room for an adjacent campground for racing fans. From 1989 to 1999, the facility operated as a half-mile asphalt track.
In 2000, Lakeside Speedway was again under new management and the racing surface was converted to a semi-banked 3/8-mile dirt track, which continues to be the configuration today. Don and Donna Marrs purchased the facility from Marc Olson in 2012, and will operate the famed facility again in 2018 for the sixth consecutive season with Pete Howey managing the day-to-day operations.
The Lakeside Speedway is located 1.0 mile west of I-435 (exit 18) on SR 5 (5615 Wolcott Dr., Kansas City, KS 66109). For more information, call (913) 299-9206 or visit www.lakesidespeedway.net online.
The tripleheader weekend will wrap up on Saturday, April 7, at the I-35 Speedway in Winston, Mo. The pit gate opens at 4:30 p.m., grandstands open at 5, hot laps begin at 6:30 and the green flag waves at 7 p.m.
Owned by Mike and Kyle Johnson, the I-35 Speedway was built in 1994 and purchased by the Johnsons in late 2007. With 24 degrees of banking in the corners, the track hosts weekly racing events from March through October, including USRA Modifieds, Holley USRA Stock Cars, Out-Pace USRA B-Mods and more.
Camping is available in the overnight park area, and concessions are located throughout the facility and includes a funnel cake room, beer shack and the full-service Trackside Bar & Grill, where you can enjoy a delicious meal overlooking turns one and two of the racetrack.
The I-35 Speedway is a semi-banked 3/8-mile dirt oval located 10 miles north of Cameron on SR 6 at exit 64 (13141 SR 6, Winston, MO 64689). For more information, call 660-749-5317 or check them out at www.i-35speedway.net online.
Each show will pay $1,500 to win and $150 to start for Modifieds. Stock Cars and B-Mods will battle for $1,000 to win and $125 to start all three nights.
There will be a complete show each night with competitors in all three classes drawing for heat race starting spots. Feature lineups will be determined by heat race passing points with the top eight redrawing for first four rows of the main event each night.
Modified nightly payout: 1. $1500, 2. $1000, 3. $700, 4. $600, 5. $500, 6. $400, 7. $300, 8. $250, 9. $225, 10. $200, 11. $190, 12. $180, 13. $170, 14. $165, 15. $160, 16. $155, $150 to start, $100 tow.
Stock Car and B-Mod nightly payout: 1. $1000, 2. $650, 3. $550, 4. $450, 5. $375, 6. $300, 7. $250, 8. $225, 9. $200, 10. $175, 11. $150, 12. $140, 13. $135, 14. $130, $125 to start, $80 tow.
In addition to a load of cold hard cash in each class, Summit USRA Weekly Racing Series national and regional points will be awarded all three nights, and Iron Man Challenge points will be awarded for Stock Cars and B-Mods all three nights.
Drivers are encouraged to pre-enter. The early entry fee is $75 per night or $100 per night at the gate for Modifieds. The early entry fee is $50 per night or $75 per night at the gate for Stock Cars and B-Mods. For complete rules and to pre-enter for this event, download the entry form at www.usraracing.com/downloads/entryforms.
To learn more about the USRA, visit www.usraracing.com or call (515) 832-6000. You can also like us on Facebook at www.facebook.com/usraracing, follow us on Twitter at www.twitter.com/usraracing and check out our YouTube channel at www.youtube.com/usratv. Keep up to speed with everything USRA by joining our email list at www.usraracing.com/subscribe.
= = = = = = = = = = = = = = =
USRA OFFICIAL SPONSORS: American Racer Racing Tires, Argo Manufacturing, Chevrolet Performance, CP-Carrillo, Fast Shafts, Intercomp, KSE Racing Products, Mesilla Valley Transportation, MSD Performance, Nitroquest Media, Pace Performance, RacinDirt.com, Summit Racing Equipment.
USRA PARTICIPATING SPONSORS: ASi Racewear, Boubin Tire & Automotive, Brodix Cylinder Heads, Cook Racing Supplies, ElbowsUp.com, Holley Performance Products, PBM Performance Products, YouDirt.com.
USRA CONTINGENCY SPONSORS: 905 Ink, AFCO Racing Products, Allstar Performance, Beyea Custom Headers, BSB Manufacturing, Champ Pans, Edelbrock, Forty9 Designs, Genesis Racing Shocks, Hooker Harness, Integra Shocks & Springs, Jerovetz Motorsports Racing Parts, Keyser Manufacturing, Medieval Chassis, Mitchell Machine, Mr. Gasket, Out-Pace Racing Products, QA1, Quick Time, RacerWebsite.com, Real Racing Wheels, Sybesma Graphics, Wehrs Machine & Racing Products, Wilwood Disc Brakes.
USRA RACE TRACKS: 81 Speedway, Alien Motor Speedway, Arizona Speedway, Caney Valley Speedway, Chateau Raceway, Cresco Speedway, Deer Creek Speedway, Devil's Bowl Speedway, Fayette County Speedway, Flint Creek Speedway, Hamilton County Speedway, Humboldt Speedway, I-35 Speedway, Lake Ozark Speedway, Lakeside Speedway, Lawton Speedway, Legit Speedway Park, Lucas Oil Speedway, Mason City Motor Speedway, Midway Speedway, Mississippi Thunder Speedway, Missouri State Fair Speedway, Monett Speedway, Nobles County Speedway, Park Jefferson Speedway, Rapid Speedway, RPM Speedway, Route 66 Motor Speedway, Sioux Speedway, Southern Iowa Speedway, Southern New Mexico Speedway, Southern Oklahoma Speedway, Springfield Raceway, Tri-State Speedway, Upper Iowa Speedway, Vado Speedway Park, West Texas Speedway.