Friday, March 23, 2018
Inaugural B-Mod Bedlam Pre-Entry List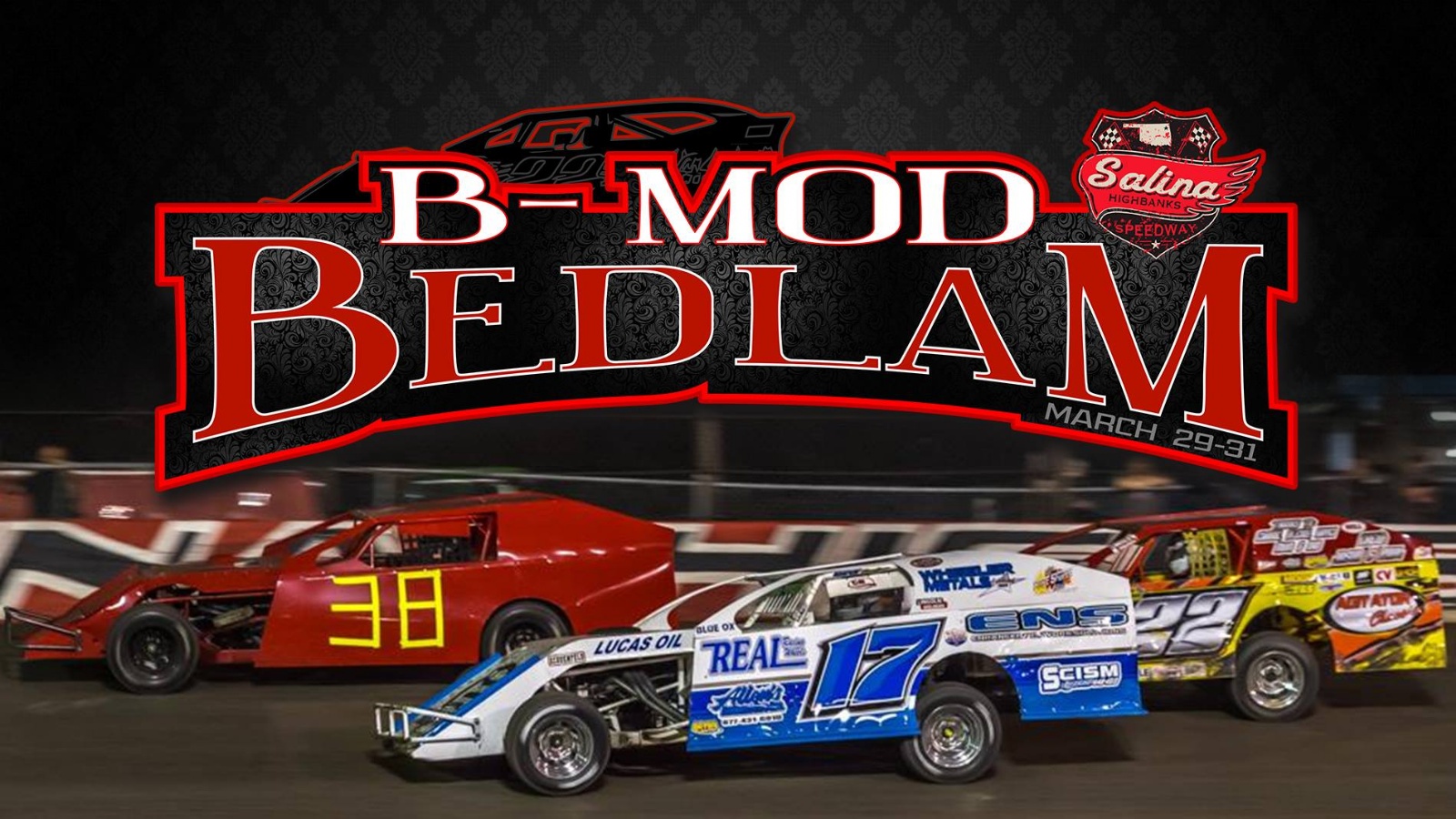 Official pre-entry list for the Inaugural B-Mod Bedlam as of March 23rd, 2018.
Car Driver Hometown State
98 John Allen; Chanute, KS
98K Kenton Allen; Chanute, KS
2G Jake Asbell; Carl Junction, MO
15 Brent Bates; Tulsa, OK
71III Jimmy Body III; Diamond, MO
00B Dustin Boney; Gower, MO
28 Andy Bryant; Ft Scott, KS
19 Dylan Cantwell; Salina, OK
5* Dalton Clay; Oktaha, OK
89 Tate Cole; Fort Gibson, OK
20C Shane Collins; Thayer, KS
10C Chris Connel; Leavenworth, KS
5D Dakota Foster; Gardner, KS
38F Jeran Frailey; Chouteau, OK
7 Willie Gammill; Siloam Springs, AR
7D Brandon Givens; Hutchinson, KS
7H Brett Hansen; Ft Gibson, OK
1XX Chris Hawkins; Neosho, MO
66 Ethan Isaacs; Bonner Springs, KS
65 Kris Jackson; Lebanon, MO
00 Cody Jolly; Jasper, MO
707 Jamie Judy; Joplin, MO
21B Brandon Kenny; Woodward, OK
14 James Little; Tulsa, OK
31 Charlie Lloyd; Sapulpa, OK
55 Jake Lloyd; Inola, OK
M1 Richard Magee; Oologah, OK
216 Brent Manning; Rogers, AR
22 Brian McGowen; Pittsburg, KS
18M JC Morton; Springfield, MO
67 Mike Northrup; Coweta, OK
42 Gene Pearce; Coweta, OK
14C Camden Perry; Lincoln, AR
02 Andrew Schroeder; Fremont, IA
8 Jeff Scroggins; Brookline, MO
5 Jonathon Shoemaker; Inola , OK
70JR David Simpson; Thunder Bay, ON
33S Ben Stockton; Kansas City, MO
17X Mike Striegel; Wheatland, MO
75 Cole Suckow; Cresco, IA
20T Mike Tanner; Smithville, MO
20 Jared Thulin; Edmond, OK
22T Michael Truscott; Chippewa Falls, WI
4D Doug Tye; Collinsville, IL
18 Micah Veleba; Sutton, NE
17 Brady Walsh; Chouteau , OK
44 Kale Westover; Blair, OK
RED1 Dan Wheeler; Savage MN
R63 Riley Whitworth; Humboldt, KS
ZEE28 Randy Zimmerman; Ft. Scott, KS
Saturday, March 31st's B-Mod Bedlam A-Main will pay $5,000 to win and $400 to start, as previously announced. The entire Saturday purse is $21,400 with the top five finishers earning $3,000, $2,000, $1,500, and $1,000, respectively. The entire purse can be viewed on the entry forms included below. Entry fees received by or postmarked on March 23rd are $100, while late entries will pay $125.
Only Saturday participation is required to qualify for the Inaugural B-Mod Bedlam A-Main. However, competitors are encouraged to practice on Thursday and race in Friday's ARMI B-Mod Duels, which will pay $500 to win and $60 to start. The top 40 drivers in heat race passing points will qualify for one of two A-Mains, and the winner of each will earn a provisional into Saturday's A-Main.
A blend of five rules packages will be allowed for the mega event that will offer an unprecedented one-day race payout in B-Mod competition. Start times, pit pass prices, and support classes will be announced closer to the race date. RacinDirt.com is planning to carry both nights of racing live for those fans that cannot attend.