Wednesday, March 14, 2018
The Inside Dirt: 2018 Volume 2
By: Chris Stepan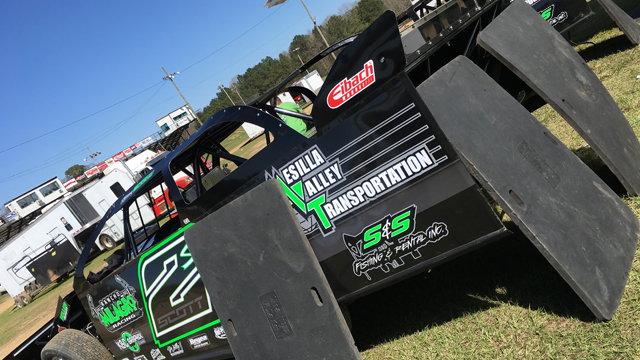 (Photo by: RacinDirt.com)
Welcome back to The Inside Dirt. Volume 2 will focus on the USMTS events at the Kennedale Speedway Park in Kennedale, TX and the pair of events held in Mississippi this past weekend – Friday at the Jackson Motor Speedway in Jackson, MS and Saturday at the Whynot Motorsports Park in Meridian.
First thing's first – Ethan Dotson raced his way to USMTS victory lane for the first time in his young career at Kennedale with a dramatic last corner pass of race long leader Rodney Sanders. Rodney lead basically every lap and looked to be on his way to a convincing victory on the rough and tumble racing surface, but Dotson made a late race charge and Sanders broke coming off of four as he was headed toward the checkered just as Dotson made a cross over move to sneak under Rodney's #20 and beat him to the stripe. Dotson's victory was a very popular one and one that proves that money doesn't necessarily buy victories. Ethan is running a 2 year old car with a $6500 crate motor in it, which they haul on an open trailer!
Speaking of Sanders, he has had one of the fastest cars night in and night out, but he has yet to get a victory on the season. A pair of mechanical failures while leading late in feature races have snake bitten him and has been the story of Sanders' season thus far.
A tip of the cap to Arkansas racer Zane Ferrell as well. Zane rallied to come home with a top five finish at Kennedale. His 4th place run is his career best USMTS finish thus far.
Tennessee racer Lucas Lee entered his first USMTS race on Friday night in Jackson and had a great showing, winning his heat race from the pole, redrawing the outside of the front row for the feature and leading every lap, holding off challenge after challenge by Lucas Schott during the middle of the event and then holding off a hustling Zack VanderBeek during the late stages of the 40-lapper. Lee was stripped of his victory due to an engine setback discrepancy, but Lee proved that he certainly can run with the USMTS guys night in and night out, no matter the outcome of this night.
VanderBeek quietly picked up his 45th career USMTS victory after Lee was disqualified in post race tech. Zack raced hard for second with Scott for much of the event and stole that spot late in the race, but thought he would be forced to settle for second until Lee's dq elevated him to the top spot.
Stormy Scott turned maybe the worst start of his racing career into a big time morale building victory on Saturday night at Whynot. Stormy, who wrecked a pair of cars in his previous 4 USMTS starts and had not finished a race yet this season, engaged in an epic side by side battle with Cade Dillard out front of the 40-lap event at the 'House of Hook' and secured the lead for good late in the non-stop race to finally get the monkey off of his back and put his #2s into USMTS victory lane in 2018. Not only was the win a big boost for team morale, but it's a huge confidence booster heading into the King of America this coming weekend.
We should also note that Pulaski, Mississippi racer Toby Hodge ran a Dale Earnhardt themed #3 car on Friday night in Jackson and then was back in his primary #25 on Sat and shook off his rough Friday night with a great run on Saturday night, besting all Mississippi racers with a 9th place run in front of his hometown crowd.
Mother Nature also deserves a mention – She has rained out the USMTS events at Texana Raceway, Grayson County Speedway, Superbowl Speedway and the Magnolia Motor Speedway thus far in 2018. Hopefully the weather starts to point in the right direction now that daylight savings time is here.
Until next time - thanks for keeping up with The Inside Dirt!