Wednesday, February 28, 2018
The Inside Dirt: 2018 Volume 1
By: Chris Stepan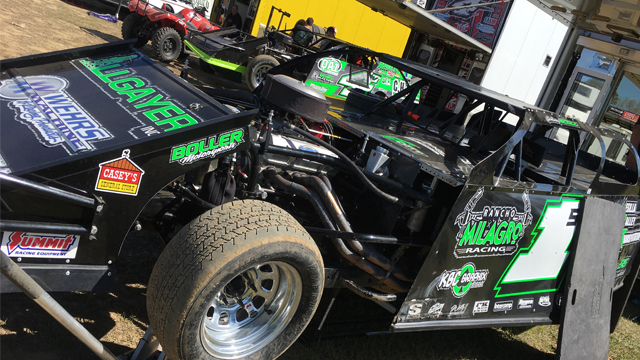 (Photo by: RacinDirt.com)
A new feature on the website for 2018 will be a feature called 'The Inside Dirt', which will be written by USMTS announcer / veteran promoter Chris Stepan and posted every Wednesday recapping the 'insider tidbits' that the fans in the stands may not get to see while at the track on a night to night basis.
Typically this feature will provide random inside bits of information such as memorable events that took place throughout the course of the weekend, highlights, lowlights and controversial moments on and off the track.
The USMTS season kicked off at the South Texas Speedway in Corpus Christi, TX with a Friday/Saturday double header. Johnny Scott swept both feature events, but wasn't the fastest car either night. Friday night, Rodney Sanders lead the first 35 laps before breaking a driveshaft, handing Scott the lead and Saturday night, leader Bobby Malchus and Scott got together with lapped traffic, sending Malchus spinning, again handing Scott the lead, allowing him to sweep the weekend.
VanderBuilt Race Cars earned the first two victories of the season with MB Customs picking up three of the six heat races and both b-mains over the course of the weekend. VanderBuilt won a heat, Bandit Race Cars won a heat and Rocket by Ruhlman won a heat race as well.
Stormy Scott and Jon Mitchell got together on a late race restart on Friday night in turns one and two and Stormy took a swipe at Mitchell when the field raced into turn three, but Stormy missed and backed his own machine hard into the turn three wall, causing extensive damage to his primary car. Stormy flew home Sunday morning to pick up a secondary car and arrived back in the Dallas-Fort Worth Metroplex on Tuesday afternoon to start putting it together for the weekend's action.
California standout Ethan Dotson entered his first career USMTS events behind the wheel of a Joe Duvall owned MB Custom and turned a lot of heads. Not only did he win his first career USMTS heat race in his series debut, but he also ran 8th and 3rd in the pair of main events over the course of the weekend.
El Paso, Texas second generation driver Carlos Ahumada Jr. turned some heads on Saturday night after charging from 18th to 7th in the Saturday night finale. A career best USMTS finish for the 21 year old from Western Texas.
USMTS Rookie Manuel Williams II from Fouke, Arkansas turned some heats as well, running second in his heat on Friday night and then winning a heat race on Saturday night before backing it up with a solid, career best 6th place finishing the main event. 'Lil Man as he is called, had his Bandit Chassis hooked up on the opening weekend of the series.
Tonganoxie, Kansas racer Adam Kates debuted his new VanderBuilt car this weekend and after a dismal Friday night, in which he was involved in seven cautions for crashes, spins etx, the team righted the ship and Adam was battling for a top five in the main evet on Saturday night before troubles ended his night early.
Joe Duvall is creeping closer to his first career USMTS victory and kicked off 2018 with a pair of podium finishes in his #91. Big Daddy has his first USMTS victory lane celebration already plotted out and as he said, it will go down in infamy when he gets that first win.
Jordan Weaver, the only female in the field for the weekend, rallied to her first career top ten finish with the USMTS after a 19th to 10th run on Saturday night in the main event. Jordan, driving for Rowland Racing, is a former ASCS Sprint Car racer and qualified for both main events, with a 10th and 14th place run for her efforts.
That will do it for volume 1 - now you have The Inside Dirt!