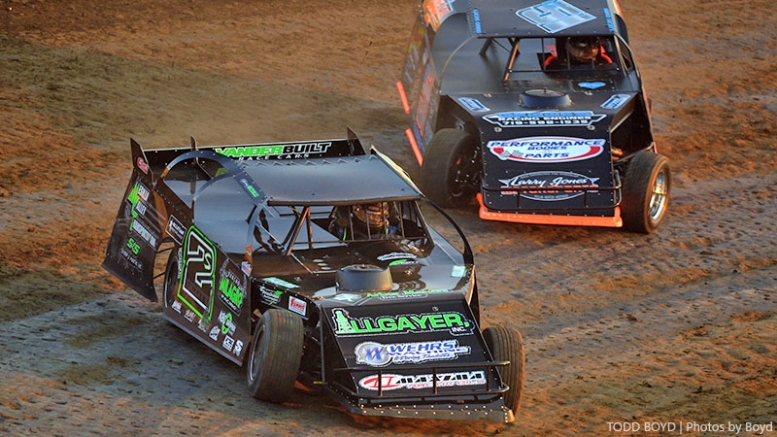 Wednesday, April 4, 2018
USMTS invades Southern New Mexico Speedway April 20-22 for Rancho Milagro Short Track Shootout
The mud-slinging masters of dirt modified racing return to the Southern New Mexico Speedway on Friday, Saturday and Sunday, April 20-22, for the Rancho Milagro Short Track Shootout and the one and only stop of the 2018 campaign at the Las Cruces, N.M., oval. Presented by Premier Waste Services, Barnett Harley-Davidson, G3 Fitness, S&S Fishing & Rental, Gotta Race and Torco Race Fuels, fans will see th …
Series News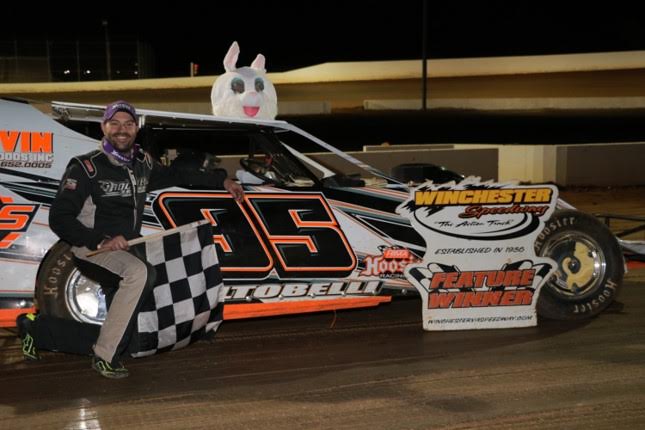 Monday, April 2, 2018
Michael Altobelli, Jr wins at Winchester
The opening race of the 2018 Hoosier Tire Mid-Atlantic Modifieds Series' season belongs to Michael Altobelli, Jr. The Saxton, Pennsylvania driver grabbed the lead from Drake "The Kid" Troutman on lap 13, and he never looked back, as he punched his ticket to Victory Lane at Winchester Speedway in Virginia, Saturday.
"I want to thank all m …
Series News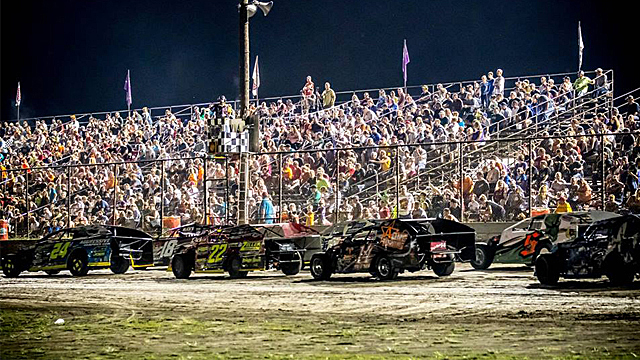 Monday, March 26, 2018
Tri -City opens with Deuces Wild LIVE on RacinDirt
The first special event of the season at Tri-City Speedway in Granite City, IL takes place Friday, April 6. It features the American Modified Series, MOWA Sprint Cars and UMP Late Models and Micros. The three full size divisions will be racing for a top prize of $2,000 in this ninth annual event. For the first time ever you can catch every lap of the event live on RacinDirt.com.
Track News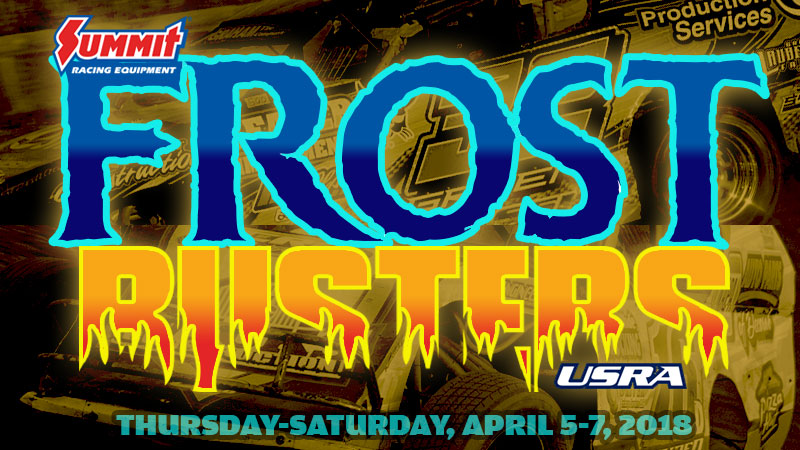 Monday, March 26, 2018
Summit Racing Equipment USRA Frost Busters set for April 5-7
WICHITA, Kan. (March 25)—Don't be an April's fool. Get out and see something cool when the Summit USRA Frost Busters heat up three exciting dirt ovals in Kansas and Missouri on Thursday, Friday and Saturday, April 5-7. A trio of events are on tap for featuring USRA Modifieds, Holley USRA Stock Cars presented by Medieval Chassis and Out-Pace USRA B-Mods, beginning at the 81 Speedway in Wichit …
Series News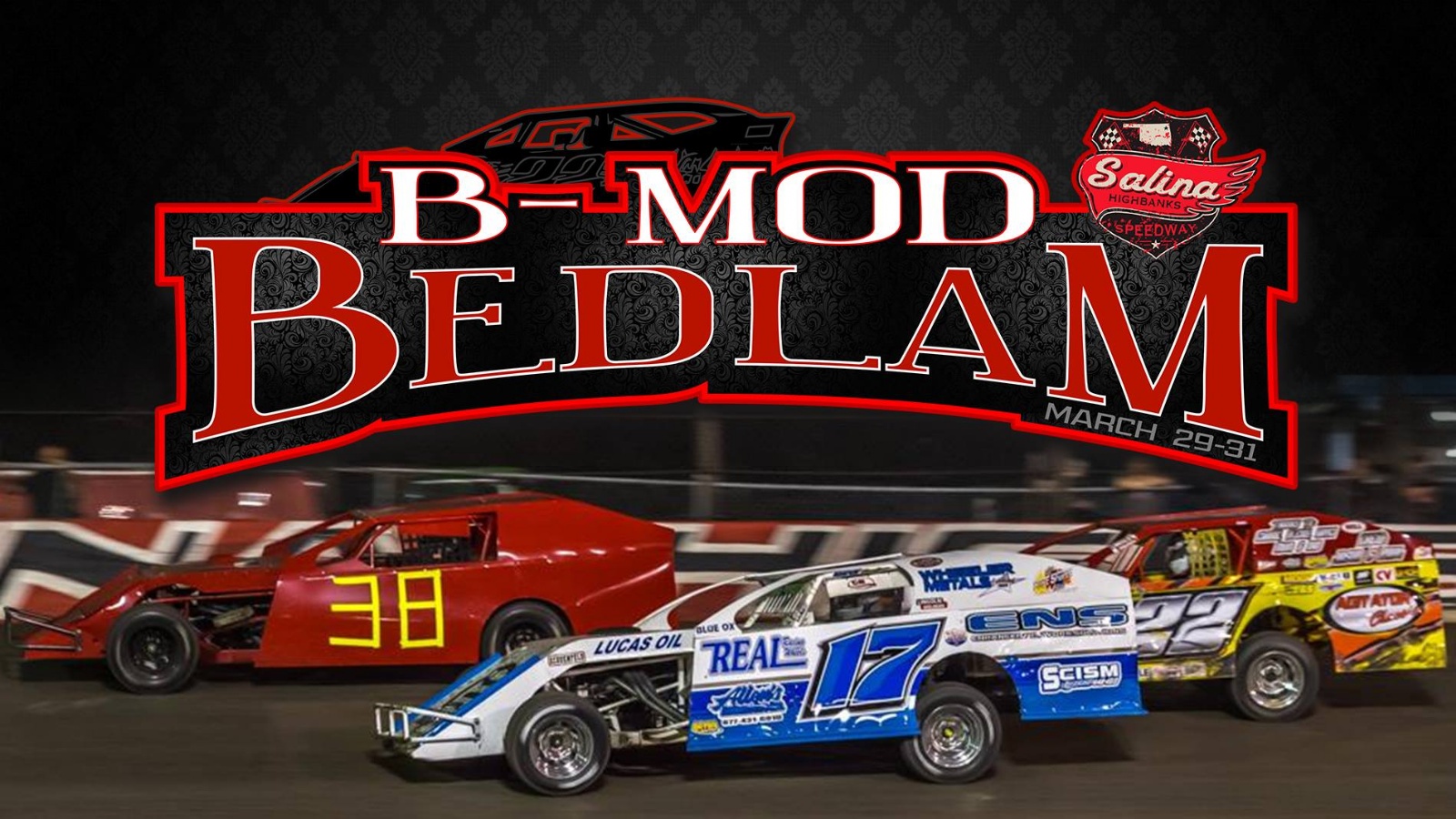 Friday, March 23, 2018
Inaugural B-Mod Bedlam Pre-Entry List
Official pre-entry list for the Inaugural B-Mod Bedlam as of March 23rd, 2018. Car Driver Hometown State 98 John Allen; Chanute, KS 98K Kenton Allen; Chanute, KS 2G Jake Asbell; Carl Junction, MO 15 Brent Bates; Tulsa, OK 71III Jimmy Body III; Diamond, MO 00B Dustin Boney; Gower, MO 28 Andy Bryant; Ft Scott, KS 19 Dylan Cantwell; Salina, OK 5* Dalton Clay; Oktaha, OK 89 Tate …
Track News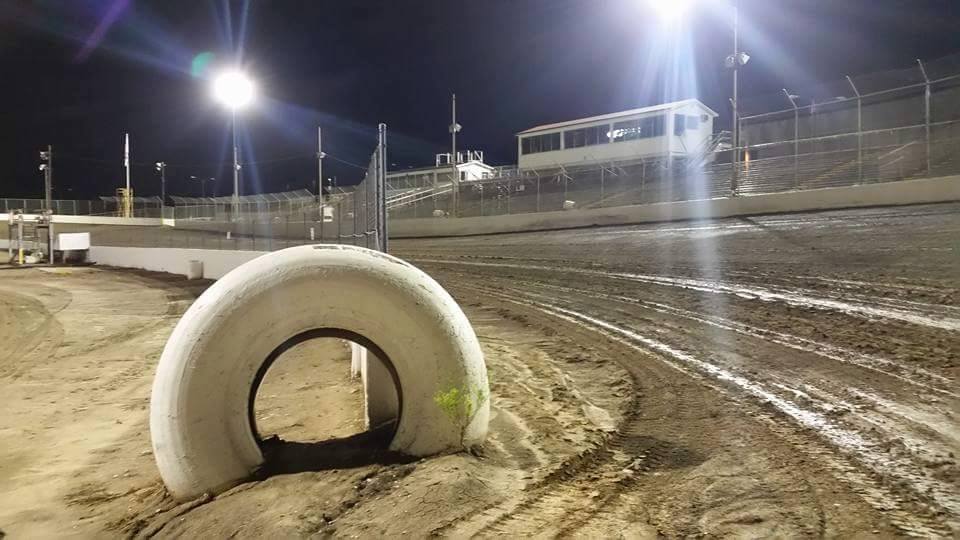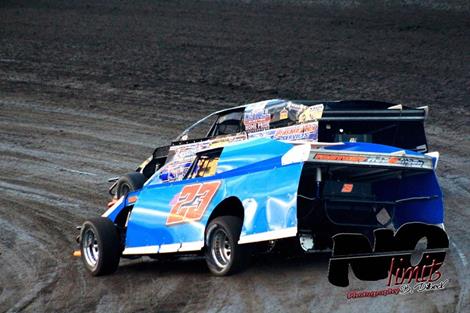 Wednesday, March 21, 2018
$1,500 to win Modified show also on Saturday Bedlam card
The sole support class for the Saturday, March 31st running of the Inaugural $5,000 to win B-Mod Bedlam program will be the Modifieds racing in the first NASCAR Whelen All-American Series points race of the 2018 season. The Modified A-Main will pay $1,500 to win, $150 to start and non-qualifiers will receive $75. The complete payout is included below. Drivers will be required to have a NASCAR license. A full license is $205 …
Track News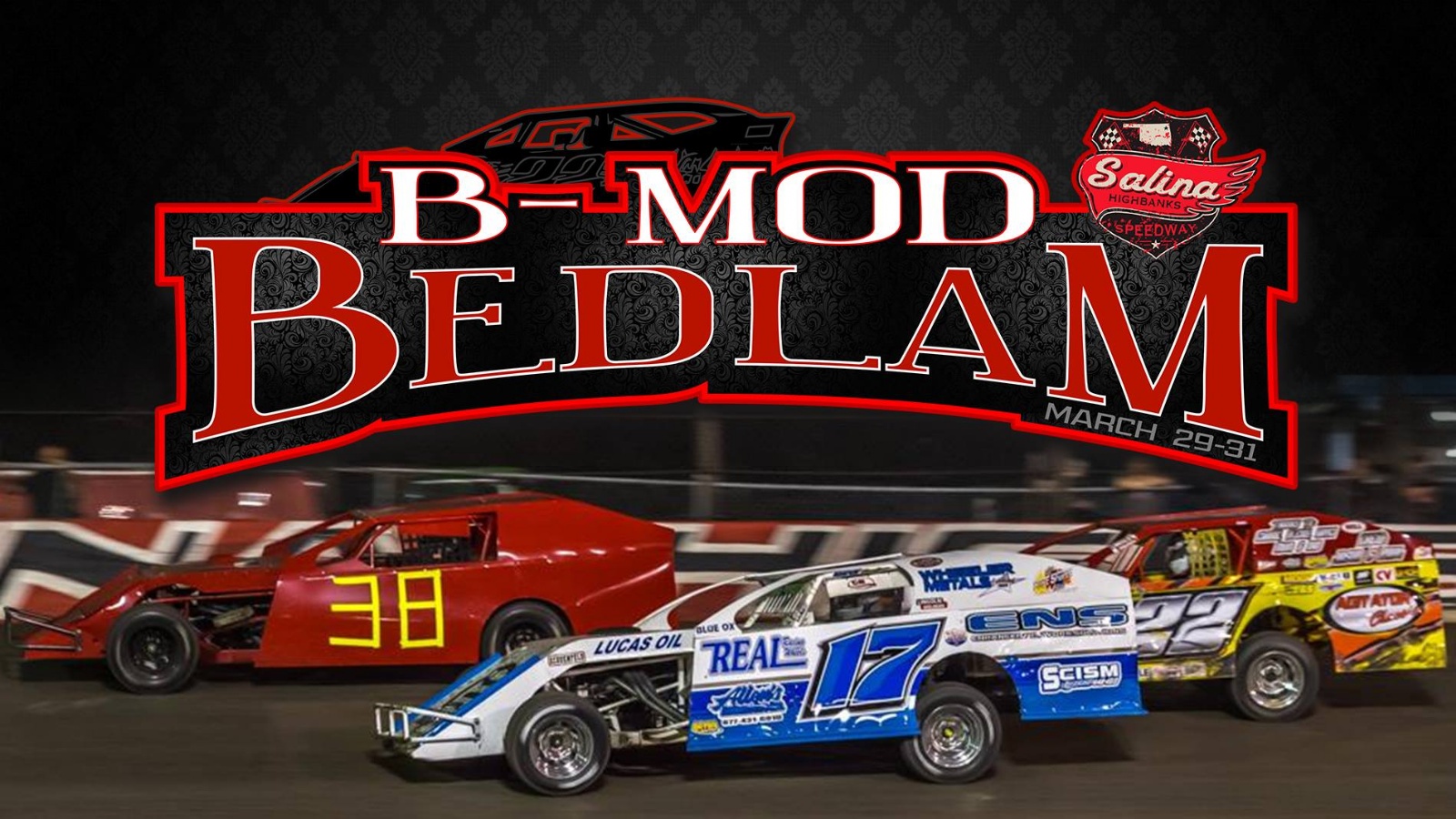 Monday, March 19, 2018
B-Mod Bedlam pre-entry deadline extended to March 23rd
Officials at Salina Highbanks Speedway have decided to extend the pre-entry deadline to Friday, March 23rd. Entries received by or postmarked March 23rd will be accepted at the original entry fee of $100. Any entry received after that date will be $125. The pre-entry only requirement has been dropped also, and entries will be accepted at the track on race day. The Inaugural B-Mod Bedlam is slated for Thursday …
Track News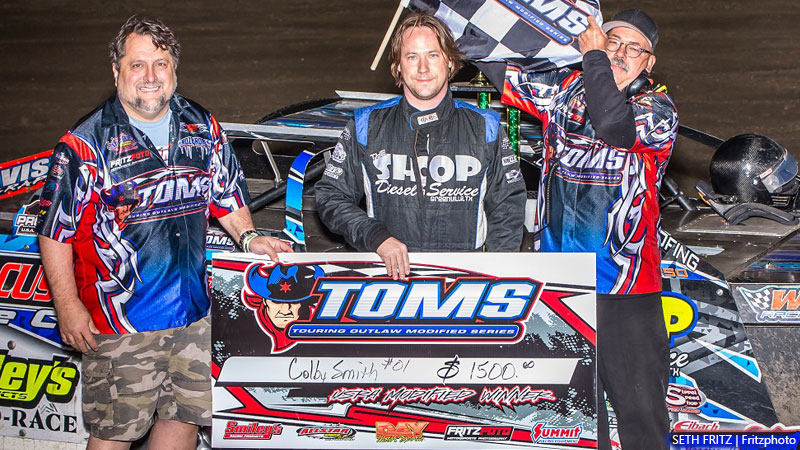 Saturday, March 17, 2018
Colby Smith captures TOMS season opener
The 2018 Touring Outlaw Modified Series season opener kicked off at the Southern Oklahoma Speedway under heavy clouds and the threat of rain. With a field of 29 entries, we pushed on to dodge the rain with luck and had a great race for the fans. Colby Smith was the high point winner from the heat races and with the redraw fourth starting position. At the drop of the green flag …
Series News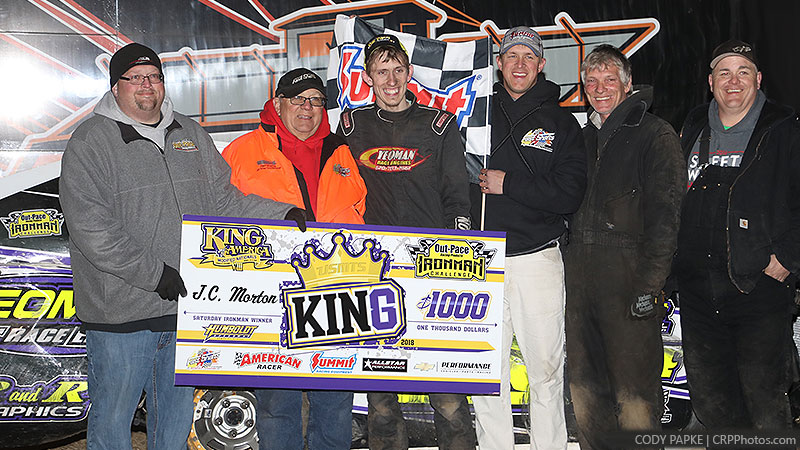 Saturday, March 17, 2018
Morton masters final feature at King of America VIII Iron Man Challenge
HUMBOLDT, Kan. (March 17)--Things just kept getting better and better for J.C. Morton this weekend at the Humboldt Speedway for the King of America VIII Modified Nationals presented by Summit Racing Equipment. After leading the Out-Pace USRA B-Mod main event two nights in a row but settling for a fourth-place finish on Thursday and a runner-up on Friday, the 28-year-old put it all together Saturday with a wir …
Series News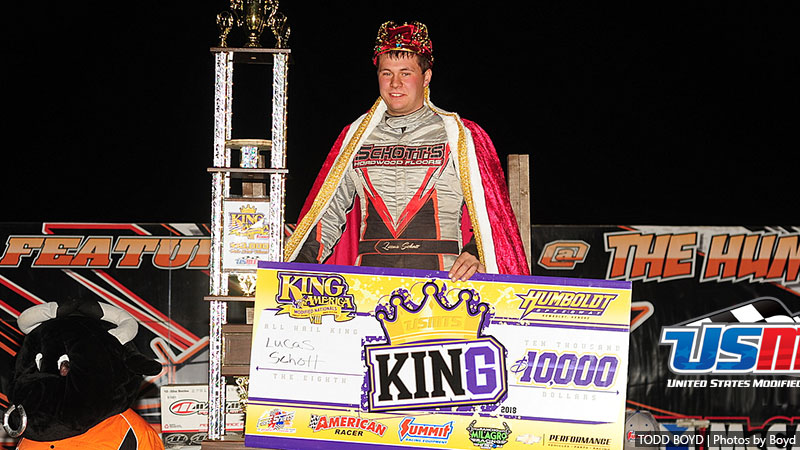 Saturday, March 17, 2018
Schott wears King of America VIII crown
For Schott, it was his fifth career USMTS triumph and biggest since pocketing a little more than $11,000 less than two years ago after winning the inaugural Grant Junghans Memorial. Thornton, who started eighth, had to settle for a $5,000 runner-up paycheck while Johnny Scott fended off his twin brother and 2012 King of America titlist, Stormy Scott, for third-place money. Rodney Sanders, who c …
Series News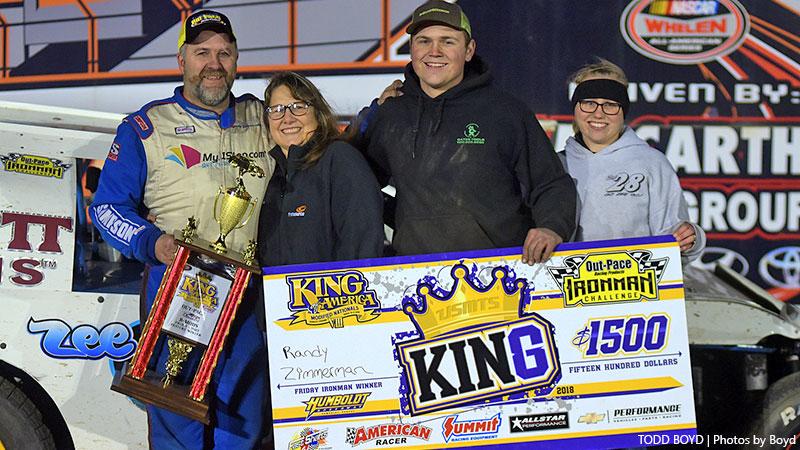 Friday, March 16, 2018
Zimmerman on top in Out-Pace USRA B-Mods at Humboldt
HUMBOLDT, Kan. (March 16)--Veteran racer Randy Zimmerman of Fort Scott, Kan., flew by leader J.C. Morton on lap 16 of the Out-Pace USRA B-Mod feature, and then held off multiple challenges over the final nine laps to score a $1,500 victory Friday at the Humboldt Speedway during the King of America VIII Modified Nationals presented by Summit Racing Equipment. Morton-the 2016 Out-Pace USRA B-Mod national champi …
Series News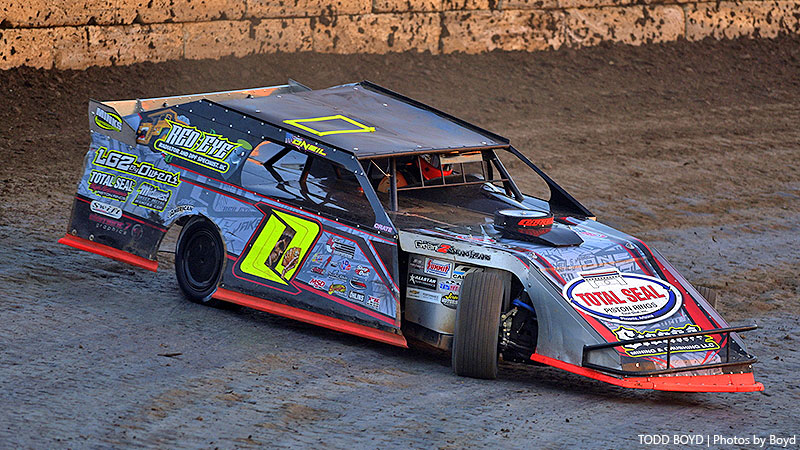 Friday, March 16, 2018
O'Neil on the pole for King of America VIII
HUMBOLDT, Kan. (March 16)--Jake O'Neil won both of his qualifying heat races Friday and earned the pole position for Saturday's $10,000-to-win, $1,000-to-start championship event at King of America VIII presented by Summit. Racing Equipment. Navigating a tricky Humboldt Speedway bullring, the Tucson, Ariz., racer was the only USMTS Modified driver to score a win in both of his 12-lap qualifiers-winnin …
Series News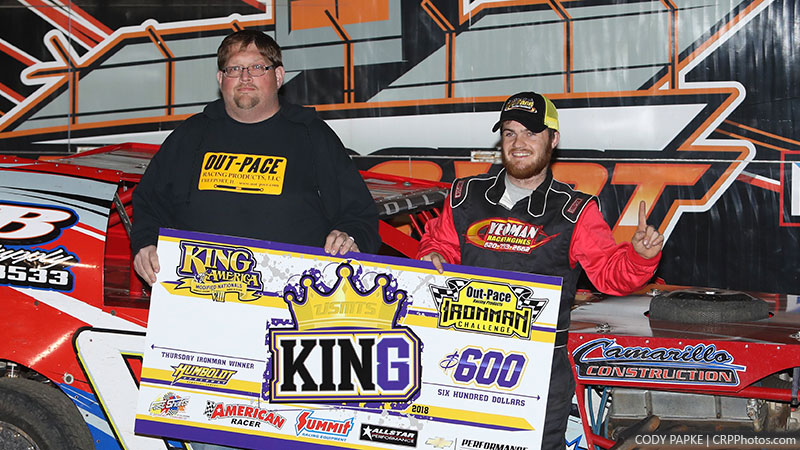 Friday, March 16, 2018
King of America VIII Iron Man Challenge opener to Jolly
King of America VIII Iron Man Challenge opener to Jolly HUMBOLDT, Kan. (March 15)--Thursday night kicked off the King of America VIII Modified Nationals presented by Summit Racing Equipment at the Humboldt, and the 2018 campaign for the USRA Iron Man Challenge. With Out-Pace USRA B-Mods sharing the spotlight with the USMTS Modifieds, a field of 41 bad-to-the-bone B-Mods were in the pits for the …
Series News