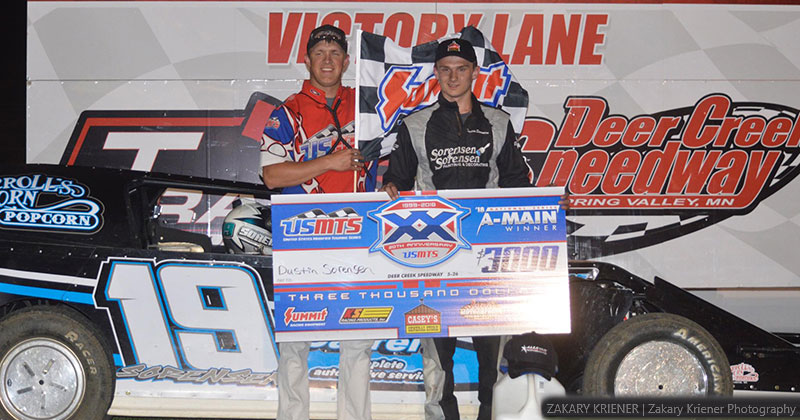 Sunday, May 27, 2018
Sorensen electrifies Deer Creek Speedway crowd with career-first USMTS win
SPRING VALLEY, Minn. (May 26)--With 43 of the top dirt modified drivers in America rolling through the gates at the Deer Creek Speedway on Saturday, Dustin Sorensen led all 40 laps of the main event to register the first USMTS victory of his young career. From the outside of the front row-and from the drop of the green flag-the 17-year-old pro hockey prospect from Rochester, Minn., led fellow Gopher S …
Series News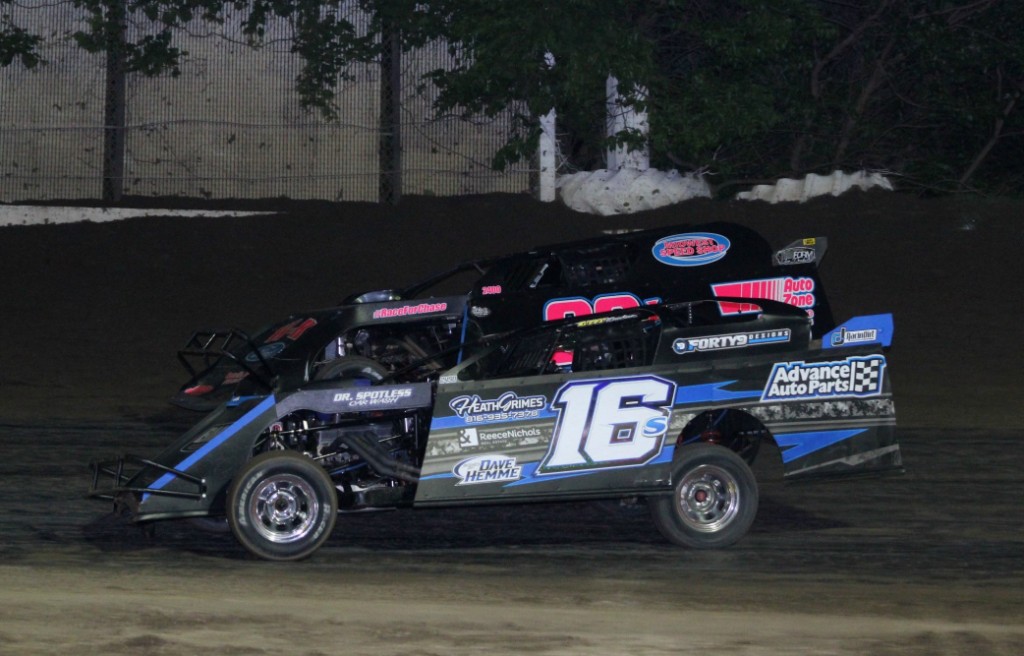 Sunday, May 27, 2018
Chad Lyle earns Pole for Modified Finale
Unsanctioned: Modifieds, Street Stocks, Mod-Lites, B-Mods, and Pure Stocks Central Missouri Speedway, Warrensburg, MO Event #5, Weekly Racing, May 26, 2018 Night one of the Memorial Day weekend events kicked off at Central Missouri Speedway (CMS) on a beautiful Saturday evening with 114 on hand in the five racing divisions. B-Mods were 27 cars strong along with 21 Modifieds for their night one qualify …
Track News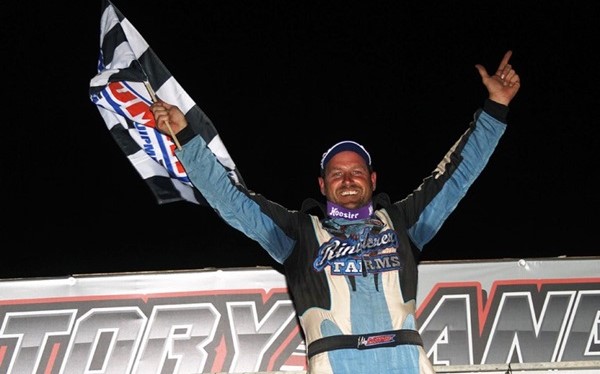 Friday, May 25, 2018
Drivers Gear Up for Summit Modified Nationals
CONCORD, NC — May 25, 2018 — The Summit Racing Equipment Modified Nationals will support the DIRTcar Summer Nationals Hell Tour for the eighth consecutive year in 2018. From June 13 to July 14, and then on July 27-28, the premier drivers and teams within the DIRTcar Modified ranks will race in 33 total events spread out over seven states throughout the country. The open-wheel teams will go after a minimum of …
Series News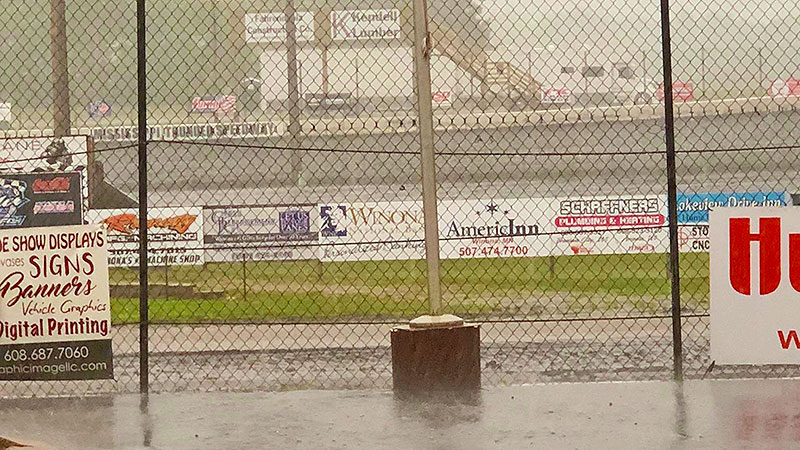 Friday, May 25, 2018
Rain ruins Fountain City plans, sets up Saturday-Sunday doubleheader at Deer Creek, Decorah
FOUNTAIN CITY, Wis. (May 25)--With eyes on a big night of racing Friday night, heavy rain moved in during the day and forced officials to cancel the USMTS Hunt for the Casey's Cup event at the Mississippi Thunder Speedway in Fountain City, Wis. Action now moves to Saturday where it's gonna be another colossal clash at the high-banked Deer Creek Speedway in Spring Valley, Minn., for the 16th Annual A&a …
Series News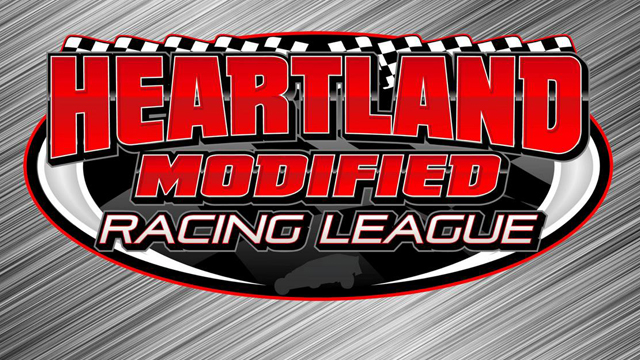 Thursday, May 24, 2018
Heartland Modified Racing League holds informational meeting
Tuesday night there was an informal meeting with area Modified drivers concerning the possibility of a new series on a slightly different rules package, with the intent to increase competitor participation. Scotty Allen, the originator of the concept welcomed the guests including Legit Speedway owner Gary Stolba, and Humboldt Speedway owner Ryan Whitworth. Allen presented his reasoning, a potential rules package and took questions from interested drivers.
Series News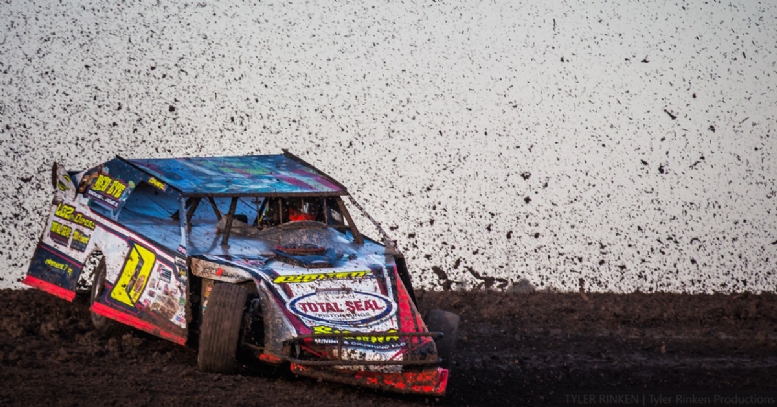 Tuesday, May 22, 2018
USMTS embarks on three-night, three-state Memorial Day Weekend tripleheader
Get ready to get your extreme on as the biggest baddest racing machines in the universe invade Wisconsin, Minnesota and Iowa this Friday, Saturday and Sunday, March 25-27, for a massive Memorial Day Weekend tripleheader you won't soon forget. Summer is almost here and the heat is gonna get extreme when the fire-breathing speed demons of the United States Modified Touring Series hit the Mississippi Thunder …
Series News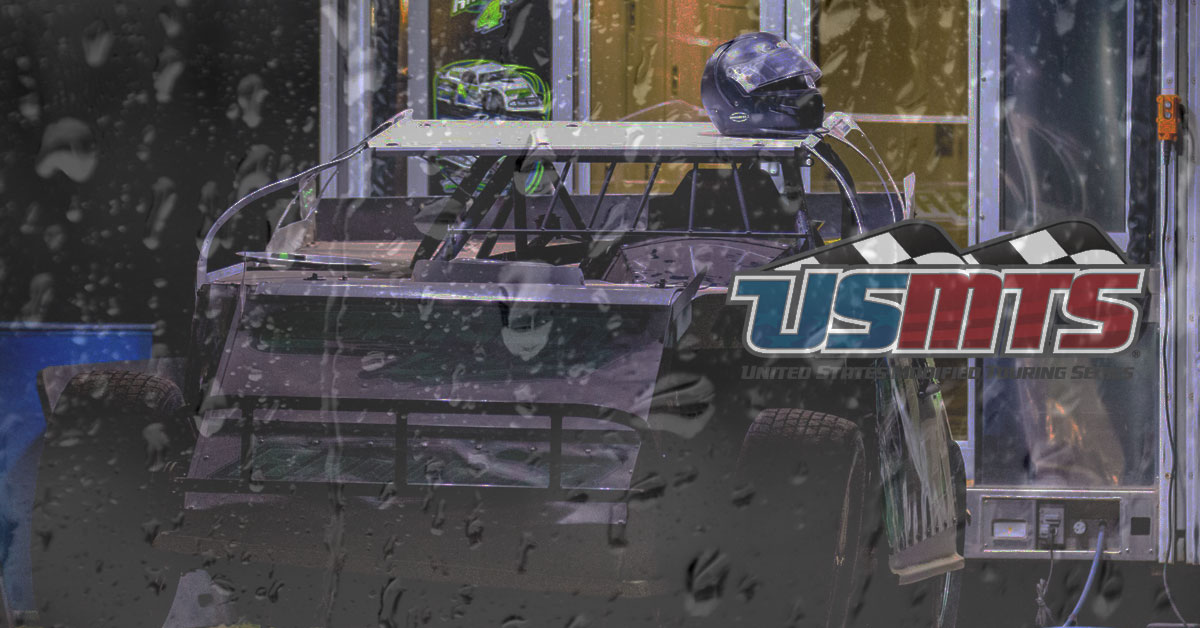 Thursday, May 17, 2018
Weather woes put May 18-20 USMTS events on hold
WEBSTER CITY, Iowa (May 17)--USMTS and track officials from the I-94 Speedway, Ogilvie Raceway and Mason City Motor Speedway have announced that this weekend's trio of USMTS Hunt for the Casey's Cup events, May 18-20, are being postponed due to impending unfavorable weather conditions. "Rain and cold are pretty much inevitable for Fergus Falls on Friday and Ogilvie on Saturday," said USMTS P …
Series News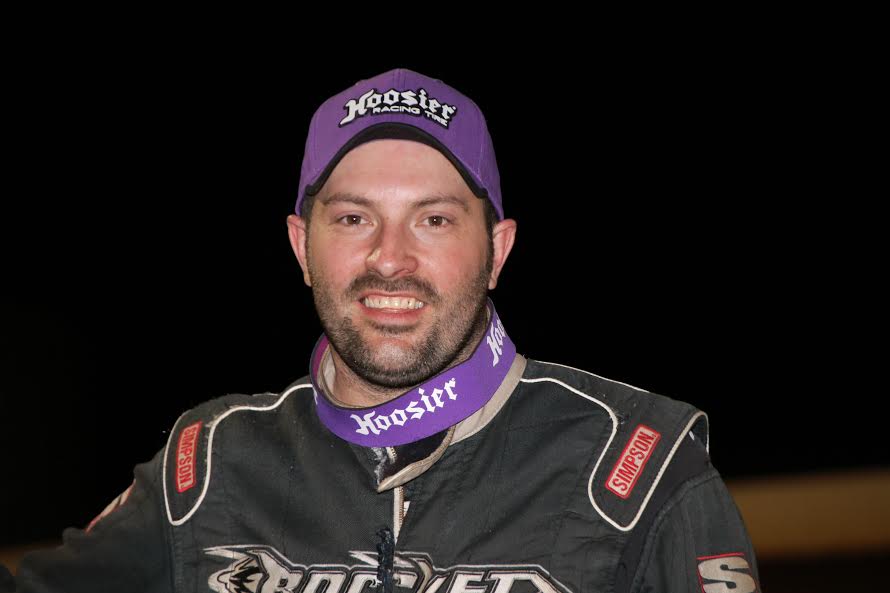 Sunday, May 13, 2018
Michael Altobelli Jr. Wins MAM at Winchester Speedway
Sometimes, things that occur in early-evening heat races dictate everything. After Saturday's Hoosier Tire Mid-Atlantic Modifieds Series (MAM) race at Winchester Speedway, Saxton, Pennsylvania's Michael Altobelli, Jr. claimed his fourth win of the season; Glen Burnie, Maryland's Rick Hulson earned his fourth-consecutive, second-place finish and Manchester, Maryland's Justin Cullum l …
Series News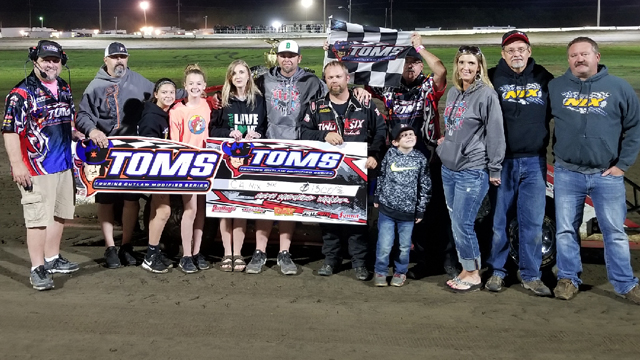 Monday, May 7, 2018
Nix holds of Dycus in TOMS thriller at Ardmore
With 30 cars rolling into Southern Oklahoma Speedway after a week where the track received close to 5" of rain, John Webb and the crew were able to put together a racing surface for the racers to put a show on for the fans. The TOMS Series did not let the fans down.
Series News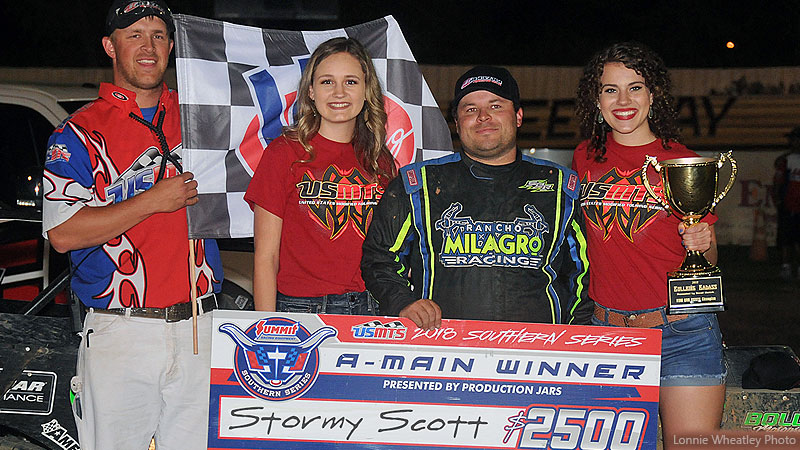 Sunday, May 6, 2018
Stormy Scott seizes cash in USMTS Henryetta Ford Clash at The Creek
KELLYVILLE, Okla. (May 6)--Nobody knew what to expect the USMTS rolled into town for the first-ever event at the Creek County Speedway, but after the dust settled around 10 p.m. Sunday night it was clear that the bar was set pretty high for a possible second annual Henryetta Ford Clash at The Creek event in 2019. As a successful electrician, columnist, former flat track motorcycle racer and current USMTS supe …
Series News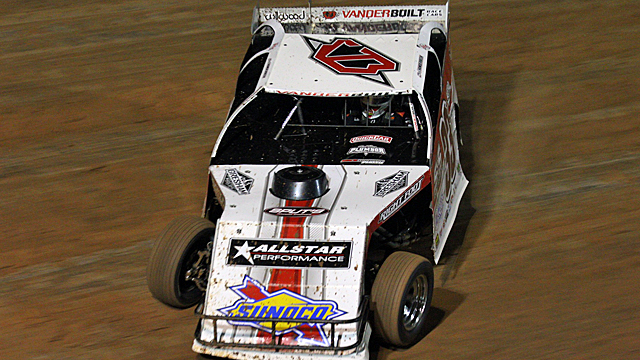 Saturday, May 5, 2018
VanderBeek nabs lead as the checkers fly at Tri-State
For the second time this year, Rodney Sanders had the checkered flag in his sights but didn't get there first, and for the second time this year Zack VanderBeek was in second place when he entered the final turn but found a way to win as the Tri-State Speedway hosted a spectacular main event for the overflow crowd in attendance Saturday night.
Series News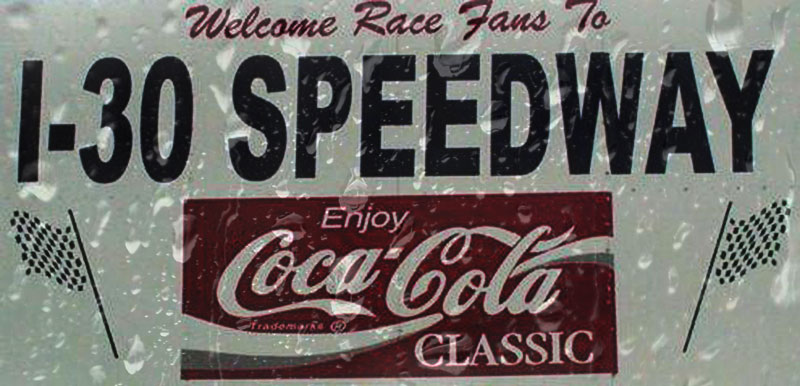 Friday, May 4, 2018
Weather woes wipe out USMTS return to I-30 Speedway
LITTLE ROCK, Ark. (May 3)--With a heavy soaking of rain on Thursday and more on the way tonight and tomorrow, officials at the I-30 Speedway have been forced to pull the plug on Friday's USMTS event at the 1/4-mile clay oval in Little Rock, Ark. So the series now set their sights on Saturday when the mud-slinging USMTS monsters invade the mighty Tri-State Speedway in Pocola, Okla., for a massive dose of m …
Series News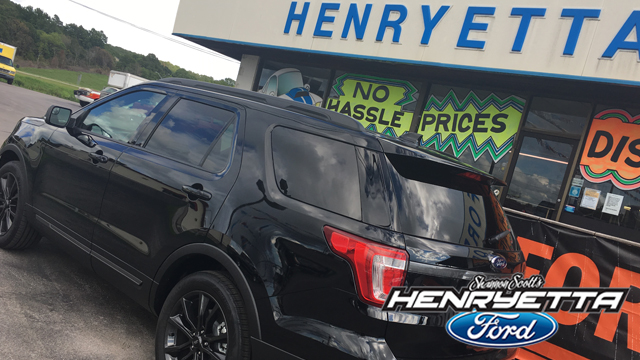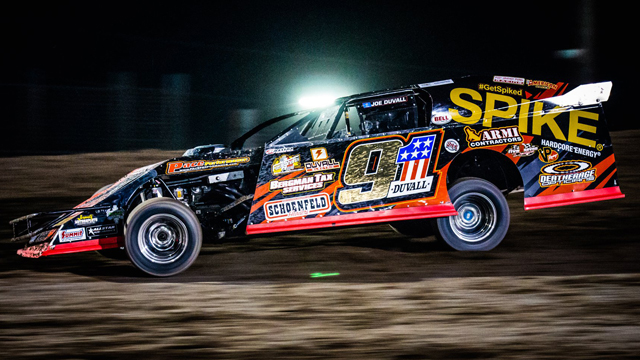 Wednesday, May 2, 2018
Big Daddy Promotions presents Sunday USMTS action
Sunday all eyes move towards Creek County Speedway in Sapula, Oklahoma and the inaugural stop by USMTS. Making the stop interesting is the promotional debut by Claremore, Oklahoma's Joe Duvall. Duvall is a partner on the event and it has allowed him to dip his toe into the business of racing on the opposite side of the fence than he is accustomed.
Series News