Wednesday, November 16, 2016
The FAST® Power Rankings Presented by COMP Cams® USMTS/USRA Power Rankings
The 35th and final 2016 edition of the USMTS/USRA FAST® Power Rankings Presented by COMP Cams® not only brings the rankings to a close for the season, but most importantly serves as the platform to announce the RacinDirt.com Driver of the Year!
The 2016 RacinDirt.com Driver of the Year is Jason Hughes of Oklahoma, who crafted a compelling season behind the wheel of his familiar #12 Hughes Chassis. Not only did Hughes secure his third overall and second-consecutive USMTS Championship, he also captured all three USMTS regional titles and racked up 14 wins throughout an astonishing season in which he led 445 laps during USMTS events.
His placement at number one in the final rankings marks the second time Hughes has ended the season in the number-one position on the final rankings; however, this season the number-one position holds even more esteem thanks to COMP Cams & FAST Ignition, as both business partners award $500 product certificates to Hughes for being named RacinDirt.com's Driver of the Year.
After stepping out of the drivers seat for a few short weeks at the conclusion of the season, Hughes lost the number one ranking to runner-up driver of the year, Cade Dillard and eventually number-four ranked driver of the year and USRA National Champion, Lucas Schott. For the special edition final rankings, RacinDirt.com asked voters to rank their end-of-year top 20 based upon driver results from the entire season.
Over the last four years, Hughes amassed 41 weeks in the number one ranking with 28 of those weeks coming in the 2016 season. After Ryan Gustin earned the number one ranking during the first two weeks of voting in late March, Hughes rolled off a 27-week consecutive number one streak before Cade Dillard enjoyed a 3-week non-consecutive run at the top followed by USRA National Champion Lucas Schott's turn at the top for two weeks. These four drivers were the only ones to earn the number one ranking from our voting staff this year.
Speaking of Dillard, the Louisiana-based driver also registered an incredible season in which he finished second in all three regions and recorded 8 USMTS victories along the way, five of which were during the 'Hunt for the USMTS Championship. Dillard also captured two Wild-West Shootout victories in Tucson last January and two TOMS victories, including the TOMS finale in late October. Dillard was recognized by USMTS as the Pole Award winner for 2016.
Two-time USMTS Champion Rodney Sanders' season certainly had its ups and downs but the Texan once again made his way to double-digit wins by registering 11 USMTS victories, a TOMS victory, and the Sooner Showdown win in early October at Salina Highbanks Speedway. Sanders was the 2016 USMTS Hard-Charger of the year recipient and finished third in the final USMTS standings.
Lucas Schott's rise to the top of the modified ranks came in astonishing fashion, particularly at the end of the year when a late-season surge propelled him to the top of the USRA standings, giving him his first-ever overall USRA National Championship. Schott's 15-win USRA season included triumphs at the River City Rumble, the Fall Jamboree, plus a pair of victories at Lakeside Speedway during the $10,000-to-win Grant Junghans Memorial and the USRA Nationals in October. Schott also scored a USMTS victory at Chateau Raceway and is the highest-ranked non-touring driver this season.
Zack VanderBeek rounds out the top five this year after claiming his biggest career win to date last spring during the King of America weekend at Humboldt Speedway, where he methodically made his way to the front of the field to capture the win. In addition, the Z-Man totaled seven USMTS wins during the season, including three hunt races to close out his phenomenal year. VanderBeek scored a fourth-place finish in the final USMTS standings.
RacinDirt.com wishes to thank FAST® Ignition and COMP Cams® for presenting the Power Rankings each week and congratulates Jason Hughes on his achievement. RacinDirt.com also thanks site visitors for making the now fourth-year USMTS/USRA FAST® Power Rankings Presented by COMP Cams® a huge success. In addition, management and staff at RacinDirt.com extend their sincere thanks to the voting staff who took time out of their schedules each week to rank their top 20 drivers.
Each week, RacinDirt.com's hand-selected racing insiders rank drivers based on United States Modified Touring Series (USMTS), United States Racing Association (USRA) results. Voter opinions do not reflect the thoughts as a whole of RacinDirt.com. Voting inquiries may be addressed to samonthemic@hotmail.com.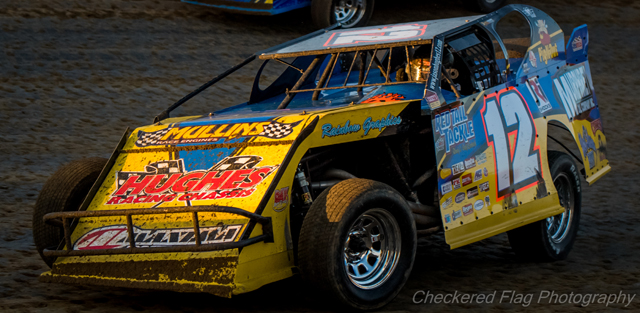 Rank
Prior
Driver Name

1

3

Jason Hughes

Masterful season for Hughes, winning 14 USMTS races, all 3 regions, and his 3rd USMTS National Championship. His consistency was impeccable, missing the Top 10 just 3 times. Although he sat out the closing month of the season, I don't know how it could be justified that he is not Driver of the Year, says one voter. Claimed 7 of 8 first-place rankings.

2

1

Cade Dillard

Excellent season for Dillard - came on late in the year. Second in USMTS Championship and 3 Regions. All voters ranked him second this year. Dillard has reached the "next level" in Modified racing, and should be a USMTS National Championship contender again in 2017.

3

4

Rodney Sanders

Sanders arguably had a "down year" but it still included a double-digit count of USMTS wins and a 3rd place finish in points. In controversy late in the season with Hughes at Salina, then not making weight in Wichita. Even still, another season up front for the Texan.

4

2

Lucas Schott

Heroic effort to win the USRA National Championship in the final few months of the season. I will stand by my claim that Lucas Schott is "the next big thing." 19 wins overall this season with 15 under the USRA banner. Notable wins at the Fall Jamboree and the Grant Junghans Memorial. Earned one first-place ranking from our voting staff.

5

7

Zack VanderBeek

One of the best years yet for the Z-Man, tallying 8 USMTS wins including the 2016 King of America. Another driver with exceptional patience and consistency. Finished fourth in the overall USMTS championship.

6

5

Ryan Gustin

Won the biggest paying Modified race of the year. Went 3 for 3 in new partnership with Jason Hughes - this could be the beginning of a juggernaut team. When he raced he was a factor … the racing world waits to see how active he will be in '17.

7

8

Jesse Sobbing

One-win season on the tour in which he was plagued by mechanical woes and bad luck. Lost 4th in points by one point to settle for 5th behind VanderBeek. Still, a strong season for Sobbing as he was solidly recognized by voters all season long.

8

11

Jake Gallardo

Fell just short in his efforts to pick up back-to-back USRA National Championships. Won his first USMTS show early in the year at Ark-La-Tex Speedway and claimed 17 USRA wins plus a track championship at Southern New Mexico Speedway.

9

6

Stormy Scott

S. Scott had a rollercoaster year, but nonetheless picked up 2 USMTS wins including a crown jewel (SummerSota Nationals). Look out for Stormy (and Johnny) in the GRT's next season boasts one voter.

10

9

Ricky Thornton, Jr.

The 2016 Grant Junghans USMTS Rookie of the Year. If Thornton put focus to just USMTS he may have picked up more than just his first career USMTS win this season. Regardless, RTJ is always a factor.

11

12

Johnny Scott

Only one USMTS win for Johnny this season in his campaign as he finishes 6th in USMTS points. He and Stormy could very well be forces to be reckoned with in the GRT's next season.

12

13

Dereck Ramirez

A quiet season that finally took flight during the final handful of races of the season. Closed the year out with a solid second-place run in the Chisholm Trail Showdown.

13

15

Josh Angst

Best-finishing Northern based driver behind Schott in USRA points after scoring 10 victories throughout the year. Angst picked up track championships at the ultra-competitive Deer Creek and Mississippi Thunder Speedways, and also had some standout performances with USMTS. Look for Angst to be in the thick of the battle for next year's USRA national title.

14

20

Triston Dycus

TOMS Series Champion with 4 TOMS victories throughout the year.

15

10

Aaron Marrant

Marrant was overlooked much of 2016, but had some eye-grabbing runs with USMTS late in the season at Lakeside. Picked up a Deuces Wild win on the eve of the Grant Junghans Memorial and used his 9 wins and 35 Top 5's to finish 3rd in USRA National points. This guy likes to race 54 USRA starts plus a full year as a track champ in his ULMA Late Model.

16

16

Terry Phillips

Not the best of years for TP in the Mod, but still always a power player in my opinion. Scored a couple of USMTS wins this season, including the wild one at Humboldt on night #2 of the Hunt. Always was a threat to win when he showed up.

17

17

Fito Gallardo

Won the track championship in El Paso's finale season. Earned 10 wins under the USRA banner to finish 6th in national points.

18

14

Jackie Dalton

Fourth in final USRA points with 15 wins on the year, a track championship at Springfield Raceway and a runner-up finish at Monett, his most successful USRA season yet.

19

18

Zane DeVilbiss

Led the way in USRA action with 18 feature wins on the 2016 season. Also picked up two track championships, lack of car counts may very well have cost this man a stronger showing in the overall USRA standings.

20

19

Brandon Davis

Tested the waters with his new Tri-Built race car this season, breaking into victory lane 10 times in USRA sanctioned action with just 24 starts. Finished 7th overall in USRA points.
Each week, RacinDirt insiders rank their top 20 drivers based on United States Modified Touring Series (USMTS), United States Racing Association (USRA) results, and USRA-type modified results and competition. The opinions of our voters, are just that, opinions, and do not reflect the thoughts as a whole of RacinDirt.com or its staff. Would you like to be an USMTS/USRA Power Rankings voter? Email samonthemic@hotmail.com for more information.