Saturday, November 4, 2017
Nix rolls in TOMS finale at Ardmore
By: Jeff Nun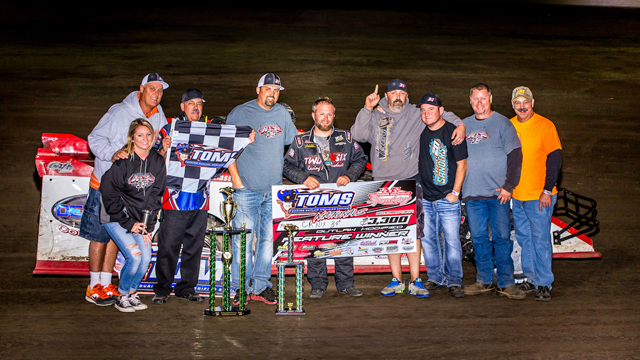 (Photo by: Seth Fritz)
The 2nd Annual TOMS Invitational Nationals rolled their USRA Modified series into the Southern Oklahoma Speedway Friday after being canceled the prior week because of weather. The heavens looked down upon us with great weather this time with a group of strong racers going for the $3,300 first-place award.
Racers including 2017 Touring Outlaw Modified Series champion Triston Dycus and summit USRA Weekly Racing Series national points runner-up C.A. Nix.
Thirty-eight cars and drivers rolled in for action with two sets of qualifying heat races on Friday and passing points setting up the Saturday's two B-Mains and 31-car A-Main.
Mike Dillard led the field to the three-wide green flag start for the 40-lap feature, and got the bite on the bottom to jump out to the lead for the first lap with a field of 30 cars behind him running four- and five-wide.
Dillard set a fast pace on the bottom side to stretch out the lead to eight or more car-lengths with Kenny Gaddis making an early charge on lap three before being over taken by Clyde Dunn Jr. on lap four.
Lap eight brought out the race's one and only caution for a skirmish between Danny Florence and Chris Cole.
On the restart, Dillard set the pace to the green with Dunn attached to his back bumper. The two were tight on the bottom, so neither of them saw Nix charging on the high side.
By laop 14, Nix was able to use the high side to take the lead and move on out, setting a blistering pace.
With lapped traffic coming in at lap 21, it allowed Dillard and Dunn to close the gap and Dillard to snag the lead from Nix on lap 29.
Nix cleared the back-markers and then put his No. 34 Hughes Chassis in "beast mode" and cruised onto the waving double checkered flags.
= = = = = = = = = = = = = = =
OFFICIAL RESULTS
United States Racing Association
Touring Outlaw Modified Series (TOMS)
Southern Oklahoma Speedway, Ardmore, Oklahoma
Saturday,November 4, 2017
USRA MODIFIEDS
Feature: 1. CA Nix, 2. Mike Dillard, 3. Clyde Dunn Jr., 4. Colby Smith, 5. Travis Johnson, 6. Philip Houston, 7. Tryston Dycus, 8. Mitchell Clement, 9. Kenny Gaddis, 10. Charlie Smith, 11. Bobby Malchus, 12. Buddy Honaker, 13. Skip O'Neal, 14. Danny Veal, 15. Rory Jordan, 16. Jason Hammond, 17. Shannon Hartline, 18. Chris Cole, 19. David Tanner, 20. Donnie Shipp, 21. Denneth Densman, 22. Danny Florence, 23. Austin Bonner, 24. Sam Cox, 25. Sean Gaddis, 26. Harold Winton, 27. Kale Westover, 28. Josh Landers, 29. Chris Henigan, 30. Max Eddie Thomas, 31. Wesley Veal