Monday, October 2, 2017
14th Annual MTH Fall Classic Set For THIS WEEKEND at the Big O
By: Chris Stepan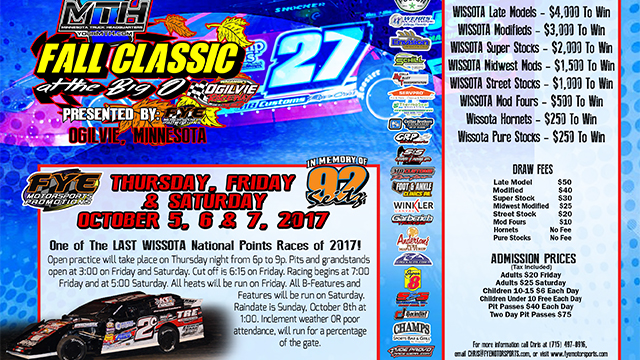 It's here!
The 14th edition of the newly named Minnesota Truck Headquarters Fall Classic will be held, for the second year in a row, at the Ogilvie Raceway in Ogilvie, Minnesota this weekend!
After the incredible success of the 2016 Fall Classic, held at the Ogilvie Raceway for the first time in the history of the event, event organizers are incredibly excited to welcome St. Cloud, Minnesota-based Minnesota Truck Headquarters as the new title sponsor for the October 5th-7th event! FYE Motorsports owner Chris Stepan said 'we could not be happier than to welcome a new title sponsor for the Fall Classic. MTH has emerged as a major player in the auto industry in Central Minnesota and has been a tremendous supporter of motorsports in recent seasons, so we are thrilled to welcome them with open arms to be a part of one of the largest special events in the Midwest this fall and for many years to come! Mike, Denis and the crew at MTH share the same vision as we do in wanting our event to be run fairly, to be a fun experience for the fans and to be a 'must see' event from start to finish for everyone who attends and we appreciate that in a title sponsor and marketing partner.'
What is Minnesota Truck Headquarters?
Minnesota Truck Headquarters is a family owned and operated dealership that has been in the auto business for 10+ years. We opened in April of 2004 and sold trailers at first, but today, we stock over 200 trucks on both St Cloud and St Joseph lots at all times, and we are outgrowing both locations yet again! We plan on moving into one mega location with everything under one roof within the next year, to continue growing our company. The new location will hold up to 500 trucks for our full inventory. Check out our inventory at www.YourMTH.com
Event details…
An open practice will be held on Thursday night (October 5th) with the event's traditional post practice party held after at the Crystal Bar in nearby Mora. Racing action will then take place on Friday (October 6th) and Saturday (October 7th) nights with a raindate scheduled for Sunday (October 8th) if needed.
WISSOTA Modifieds, Super Stocks, Midwest Modifieds, Street Stocks, Mod Fours, Pure Stocks and Hornets, will once again be on the schedule with heat races on Friday night and b-mains and the championship features on Saturday night to cap off the weekend, continuing to be the only all-8 WISSOTA division event anywhere in the country for the second year in a row. WISSOTA Late Models will run complete programs each night, paying $2,000 to win nightly, for the first time in the event's existence.
The Modified racers will be searching for a $3,000 to win top prize. Super Stock competitors will be racing for $2,000 to win with the Midwest Modifieds will race for a winner's share of $1,500. Street Stock drivers will be going after their $1,000 to win paycheck, while the Mod Four drivers will compete in a $500 to win event as well. Pure Stocks and Hornets will run for a $250 winner's paycheck to round out the weekend.
Stepan stated 'it is hard to believe we are entering the 14th year of the Fall Classic already, but this event has turned into such a great weekend and must see event over the years, especially last year. The 2016 move to Ogilvie proved to be a great one as we saw fantastic racing action in all 8 classes and welcomed 6 first time Fall Classic Champions to the family when the weekend was said and done. The event outlived expectations and the great crowd was treated to a fun filled weekend and we look for as awesome of an event in 2017 as well.'
Jake Redetzke (Late Models), Dave Cain (Modifieds), Jeremy Nelson (Midwest Modifieds), Keith Thell (Mod Fours), Michael Blevins (Pure Stocks) and Joe Martin (Hornets) became first time Fall Classic champions, while Justin Vogel (Street Stocks) won his 3rd Fall Classic (2012 and 2014), but in the process of winning from his 15th starting spot, became the first driver to ever win a Fall Classic event from as far back as the 8th row and Dave Mass (Super Stocks) raced to his 4th Fall Classic title, to go along with his victories from 2005, 2010 and 2014.
Other Fall Classic winners include Don Shaw (6), Scot Danzeisen and Zach Johnson (4 each), Dustin Zieske and Shane Sabraski (3 each), Brian Swenson, Craig Thatcher, Pat Doar, Scott Paulson (2 each), Brady Gerdes, Cody Skytland, Cory Rosen, Dale Mathison, Dallas Gulbrandson, Dan Wheeler, Danny Bayer, Dave Zimmerman, Dustin Holtquist, Jamie Lemke, Jamie Thorstad, Jason Thoennes, Jason VandeKamp, Jeff Crouse, Jeff Wildung, Jimmy Mars, Jimmy Williams, John Kaanta, Jordan Tollakson, Josh Abrahamson, Josh Thoennes, Justin Fegers, Keith Tourville, Lance Matthees, Rob VanMil, Ryan Buer, Ryan Mikkelson, Seth Brede, Tim Johnson, Travis Saurer, Tyler Peterson and Zach Schultz (1 each).
A candy toss, driver autograph session, bike giveaways, and many, many contingency and bonus awards will be given out throughout the weekend as well, pushing the overall weekend payout to nearly $100,000! Fans and drivers should make plans now to be in Ogilvie for the Fall Classic weekend.
Fans can stay tuned to www.FYEMotorsports.com, www.OgilvieRaceway.com or call Chris at (715) 497-8916 for any and all event updates that become available.
We hope to see everyone at the Ogilvie Raceway for the 14th annual Fall Classic this weekend!