Sunday, September 10, 2017
Jackson knocks down MTS B Mod Nationals
By: Zack Morgan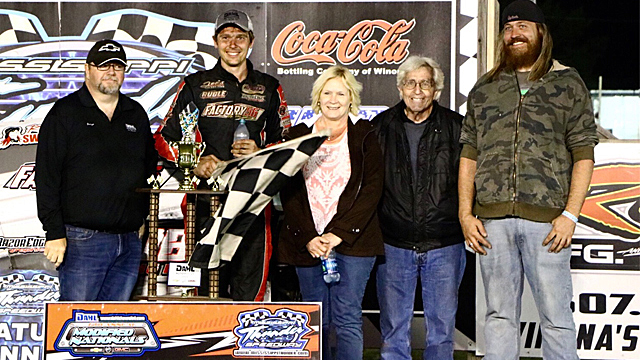 (Photo by: Chris Claunch)
With 100 feature wins in the B-Modified division going into Saturday night, Lebanon's Kris Jackson came away with his richest win ever -- $10,000 -- for victory number 101.
Jackson and crew chief Jordan Medley made the 10-hour haul from Lebanon, Missouri to Mississippi Thunder Speedway, in Fountain City, Wisconsin, on Wednesday. Riding momentum from a pair of feature wins last weekend, Jackson had trouble early when he lost a motor in Wednesday night practice.

"Jim Ruble is the man," he said after the win Saturday. "He is 78 years old and started building a motor at 1 a.m. and had it here before our heat races Thursday night."

Four strong performances in preliminary qualifying races gave Jackson a front row starting spot for Saturday night's 50-lap main event. He took the lead on lap one of the contest and remained there when a caution slowed the event just before the halfway point, which also served as the refueling break.

"At the caution I asked Jordan if my right rear tire was junk, and when he said yes, I knew we were a sitting duck" Jackson said. "All I was focusing on was keeping that right rear (tire) under me, but I knew the guys behind me were coming."

He would remain unchallenged until three laps remaining when local racer Shaun Walski made a late race charge on the bottom. Jackson had high praise for the runner-up.

"I knew he (Walski) was coming but figured he would be on the top side of the track. I love racing with guys that want to race and pass you clean," Jackson said.

While not officially leading a lap, Walski was able to grab a short advantage over Jackson going into turn 1 on lap 47. "I made a run there on him but wasn't able to pass him clean, so we will settle for second," Walski said on the podium afterward.

When asked what he was thinking immediately after the victory, Jackson said he wished his wife Krystle and sons Brett and Karter could be there. "It's a tough deal, you know, with them not being able to get away, but I know they are at home watching," he said.
When asked about winning $10,000, he said, "I won't sleep for days."

Jackson and his race team are coming into the home stretch of their 2017 campaign and will be racing at Midway Speedway in Lebanon and Lake Ozark Speedway in Eldon to wrap up the year.
In Modified action, $4,000 was on the line. It was Dustin Sorensen's night to shine. He held off Jake Timm late to score the victory.
MTS USRA B-Mod Nationals A Feature (50 laps): 1. Kris Jackson 2. Shaun Walski 3. JT Wasmund 4. Ryan Olson 5. Parker Hale 6. Jared Boumeester 7. Eric Lamm 8. Tommy Richards 9. Miah Christensen 10. Alex Williamson 11. Dustin Kruse 12. Jake Smith 13. Trevor Fecht 14. Dan Wheeler 15. Jared Vandeest 16. Randy Klein 17. Logan Scott 18. Grant Southworth 19. Austin Ellis 20. Ben Moudry 21. Tony Bahr 22. Brian Mahlstedt 23. Randy Zimmerman 24. Jason Schlangen 25. Jerry Young 26. Michael Truscott 27. Ryan Eilers 28. Jackson Hale 29. Aaron Scroggins 30. Daniel Christopoher
MTS USRA Modified A Feature (40 Laps): 1. Dusitn Sorensen 2. Jake Timm 3. RC Whitwell 4. Lucas Schott 5. Rodney Sanders 6. Tyler Wolff 7. Adam Hensel 8. Jason Cummins 9. Matt Leer 10. Cory Crapser 11. Travis Saurer 12. Keith Foss 13. Josh Angst 14. Curt Myers 15. John Doelle 16. Brian Albrecht 17. Joe Horgdal 18. Tony Schill 19. Rich Lofthus 20. Chet Atkinson 21. Brad Waits 22. Robby Bunkelman 23. Levi Nielsen 24. Bobby Malchus