Friday, September 8, 2017
Sanders edges Cummins on second night of Modified Nationals
By: Trenton Berry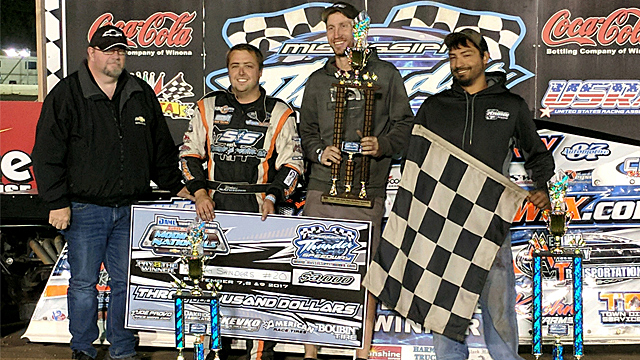 (Photo by: RacinDirt.com)
Friday night at Mississippi Thunder Speedway was capped with a 35 lap, $3,000 to win USRA Modified feature. Jason Cummins, 2017 Deer Creek Speedway Champion led the field to green, with Rodney Sanders on the outside pole.
Cummins initially took the lead, but lost it to Sanders exiting turn four. Cummins stayed close enough to make it interesting and took a final shot at the lead coming to the checkers. However, Sanders held the preferred line, and ultimately the winner's check in Victory Lane.
On the B-Mod side of things, there were two more rounds of heats. Those heat results, combined with the Thursday results set the field for B-Mains and the front portion of Saturday's $10,000 to win A- Main. No driver was able to win two heats on Thursday, but Eric Lamm won two on Friday.
Saturday's finale begins at 6 PM. RacinDirt will continue with live flag to flag coverage, featuring multiple cameras, announcers, driver interviews, social media interaction and FK Rod Ends Instant Replays. Ordering information is available by clicking here.
Modified Feature (35 Laps): 1. Rodney Sanders 2. Jason Cummins 3. Lucas Schott 4. Adam Hensel 5. Dustin Sorensen 6. Brad Waits 7. Tyler Wolff 8. RC Whitwell 9. Cory Crapser 10. Travis Saurer 11. Keith Foss 12. Robby Bunkelman 13. Curt Myers 14. John Doelle 15. Robbie Eilers 16. Cory Bruggeman 17. Jake Hartung 18. Bobby Malchus 19. Joel Alberts 20. Tony Schill 21. Konnor Wilinski 22. Matt Leer 23. Jake Timm 24. Josh Angst
Modified Heat Winners (10 Laps): Curt Myers, Adam Hensel, Lucas Schott, RC Whitwell, Matt Leer
B Mod Heat Winners (Round 1): Daniel Christopher, Nate Chodur, Shawn Walski, Miah Christensen, Ryan Olson, Grant Southworth, Jayden Larson, Eric Lamm
B Mod Heat Winners (Round 2): Dustin Kruse, Michael Truscott, Logan Scott, Kris Jackson, Parker Hale, Tommy Richards, Eric Lamm, Jackson Hale