Thursday, September 7, 2017
Timm blisters field in Fountain City Opener
By: Trenton Berry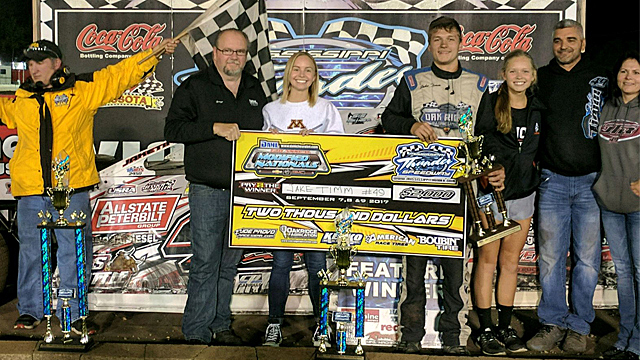 (Photo by: RacinDirt.com)
Thursday's opening round of the Mississippi Thunder Speedway Modified Nationals was all Jake Timm. He won his heat ealry in the evening and fired from the pole in the caution free 30 lap feature. Behind Timm, Adam Hensel and Jason Cummins completed the top three.
In B-Mod action competitors ran two heat races, with two more coming Friday. They will omit their worst and lineup for Saturday action based on cumulative passing points.
RacinDirt continues with more live coverage Friday evening. Racing is scheduled for 7 PM.
Modified Feature (30 Laps): 1. Jake Timm 2. AdamHensel 3. Jason Cummins 4. Lucas Schott 5. Tyler Wolff 6. RC Whitwell 7. Josh Angst 8. Dustin Sorensen 9. Rodney Sanders 10. Cory Crapser 11. Matt Lee 12. Levi Nielson 13. Keith Foss 14. Jake Hartung 15. John Doelle 16. Curt Myers 17. Robby Bunkelman 18. Brian Albrecht 19. Nate Wasmund 20. Jay Richardson 21. Cory Bruggeman 22. Danan Knott 23. Bobby Malchus 24. Lance Mari
Modified Heat Race Winners (10 Laps): Jake Timm, RC Whitwell, Josh Angst, Lucas Schott
B Mod Heat Race Winners (Round 1): Kris Jackson, Jake Smith, Michael Truscott, Troy Bahrr, JT Wasmund, Ryan Olson, Alex Williamson, Ryan Eilers
B Mod Heat Race Winners (Round 2): Miah Christensen, Parker Hale, Jason Schlangen, Taylor Skauge, Jared Boumeester, Jared Vandeest, Shadow Kitchner, Eric Lamm