Friday, August 11, 2017
Pospisil scores first MLRA win
By: Trenton Berry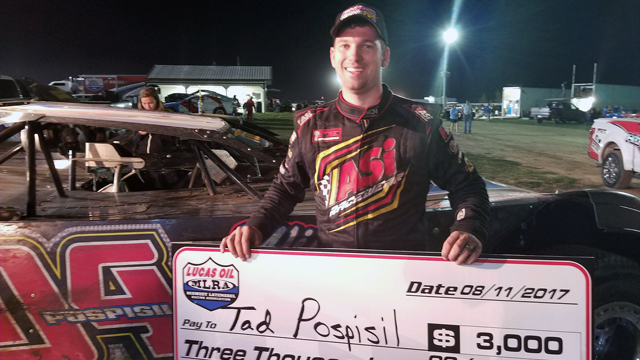 (Photo by: RacinDirt.com)
Friday's King of the Hill opener at Junction Motor Speedway in McCool Junction, Nebraska proved to be a demanding feature won by Tad Pospisil. It was his first time in Andy's Frozen Custard Victory Lane with the Lucas Oil MLRA and his biggest career win thus far.
"Usually we ain't very good with a big cushion and rough like this," said Pospisil. "We had the car dialed in perfect

tonight

. Larson broke there. I don't know if we could have got him or not. I definitely think we had something for him. This is amazing. I wanted to win an MLRA race so bad. To finally get it done, tops it all."
Early in the feature Brent Larson looked to be the car to beat, however he knocked a hole in his oil pan ending his night prematurely. His loss of power drew the race's fourth yellow on lap eight.
Late in the feature Rodney Sanders advanced to second, but on a restart with five to go he had trouble and slipped from contention.
Terry Phillips hung around the front all evening and finished second. Randy Timms completed the podium in third.
The race was slowed a total of six times.
Jesse Stovall retired early from the event, and saw his points lead go from 40 markers over Terry Phillips to just 16.
Jesse Stovall, Brent Larson and Randy Timms each won respective heat races early on..
Fans planning to attend

Saturday's

finale from Junction Motor Speedway will want to make it to the track early for the annual driver meet and greet behind the main grandstands. Drivers and their cars will be available, beginning at

5:30 PM

, and they will hot lap directly from the concourse.
Junction Motor Speedway Contingency Awards 8/11/17
Andy's Frozen Custard Victory Lane - Tad Pospisil
Casey's General Store's "Hard Charger of the Race" - Joe Gorby
DirtonDirt.com "Pole Award" - Brent Larson
GRT Race Cars - Randy Timms
Hooker Harness "11th Place Finisher" - Austin Siebert
KRC "Hard Luck Award" - Brent Larson
Landrum Springs "Landrum Springs Performer of the Race" - Rodney Sanders
Malvern Bank & Trust "Most Laps Led" - Tad Pospisil
Midwest Sheet Metal "Points Leader Spoiler Challenge" - Jesse Stovall
Mittler Brothers Machine and Tool "Crew Chief of the Race" - Zack Pospisil
Performance Bodies "Performer of the Race" - Tad Pospisil
Real Racing Wheels -JC Wyman
Sunoco "Rookie of the Race" - Rodney Sanders
Wehrs Machine - Jeremy Grady
Lucas Oil A Feature (25 Laps): 1. Tad Pospisil 2. Terry Phillips 3. Randy Timms 4. Corey Zeitner 5. Rodney Sanders 6. Payton Looney 7. JC Wyamn 8. Matt Buller 9. Bill Leighton 10. Jeremy Grady 11. Austin Siebert 12. Joe Gorby 13. Les Siebert 14. Kyle Berck 15. Jesse Stovall 16. Cale Osborn 17. Mike Stadel 18. Cliff Morrow 19. Alex Humphrey 20. Brent Larson 21. John Anderson
Swift Springs Heat 1 (10 Laps): 1. Jesse Stovall 2. Tad Pospisil 3. Rodney Sanders 4. Rodney Sanders 5. Matt Buller 6. JC Wyman 7. Austin Siebert 8. Les Siebert
Casey's General Stores Heat 2 (10 Laps): 1. Brent Larson 2. Terry Phillips 3. Kyle Berck 4. John Anderson 5. Bill Leighton 6. Jeremy Grady 7. Joe Gorby
Chix Gear Racewear Heat 3 (10 Laps): 1. Randy Timms 2. Payton Looney 3. Corey Zeitner 4. Mike Stadel 5. Cale Osborn 6. Alex Humphrey 7. Cliff Morrow