Tuesday, June 13, 2017
Strickler takes aim at second big Modified payday of 2017 at this week's Modified Masters
By: Lyndal Scranton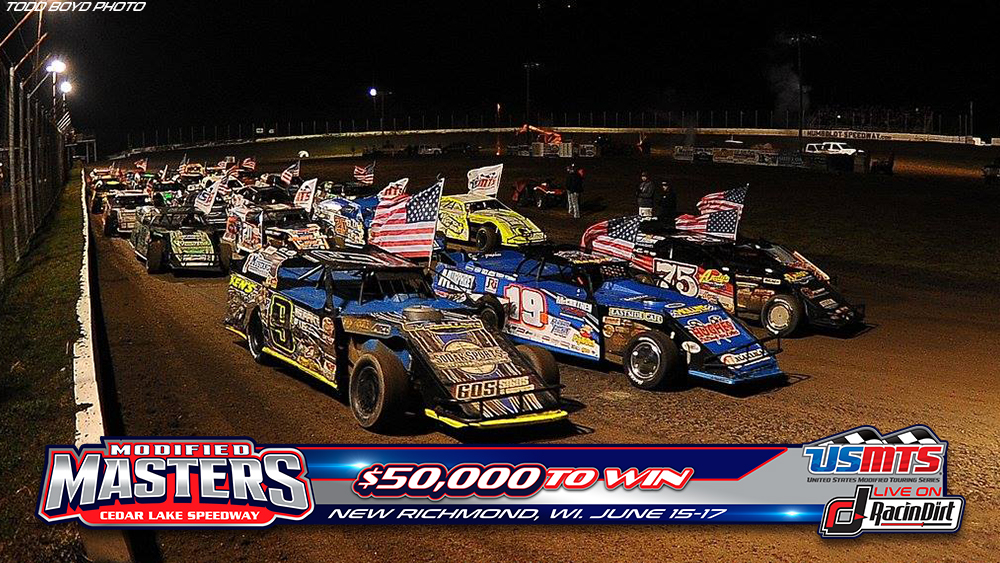 Already with one $50,000 banked in 2017, Kyle Strickler is ready to chase another big pay day this week.
Strickler, of Mooresville, N.C., will be join the nation's best Modified drivers at the inaugural Modified Masters at Cedar Lake Speedway in New Richmond, Wis.
The event - and Cedar Lake Speedway promoter Bob Kaufman goes out of his way to call it an "event" rather than simply a "race" - will mirror Cedar Lake's $50,000-to-win USA Nationals Dirt Late Model show in August.
The Modified Masters presents a complete $3,000-to-win USMTS show on Thursday, followed by Modified Masters qualifying on Friday and the big finale on Saturday.
Strickler said it's exciting to see another big-time, big-paying weekend on the Modified calendar.
"This year alone has been awesome for the Modified guys," Strickler said. "A lot of different sanctioning bodies and different race tracks are pouring a ton of money into it. That's normally unheard of for us. We're excited to see everything that's happening this year."
Strickler bagged the inaugural $50,000 Modified Super Weekend feature at Farley Speedway in Iowa a month ago. That might not have been the 33-year-old's most-prestigious career win, but it was his richest.
The 33-year-old Strickler usually is at his best in the biggest events. In addition to the rich win at Farley, he's a two-time IMCA Supernationals champ, going back-to-back in 2014 and 2015 to become just the third driver to do so.
"For prestige and stuff like that, the (IMCA) Supernationals is still what most people are going to know me for," Strickler said. "The Supernationals deal doesn't go away. To win a race that pays $50,000, just being the first year for it, that didn't have the same feel as the Super Nationals does or even the Fall Jamboree does for USMTS.
"But still, that's a lot of money."
Strickler has never raced before at Cedar Lake, but he's been busy doing some recon. With that much money on the line, it's worth spending some scouting time on the phone.
"We've got a lot of racing buddies across the country," Strickler said. "You try to get a general idea of what it is, what the surface is going to be like and what the shape is like. You start at your standard, general set-up and work from there.
"It's nice for us to have that USMTS race before the big $50,000 to win race so we can get a night to shake everything down."
Stricker said his team planned to leave North Carolina on Tuesday to make Ogilvie Raceway in Minnesota for Wednesday night's USMTS Chubbs Performance MidWeek Modified Madness race.
"This car is my IMCA car. The last race in it was $50,000 to win at Farley," he said. "We've converted it over to USMTS and USRA rules and now we're going to go run it out there. It'll be nice to have one night at Ogilvie and one at Cedar Lake before we have to go and race for the big money."
That car is a Longhorn Chassis, one of the few in the Modified racing world. Longhorn has become well known in the Dirt Late Model world in recent years, but remains a relative newcomer on the Modified scene with only about a dozen drivers in them.
"The best part is right up the road from us (in Trinity, N.C.) is the Longhorn shop, about 45 minutes up the road from our shop," Strickler said. "We kind of bounce back and forth between here and there. If we need to use any of their resources we can.
"Their Late Model program is stellar. Being able to cross things over, a lot of times it doesn't work as great as everybody thinks, but the basics are still there. There are a ton of resources we can use and a lot of smart people that can help us out. We've been able to channel everything toward the Modified program this year and come out of the gate swinging."
Strickler said he likes the Longhorn for its adaptability to various series and rules packages.
"Nowadays, with how everything is getting to be with suspensions and all the fine-tuning and working in gray areas and trying to get everything you possibly can out of each rule package … it's so important" to be versatile, Strickler said. "Years ago, you used to be able to take a Modified and go run open stuff, IMCA, USMTS … you could run all of them and be competitive.
"Now you really have to max out each car for each rules package. Having the resources to do that is what helps us the most. Everybody at Longhorn is very smart. They've built a nice race car in its quality. It makes my job a lot easier."
Action begins with Thursday's $3,000-to-win RHRSwag.com USMTS Northern Region event. Friday is qualifying night for the Modified Masters with each competitor running two heat races. Last chance races and alphabet soup features will lead up to Saturday's 70-lap, $50,000-to-win finale.
Kaufman said his idea behind the weekend is to make it a big-time event with more than just the race involved. A nearby indoor arena also will play host to activities, including lawnmower racing on Saturday.
"The bread and butter of Cedar Lake Speedway is doing these big events and doing them well," Kaufman said. "We call it an 'event' on purpose and not just a 'race.' There are hundreds of tracks that run races every week. Running a true event is another story and challenging at times.
"It's a great place to be for the weekend with lots of activities. We have a river just a couple of miles down the road where people can go tubing during the day. We have an indoor arena where they can go to the lawnmower racing on Saturday. We have parties in there after the races with deejays and bands.
"We want this to be a mini-vacation for people and not just a race. That was the vision and we hope with the success of Modifieds across the area that this will only add to that success."
Advanced tickets for the Modified Masters are available by calling (612) 363-0479.
If you are unable to attend, RacinDirt.com will have the entire production live on www.racindirt.com. It will be a multi-camera production with a dedicated host, pre- and post-race interviews, FK Rod Ends Instant Replay and other video elements mixed in as time allows.
Cedar Lake Speedway is a high-banked 3/8-mile clay oval located one mile east of SR 35 on SR 64, then 4.2 miles north on CR C to CR CC, then left 1.8 miles. For more information, go online to www.cedarlakespeedway.com.
For USMTS news and information, visit www.usmts.com.
Saturday's Modified Masters main event payout is as follows: 1. $50,000, 2. $20,000, 3. $10,000, 4. $6000, 5. $5000, 6. $4000, 7. $3500, 8. $3250, 9. $3000, 10. $2800, 11. $2650, 12. $2500, 13. $2400, 14. $2300, 15. $2200, 16. $2100, 17. $2075, 18. $2050, 19. $2040, 20. $2030, 21. $2025, 22. $2020, 23. $2015, 24. $2010, 25. $2005, 26. $2000.
Drivers not advancing out of the "B" Main are guaranteed a minimum of $500 to start. Drivers not advancing out of the "C" Main will get no less than $350 with a minimum of $200 for all non-qualifiers in the Last Chance Races.
To learn more about the United States Modified Touring Series, visit www.usmts.com online or call 515-832-7944.