Tuesday, May 9, 2017
Hall set to oversee Salina Highbanks Speedway
By: Trenton Berry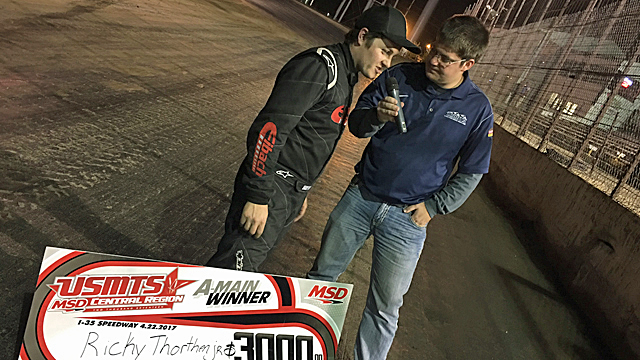 (Photo by: RacinDirt.com)
With the racing season just getting underway in full force all across the Midwest, there is news from the Salina Highbanks Speedway in Salina, Oklahoma. Beginning in June, Bryce Hall will take the reins of one of the region's most successful and prestigious tracks.
Hall, 23, a Salina, Oklahoma native had most recently spent the previous year and a half with the United States Modified Touring Series (USMTS) and United States Racing Association (USRA) based in Webster City, Iowa. Previously he was the Voice of the Salina Highbanks Speedway while attending college at nearby Rogers State University.
"It's really pretty crazy that this all happened and the timing," said Hall. "I received a phone call about the position coming open, back in April. We had a few discussions and here I am. I really think a lot of the Sanders and Bohannan family. They are great people and I'm ready to go to work for them. Likewise, I owe a ton to Todd and Janet Staley for allowing me to grow so much professionally over the past year and a half. I love the USMTS and that will never change. It's no wonder they have been so successful through the years."
Hall will be filling the position most recently held by David Edwards.
"David really did a great job at overseeing the track," Hall further elaborated. "He's a personal friend, and I'm glad he was able to go a different direction, at a good time for himself, on his own terms. It'll be up to me to continue the success he helped establish here."
Edwards made his announcement public Saturday at the track's weekly drivers meeting ahead of the regularly scheduled program and followed up with this corresponding post on his Facebook page.
"I made the announcement last night in the drivers meetings that this week will be my last at the speedway. I have had a great time working with the drivers, fans, sponsors and NASCAR. I've been in the racing Industry for 27 years, and don't plan on leaving it all behind, and I will still be doing a few things in the racing world, so you never know where I'll show up to help someone or some track. There are many new things that I will be doing and you will see most of them posted on here. Most of you are like family to me so thanks again to all the many great people that I have meet and have became friends through this awesome sport of racing."
Salina Highbanks Speedway schedules weekly racing from April through October, with a smattering of special events throughout the season. The premiere facility also boasts the "Finishline Restaurant & Bar" overlooking the front stretch where fans can grab a premium seat for the action with all the amenities of a first class establishment.
Visit SalinaHighbanksSpeedway.com for more track information and details.