Friday, April 14, 2017
Vaught steals MLRA opener
By: Trenton Berry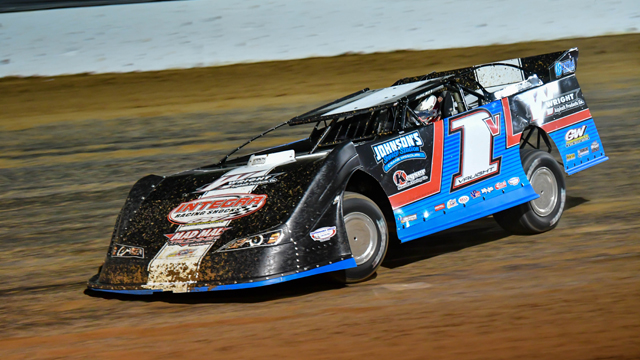 (Photo by: Kenny Shaw)
Friday's Lucas Oil MLRA season opener at Lucas Oil Speedway in Wheatland, Missouri, was a good one. Will Vaught benefited from a restart mishap by Tony Jackson Jr. and took the lead for the final five laps, securing the win in his first start of the season.
"It's an old race car," commented Vaught of his Rocket he drove to Andy's Frozen Custard Victory Lane. "Gary Winger got us on some good Integra Shocks. Eric has worked his butt off this winter. I ain't got to help him a whole lot. He put a new deck and body on this thing. It's a lot on his shoulders this time."
Vaught admitted Jackson likely had the best car and didn't anticipate taking the lead on the restart.
"This new right rear deal, changes the race cars quite a bit. I was hoping mine would fire before his, of that restart. He got a good restart. I thought the only really chance I had, was to maybe slide him on this first corner, and I got a horrible start off four."
There was no question Jackson felt he let one slip away following the race. He ultimately finished the night in third.
"We got a new tire rule," said Jackson, speculating about the restart. "I don't know if I didn't keep it hot enough under yellow. I got down there and couldn't steer into one. Cautions are part of it."
It was not all doom and gloom for the 56 camp however. He started sixth and immediately drove to the top in his new MB Customs Race Car. He took the lead on lap five and was the car to beat until the yellow.
Terry Phillips was on the move in the main event. He secured the Casey's General Stores Hard Charger of the Race, moving up ten spots to finish second.
"I needed to be in that cushion, but coming off, the cushion ended, and I didn't want to mess up and jump it," stated Phillips. "The car actually rolled through the middle on a longer run, then the right rear tire started sealing up and it got a little looser. We've got something to work with. To drive up through there with these good cars, I'll take it every day."
Rodney Sanders and Jesse Stovall completed the balance of the top five finishers.
Saturday night hot laps are scheduled for 7 PM, with racing at 7:35 PM. $3,000 is up for grabs in the finale of the 4th Annual Spring Nationals Presented by RacinJunk.com.
Lucas Oil Speedway Contingency Awards 4/14/17
Andy's Frozen Custard Victory Lane - Will Vaught
Casey's General Store's "Hard Charger of the Race" - Terry Phillips
DirtonDirt.com "Pole Award" - Payton Looney
Hooker Harness "11th Place" - Billy Moyer
KRC "Hard Luck Award" - Jacob Magee
Landrum Springs "Performer of the Race" - JC Wyman
Malvern Bank "Most Laps Led" - Tony Jackson Jr.
Midwest Sheet Metal "Points Leader Spoiler Challenge" - Will Vaught
Mittler Brothers Machine and Tool "Crew Chief of the Race" - Eric Barnes
Performance Bodies "Performer of the Race" - Will Vaught
Real Racing Wheels - Andrew Kosiski
Sunoco "Rookie of the Race" - Rodney Sanders
Wehrs Machine & Racing Products - Reid Millard
ProtectTheHarvest.com A Feature (25 Laps): 1. Will Vaught 2. Terry Phillips 3. Tony Jackson Jr. 4. Rodney Sanders 5. Jesse Stovall 6. Scott Crigler 7. Corey Zeitner 8. Payton Looney 9. Randy Timms 10. Chase Junghans 11. Billy Moyer 12. JC Wyman 13. Brantlee Gotschall 14. Justin Asplin 15. Cole Wells 16. Raymond Merrill 17. Joey Moriarty 18. Matt Buller 19. Scott Lewis 20. Andrew Kosiski 21. Shane Essary 22. Ricky Thornton Jr. 23. Jacob Magee 24. Reid Millard
Hoosier Racing Tires B Feature #1 (12 Laps): 1. Chase Junghans 2. JC Wyman 3. Matt Buller 4. Logan Martin 5. Joe Godsey 6. Josh Hughes 7. Al Humphrey 8. Joseph Gorby 9. Reid Millard 10. Gary Gorby 11. Brad Looney 12. Josh Poe 13. Mike Stadel
Sunoco Race Fuels B Feature #2 (12 Laps): 1. Randy Timms 2. Jacob Magee 3. Shane Essary 4. Jeremy Grady 5. Justin Reed 6. Eric Turner 7. Evan Hubert 8. Dylan Hoover 9. Jeff Roth 10. Blonde Bomber Mitchell 11. Cliff Morrow 12. Scott Lewis
HotRodProcessing.com Heat #1 (10 Laps): 1. Will Vaught 2. Tony Jackson Jr. 3. Ricky Thornton Jr. 4. Billy Moyer 5. JC Wyman 6. Logan Martin 7. Joe Godsey 8. Josh Hughes 9. Joseph Gorby 10. Brad Looney 11. Mike Stadel
Casey's General Stores Heat #2 (10 Laps): 1. Rodney Sanders 2. Andrew Kosiski 3. Terry Phillips 4. Joey Moriarty 5. Chase Junghans 6. Matt Buller 7. Al Humphrey 8. Gary Gorby 9. Reid Millard 10. Josh Poe
Chix Gear Heat #3 (10 Laps): 1. Cole Wells 2. Scott Crigler 3. Raymond Merrill 4. Justin Asplin 5. Shane Essary 6. Evan Hubert 7. Justin Reed 8. Dylan Hoover 9. Blonde Bomber Mitchell 10. Cliff Morrow
Malvern Bank Heat #4 (10 Laps): 1. Payton Looney 2. Jesse Stovall 3. Brantlee Gotschall 4. Corey Zeitner 5. Jacob Magee 6. Randy Timms 7. Jeremy Grady 8. Scott Lewis 9. Eric Turner 10. Jeff Roth
For all of the latest news and information fans are encouraged to visit the series website at www.MLRARacing.com