Sunday, April 2, 2017
Payton Looney scores first MARS win
By: Trenton Berry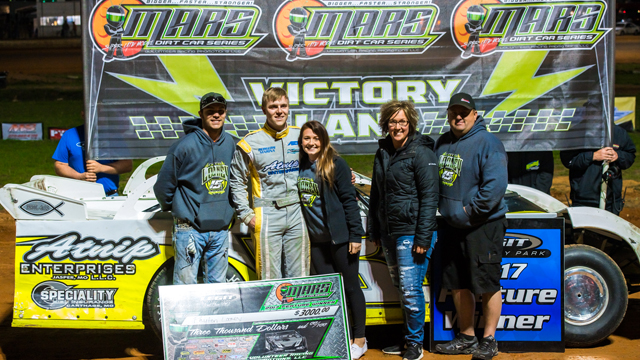 (Photo by: Mike Musslin)
Saturday was a special night for Payton Looney and the Atnip Enterprises team at Legit Speedway in West Plains, Missouri. He timed in third fast overall and started on the pole of the final heat race of the evening. Running away from the field he took the checkers and redrew the pole for the feature.
When the feature rolled out, Looney set the pace and led the entire way, in caputing the first MARS win of his young career. He had last July's MARS winner at West Plains, Tim Manville, breathing down his back nearly the entire way. They breifly touched in turn four late in the feature, and the contact slowed the momentum of Manville and allowed Tony Jackson Jr. the opportunity to slide into the runner up spot.
Sunday evening the MARS DIRTcar Series races at Lebann Midway Speedway. Race time is 6:30 PM.
MARS A Feature (35 Laps): 1. Payton Looney 2. Tony Jackson Jr. 3. Tim Manville 4. Terry Phillips 5. Raymond Merrill 6. Austin Rettig 7. Brad Looney 8. Jesse Stovall 9. Scott Crigler 10. Logan Martin 11. Josh Hughes 12. Justin Asplin 13. Randy Timms 14. Kaleb Stolba 15. Mason Oberkramer 16. Robby Moore 17. Carl Murphy 18. Dustin Mooneyham 19. Joe Godsey 20. Shannon Scott 21. Jeff Roth 22. Dylan Hoover