Sunday, March 19, 2017
Simpson sinks three pointer and competition in March Madness event
By: Trenton Berry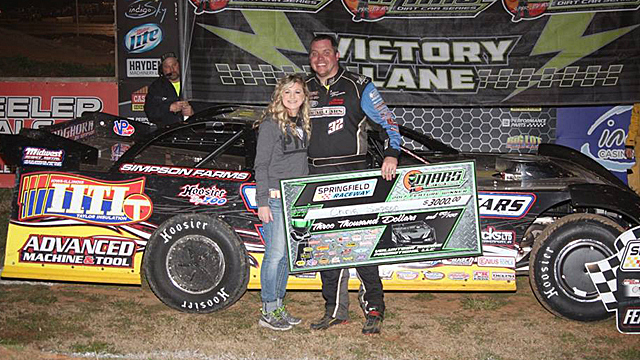 (Photo by: Ron Mitchell)
Springfield Raceway kicked off it's season Saturday with the running of the annual March Madness event. It featured the MARS DIRTcar series as well as several local support divisions. Oxford, Iowa's Chris Simpson took the checkers in his first visit to the quarter-mile track.
The feature event was slowed by two yellows. The first was a Justin Asplin flat tire, and the second was the ensuing restart when the field bunched up behind the leaders.
Chris Simpson rolled the low line of track to perfection and was only seriously challenged for a short time by Jesse Stovall on the races second restart. Stovall settled back to third and Tim Manville was the evening's runner up.
The win for Simpson was worth $3,000 with a $1,500 bonus for leading lap 15. He fired form the pole by way of a three point shootout among the evening's three heat race winners. Done in place of a traditional redraw, Simpson was the first of the three heat race winners to knock down a long range shot, Manville followed suit and rolled from the outside pole.
The night also paid tribute the late Patrick Johnson. Johnson was a regular competitor in the Late Model division, as well as a sponsor and friend to many involved in the sport. His number was 15 and the bonus money was raised in his honor. Patrick's daughter Madi is pictured above, with Simpson, in Victory Lane.
March Madness A Feature (35 Laps): 1. Chris Simpson 2. Tim Manville 3. Jack Sullivan 4. Jesse Stovall 5. Logan Martin 6. Shannon Scott 7. Scott Crigler 8. Brad Looney 9. Tony Jackson Jr. 10. Raymond Merrill 11. Jonathan Rowan 12. Randy Timms 13. Jacob Magee 14. DeWayne Keifer 15. Justin Asplin 16. Austin Rettig 17. Jeff Roth 18. Mason Oberkramer 19. Joseph Gorby 20. Payton Looney 21. Joe Godsey 22. Nick Whitehead
Heat Race Winners: Tim Manville, Chris Simpson, Jesse Stovall