Friday, March 10, 2017
Keeter walks away in Modifieds; Muilenberg and Kenney top Battle qualifying at Humboldt
By: Sam Stoecklin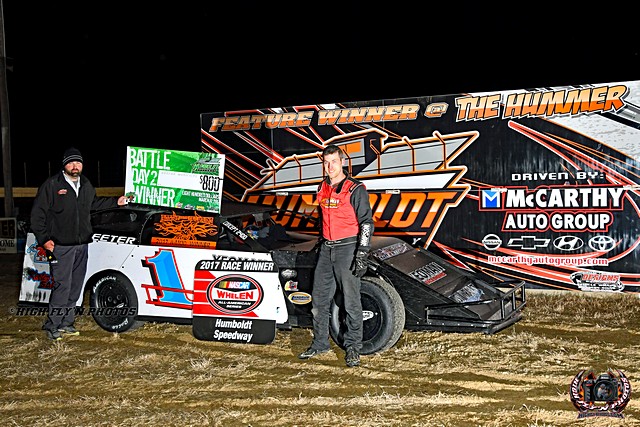 (Photo by: John Lee)
Night two at Battle at the Bullring III greeted drivers and fans with cooler temps but even those elements couldn't stop drivers from bringing the heat to the hallowed grounds of Humboldt Speedway.
The night began with round two heat races for B-Mod drivers as they worked to improve overall passing points. After completion of all heat races, Stephen Muilenburg of Sparta, Missouri and Brandon Kenney of Woodward, Oklahoma, ended in a tie for the lead over the 120-car field.
To conclude the rounds of competition, heat race number three winners included Brian McGowan and Andy Bryant of Kansas, Ryan Gilmore, Stephen Muilenburg, and Kris Jackson of Missouri, Mack Estey, Jason Vandekamp, and Scott Bintz of Minnesota, Oklahoman Travis Johnson, and Arkansas' John Briggs.
When drivers returned for the fourth and final heat, Kansan Dakota Foster, Illinois' Robbie Eilers, North Dakota's Randy Klein, Missouri's Gilmore, Wisconsin's Grant Southworth, JC Morton and Kanyan Methvin of Arkansas, and Oklahoman's Travis Johnson, Brandon Kenny, and Don Reid came away with victories.
The top 12 drivers locked into the main event after four heat races include Stephen Muilenburg, Brandon Kenney, JC Morton, Travis Johnson, 2015 winner Shawn Strong, Michael Truscott, Andy Bryant, Brian McGowen, Cody Smith, Justin Froemming, Randy Zimmerman, and Grant Southworth. The remaining drivers will compete in B-mains to try and lock themselves into Sunday's starting grid.
NASCAR Modifieds competed in five heats, two b-mains, and a 20-lap main event for 40 competitors on hand. Terry Schultz, Mitch Keeter, Kelly Estey, Jeremy Chambers, and Dustin Stand claimed heat-race wins while Lucas Rodin and Tad Davis drove to b-main victories.
Missouri drivers Terry Schultz and Mitch Keeter led the field to green for the $800-to-win main event. Keeter, who drove from tenth on the grid to finish second on night one, quickly shot out to an early race lead. At times, Keeter found himself nearly a full straightaway ahead of Schultz, Jeremy Chambers, and Kelly Estey, who were left to battle for runner-up honors.
Schultz ultimately retired early from the event with mechanical woes as Keeter continued his torrid pace out front. Meanwhile, Estey continued his strong run at the front for a second-consecutive night along with Parsons, Kansas driver Jeremy Chambers also near the front. Steve Holzkamper and Dustin Strand threw their names into the mix while night one winner, Jake Timm of Winona, Minnesota, began his charge to the front.
In the end, Mitch Keeter blistered the field for the night two victory as Chambers crossed the line in second position. Seventh-starting Jake Timm raced his way to the podium in third while Kelly Estey claimed fourth after Holzkamper was disqualified in post-race tech. Seventeenth-starting Josh Angst raced his way to a fifth-place finish as Jason Cummins, Dustin Strand, Cody Schniepp, Tad Davis, and Lucas Rodin rounded out the top ten.
Racing concludes Sunday afternoon with a series of B-Mod b-mains to set the grid for non-qualifier event and the $8,000-to-win main event. NASCAR Modifieds also return for another full program of preliminary races and a main event. All Battle at the Bullring drivers must check in at the pit entrance by 12:30 on Sunday. Fans and drivers are reminded that Daylight Savings Time takes effect at 2 a.m. Sunday morning, meaning clocks "Spring" forward one hour.
The finale will now take place on Sunday, March 12th with pits clearing at 11 a.m. A Sunday Morning Service will take place in the pit barn at 11:30 a.m. Modified hot laps begin at 1:30 with B-Mods hitting the track for heat races at 2 in the afternoon. Sunday admission prices are: $20 general admission, kids ages 6 to 12 years are $5, all pit passes are $35. The main event of the night will feature 25 drivers starting the Battle at the Bullring III, 50-lap main event.
Stay tuned to social media and the track website if weather becomes a factor for the event. Weather-related schedule adjustments and event info may be found at www.humboldtspeedway.com or on Facebook at www.facebook.com/thehumboldtspeedway. The speedway is located at 1663 Georgia Road, Humboldt, Kansas. General Track Phone is 620-473-3694 or 620-433-7180. Technical inspection questions may be addressed with Carl Flowers at 785-640-6104.
RacinDirt.com will broadcast all three nights available on pay-per-view featuring multiple cameras and announcers, driver interviews, and up-to-the minute results and breaking news from the event. For online viewing information visit www.racindirt.com for complete pay-per-view ordering details.