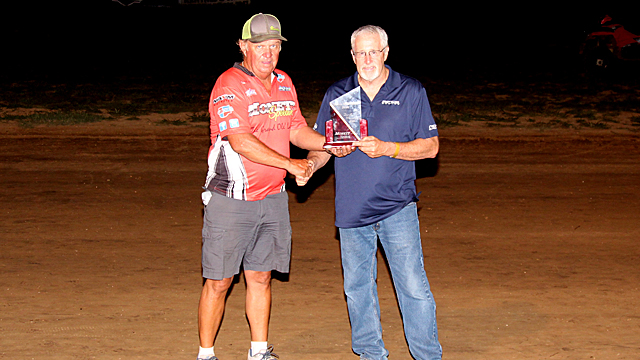 Tuesday, February 21, 2017
Randy Mooneyham reflects on storied career
The phone, which often rings reminiscent of the old Jerry Lewis Labor Day Telethon, stays mostly quiet these days. Silence seems downright golden to Randy Mooneyham in the two weeks since word spread that he's sold the iconic Monett Speedway.
Track News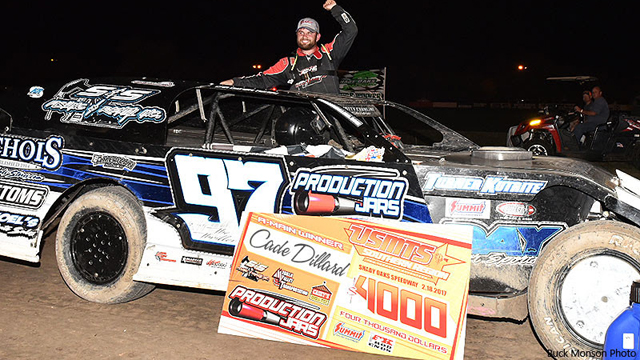 Saturday, February 18, 2017
Dillard thrills in Shady Oaks finale
The Shady Oaks Speedway saved the best for last with a barnburner 40-lap main event Saturday to close the curtain on the second of five Summit Racing USMTS Winter Speedweeks tripleheader weekends.
Series News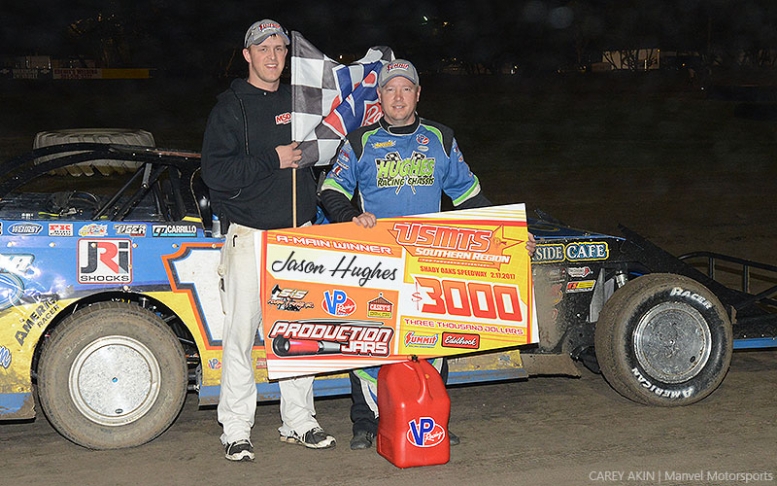 Friday, February 17, 2017
Hughes cuts through fog at Shady Oaks Speedway
Jason Hughes was in the right place at the right time, and a familiar place at the end of the 35-lap USMTS main event Friday night at the Shady Oaks Speedway. With fog thickening above the 3/8-mile dirt oval, Ricky Thornton Jr. jumped out to the early lead over Chris Brown while Hughes battled Travis Saurer for third. Winners of the last two features, Thornton and Brown battled up front for the …
Series News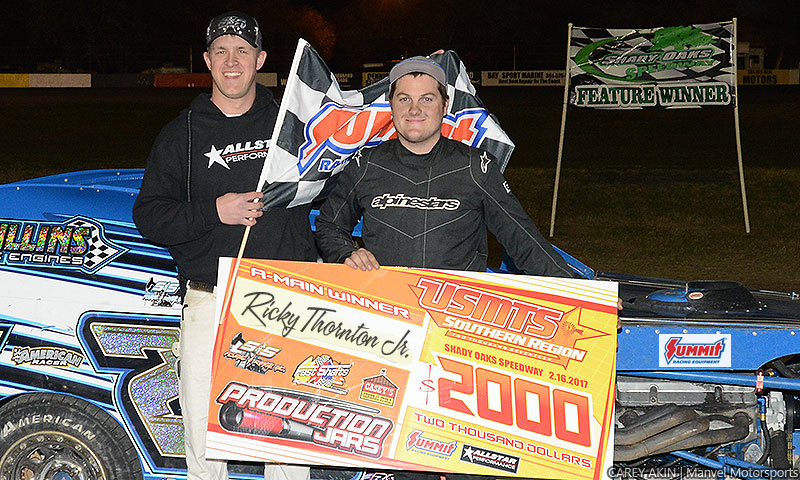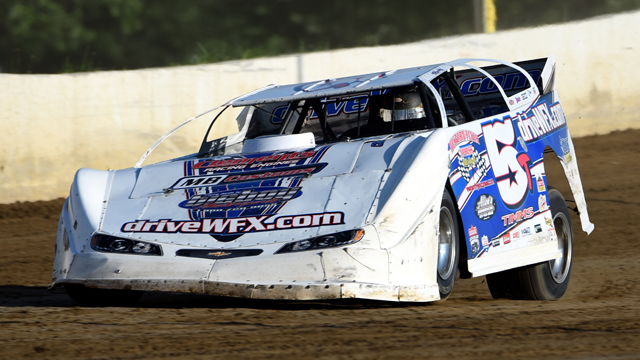 Wednesday, February 15, 2017
Randy Timms ready for busy season
During the 2016 season, Wheatland, Oklahoma's Randy Timms narrowed his racing focus and found a love of Dirt Late Models. Formerly he was a standout Modified racer, competing regularly with the USMTS. Over time he tested the Late Model waters, before going all in on the division this past year.
Series News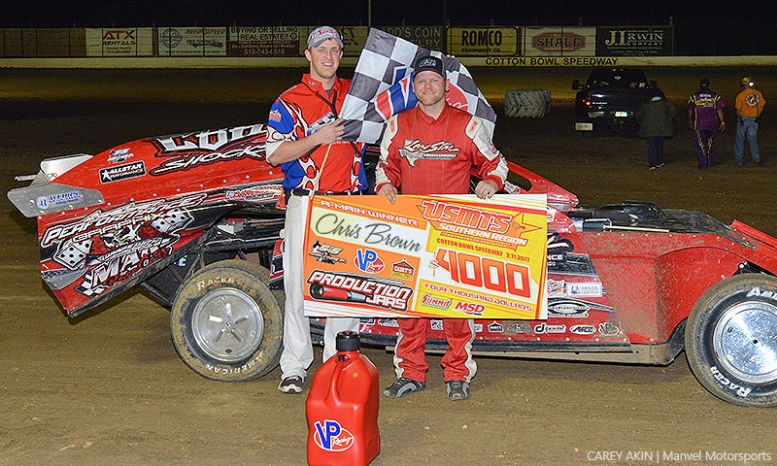 Saturday, February 11, 2017
Brown captures Cotton Bowl Speedway thriller
The USMTS capped off the inaugural visit to the Cotton Bowl Speedway on Saturday with a wild feature race and nail-biting finish that saw Chris Brown become the third different winner of the 2017 campaign. Polesitter Dereck Ramirez jumped out to the lead at the start of the 50-lap Summit Racing Southern Region "A" Main and led the first 33 laps before finally succumbing to the repeated challenges …
Series News
Saturday, February 11, 2017
Hughes picks apart USMTS challengers at Cotton Bowl Speedway
When Jason Hughes was asked last month at the USMTS awards banquet what the plans were for him and his new teammate, Ryan Gustin, his answer was "win every race." So far, so good. After struggling to notch a top-ten finish in Thursday night's Summit Racing Southern Region opener, the two-time defending USMTS national champion looked like Friday night's show might be more …
Series News
Thursday, February 9, 2017
Siebert on the mend and almost ready to go racing
It has been a little bit of a different offseason for Grandview, Missouri's Austin Siebert compared to previous years. During the final night of the 2016 Lucas Oil MLRA season at Lucas Oil Speedway, Siebert knocked front wheels with another competitor and it jerked the steering wheel out of his hands. He didn't think much about it at the time and the contact didn't even cause a yellow.
Series News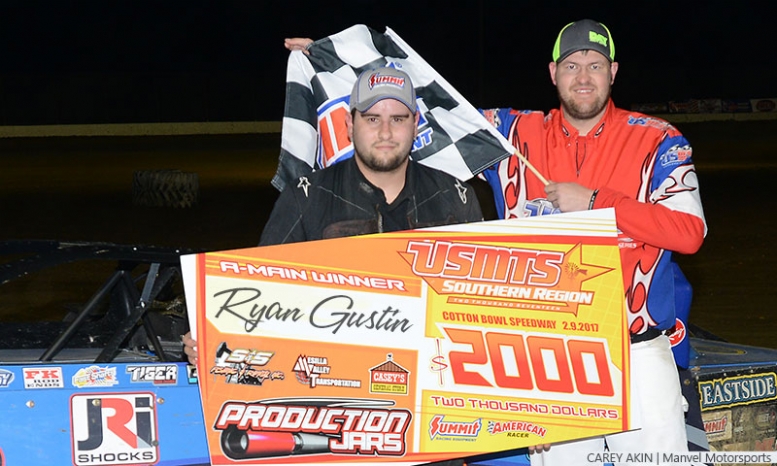 Thursday, February 9, 2017
Gustin draws first blood, wins USMTS opener at Cotton Bowl Speedway
Marshalltown, Iowa's Ryan Gustin picked up where le left off last November and notched his second straight USMTS victory with a wire-to-wire triumph in Thursday's season opener at the Cotton Bowl Speedway. The inaugural event for the United States Modified Touring Series at the two-year-old speedplant in Paige, Texas, was a gold-star battle of dirt modified firepower that saw four of the top ten m …
Series News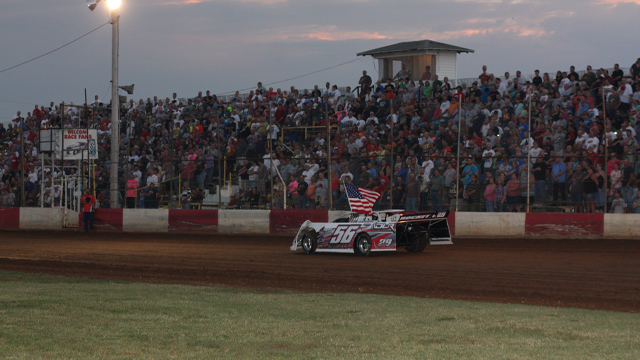 Wednesday, February 8, 2017
Monett Speedway sells; Randy Mooneyham retires
It has been a hot offseason rumor for several years. Long-time owner/promoter Randy Mooneyham never has been secretive about listening to suitors for Monett Speedway as he ticked toward traditional retirement age. Rumor became reality on Wednesday.
Track News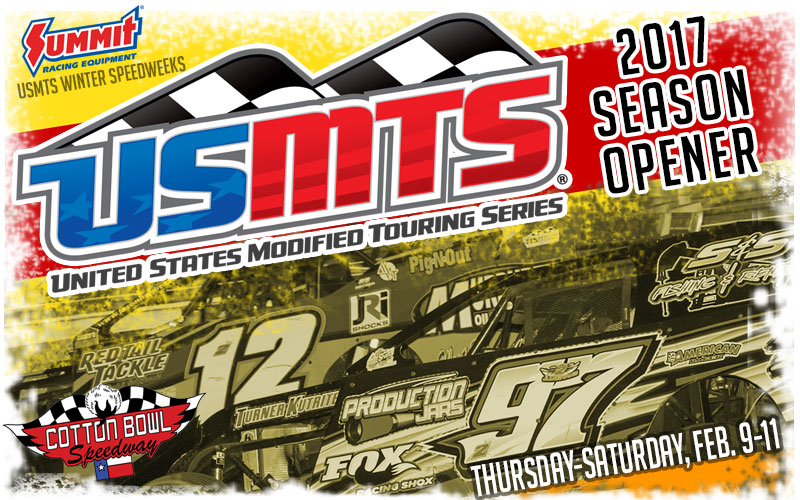 Tuesday, February 7, 2017
USMTS kicks off 19th season Thursday at Cotton Bowl Speedway
PAIGE, Texas (Feb. 7) -- Ninety-five days of silence will be broken this week when the United States Modified Touring Series kicks off the 2017 campaign with the annual Summit Racing USMTS Winter Speedweeks-a five-weekend slate of shows in Texas, Mississippi, Louisiana and Oklahoma. The 19th season featuring the Best of the Best in dirt modified racing takes place Thursday, Friday and Saturday, Feb. 9-11, at …
Series News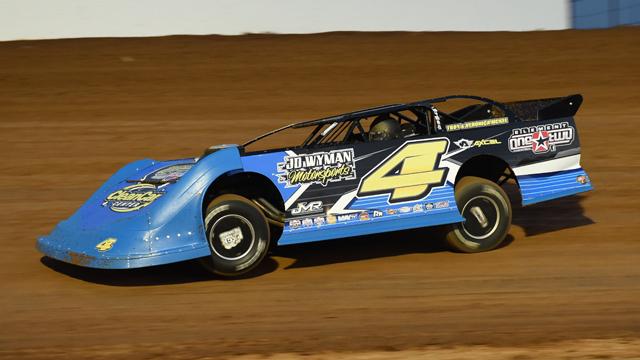 Monday, February 6, 2017
Wyman looking to build on successful 2016 season
Wheatland, Missouri (February 4, 2017) - Full speed ahead is the best way to describe the racing plans for Griswold, Iowa's JC Wyman. Having completed his second full year with the Lucas Oil MLRA in 2016, Wyman is preparing another assault on the tour which brings together many of the top drivers in the Midwest. "I really enjoy running with the Lucas Oil MLRA," commented Wyman. "All the peo …
Series News
Thursday, February 2, 2017
Duvall focused on 2017; Whitwell set to run opening two weekends
2017 has brought about a fresh approach for veteran racer Joe Duvall, no he's not laying off social media, switching car brands or engine builders. It's a new mental approach for him and the team. Through at least the first two weekends of the season, Duvall plans to have company consisting of Scott Drake and Joe Duvall, both of whom will be in 91 backup cars.
Industry News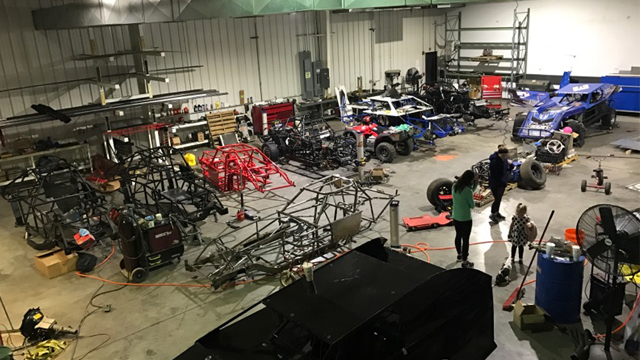 Wednesday, January 25, 2017
Morton to PCD Race Cars house car program
Coming off the 2016 USRA B-Mod National Championship, Springfield, Missouri's JC Morton had reason to celebrate. He parlayed that success and a stout resume built over the past decade into a meeting with Shield of Faith Motorsports owner Jared Thomson, who shares shop space and is affiliated with PCD Race Cars in Tonitown, AR.
Industry News