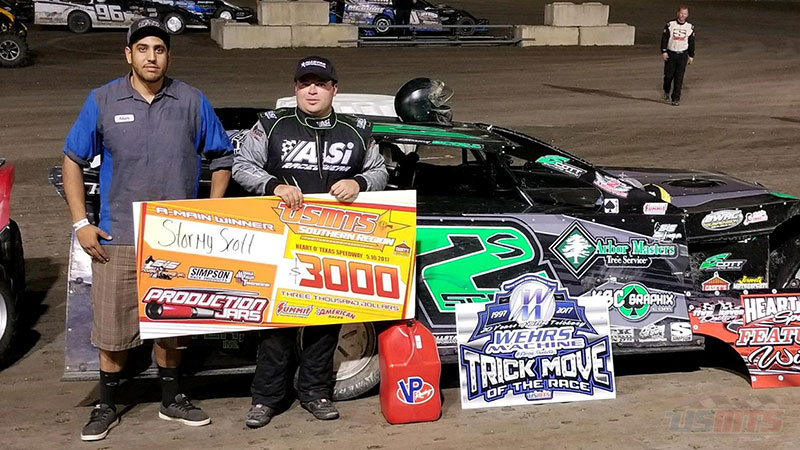 Wednesday, May 10, 2017
Scott leads 40th of 40 for 40th
ELM MOTT, Texas (May 10) -- Ryan Gustin was the first to see the white flag but Stormy Scott was the first so see the checkers in a heart-stopping hump day rumble at the Heart O' Texas Speedway. After claiming the Sybesma Graphics Pole Award, Trevor Egbert was the fastest out of the gate and led the first five laps of Wednesday night's USMTS feature at the 3/8-mile dirt oval near Waco. …
Series News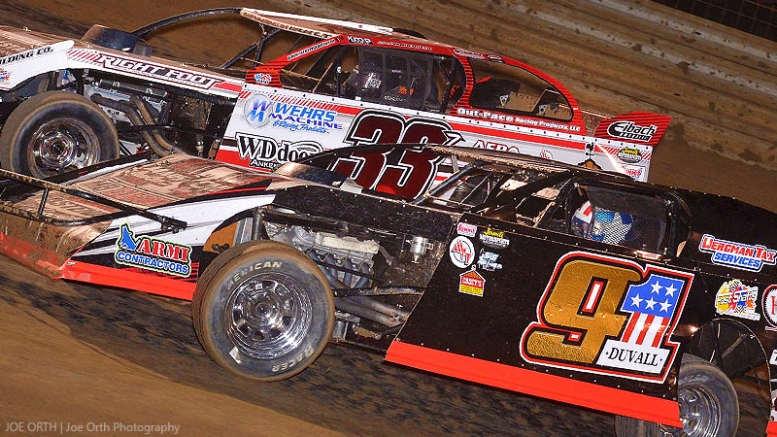 Tuesday, May 9, 2017
Four big nights ahead as USMTS puts a bow on Summit Racing Equipment Southern Region
The mud-chucking modified maniacs of the United States Modified Touring Series will embark on a four-night, four-track swing through Texas this Wednesday through Saturday, May 10-13, to wrap up this year's campaign in the Summit Racing Equipment USMTS Southern Region presented by Production Jars. Action kicks off on Wednesday at the Heart O' Texas Speedway in Elm Mott, followed by a Thursday night …
Series News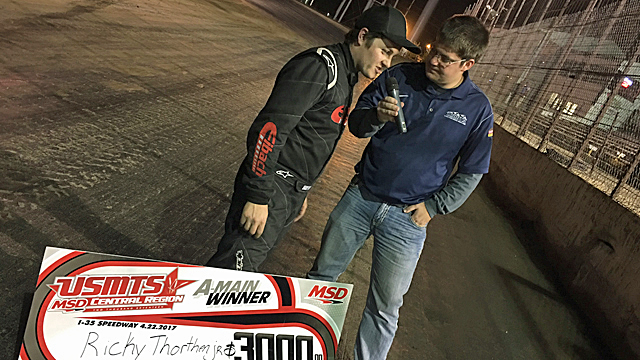 Tuesday, May 9, 2017
Hall set to oversee Salina Highbanks Speedway
With the racing season just getting underway in full force all across the Midwest, there is news from the Salina Highbanks Speedway in Salina, Oklahoma. Beginning in June, Bryce Hall will take the reins of one of the region's most successful and prestigious tracks.
Industry News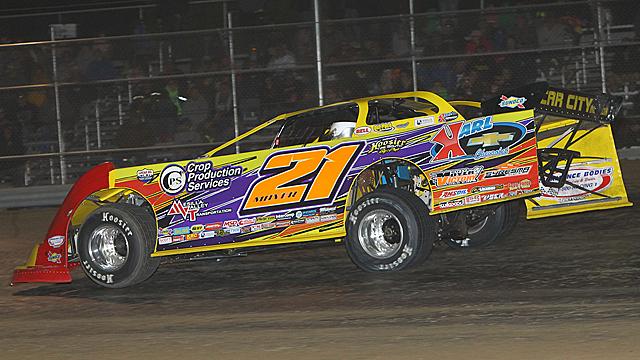 Sunday, May 7, 2017
Moyer dominates Lucas Oil MLRA stop in Independence
Independence, Iowa (May 6, 2017) - Saturday night wrapped up the weekend's trio of events for the Lucas Oil MLRA. DirtOnDirt.com polesitter Billy Moyer jumped out to the lead, and stormed away from the field for his second win of the season career win 818. "We just keep working at it, were doing a bunch of new stuff here," commented Moyer. "We've had a lot of ups ad downs. Were learning …
Series News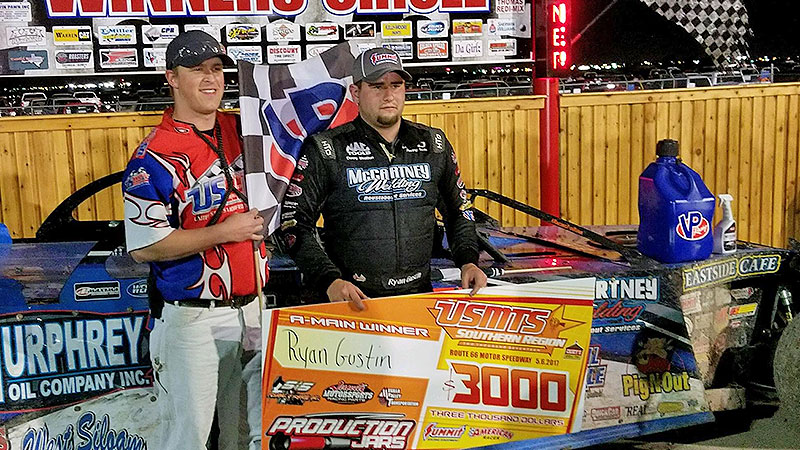 Sunday, May 7, 2017
Gustin ambushes USMTS posse in Amarillo
AMARILLO, Texas (May 6) -- After just barely making the cut for the main event in his heat race, Ryan Gustin rallied from the 11th starting spot to register his 81st career USMTS victory Saturday night during the 8th Annual Amarillo Ambush at the Route 66 Motor Speedway.
Series News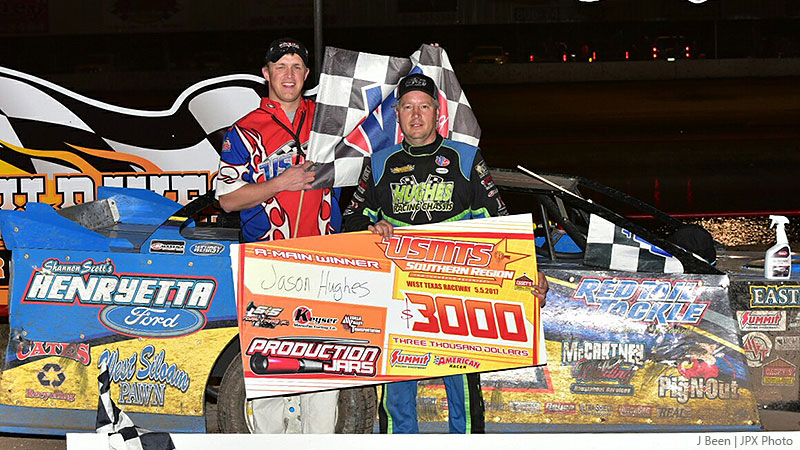 Saturday, May 6, 2017
Hughes wheels into West Texas Raceway winners circle
LUBBOCK, Texas (May 5) -- It looked like any one of three drivers in a late-race dog fight might pull off the win Friday night at the West Texas Raceway, but just as it had been on 148 previous occasions it was Jason Hughes standing in USMTS victory lane. Following two quick cautions on the first two laps of the race, it was clean and green for the rest of the 40-lapper as the Best of the Best in dirt modifie …
Series News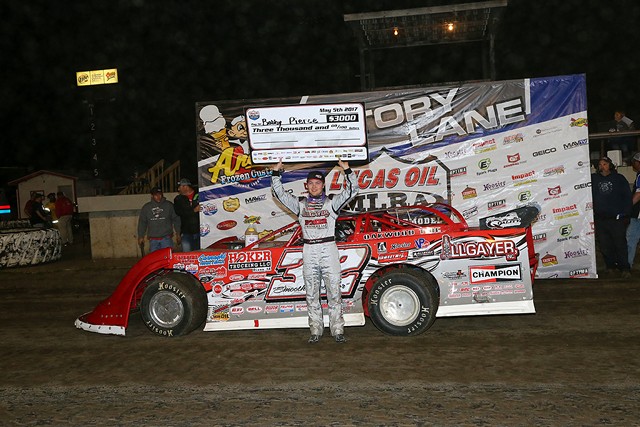 Friday, May 5, 2017
Pierce tackles topside for first Davenport victory
Bobby Pierce rolled into Davenport Speedway for the first time ever, Friday evening, and left with the $3,000 check. However, the win was far from easy. There were 31 cars total gunning for the checkers. The win is the fifth for Pierce this season and second ever with the Lucas Oil MLRA.
Series News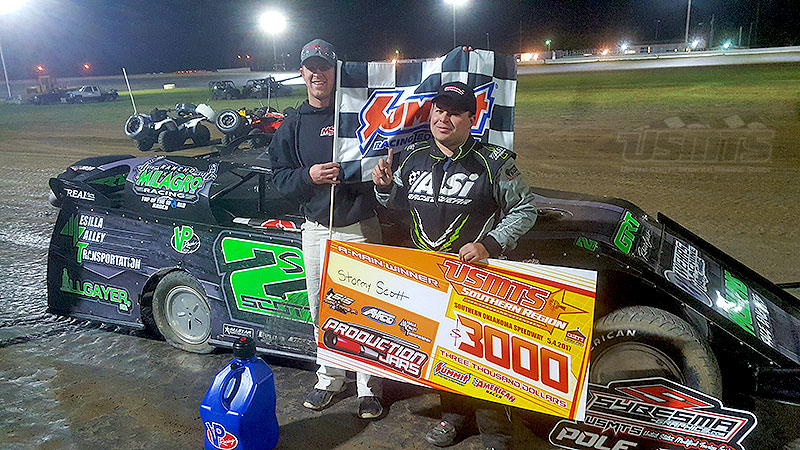 Thursday, May 4, 2017
Scott rock solid in USMTS stint at Southern Oklahoma Speedway
ARDMORE, Okla. (May 4) -- It took him 20 races to get his first of the year, and now Stormy Scott has won two of the last three United States Modified Touring Series main events after an impressive wire-to-wire win at the Southern Oklahoma Speedway Thursday night. After receiving the Sybesma Graphics Pole Award, Scott led Cade Dillard the entire 40-lap distance to garner his 39th career USMTS victory and pock …
Series News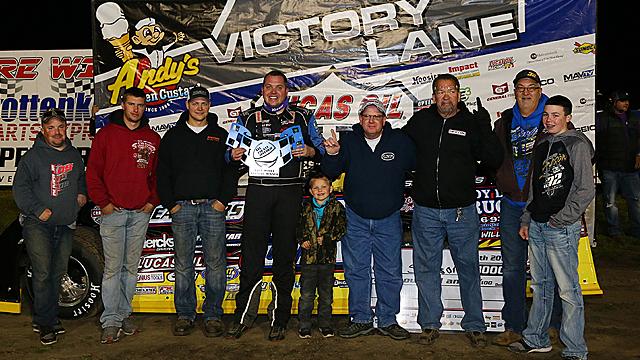 Thursday, May 4, 2017
Simpson shows the way in Donnellson
Donnellson, Iowa (May 4, 2017) - Chris Simpson started the season strong and he kept riding the wave of success, Thursday night at Lee County Speedway in Donnellson, Iowa. Simpson fired from the DirtOnDirt.com pole, and led every lap for his first Lucas Oil MLRA win of the year and third overall. The race was not without it's share of intrigue. With nine laps remaining, Simpson shot to the outside of Bren …
Series News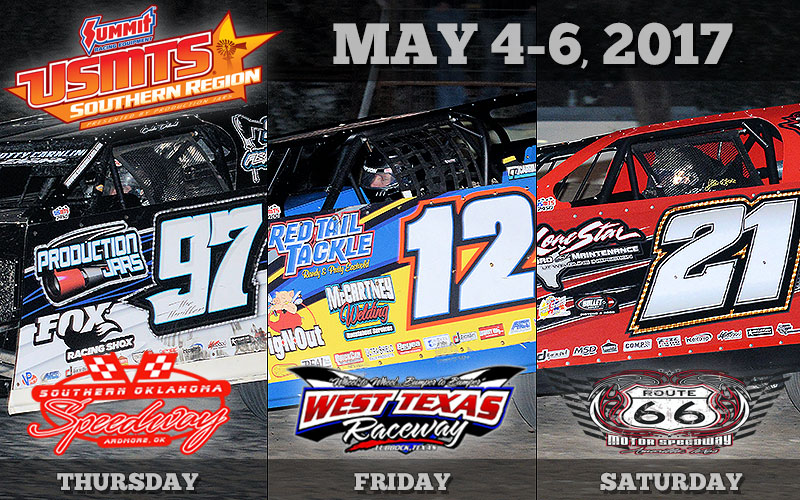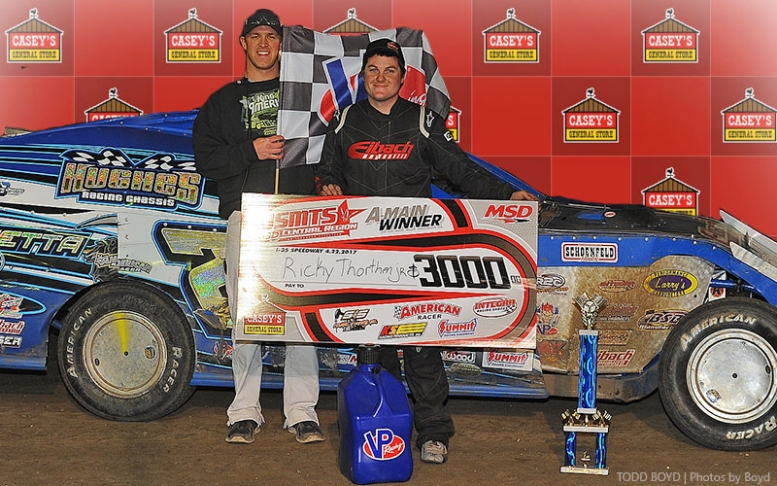 Sunday, April 23, 2017
Thornton does it again, wins 9th Annual USMTS Missouri Meltdown
Ricky Thornton Jr. collected his second USMTS Casey's Cup MSD Central Region win of the weekend Saturday night at the I-35 Speedway for the 9th Annual USMTS Missouri Meltdown. It was also the third straight weekend that Stormy Scott led at least one lap in the main event, and he paced the first ten laps around the 3/8-mile clay oval before giving way to Cade Dillard in lapped traffic. Sco …
Series News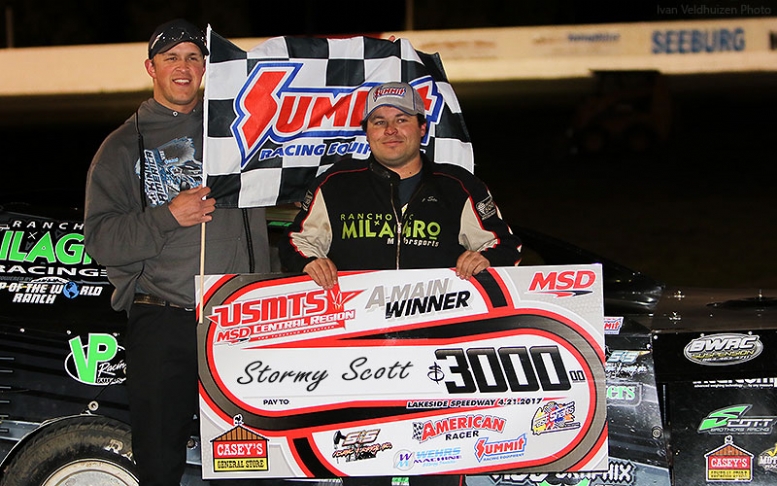 Saturday, April 22, 2017
Sibling's sorrow sends Stormy Scott to Lakeside Speedway winners circle
Chasing his twin brother around the bottom of the race track Friday night, Stormy Scott inherited the lead after lapped traffic doomed Johnny Scott with four laps to go, netting Stormy his first USMTS win of the season and first at the Lakeside Speedway. The first two-thirds of the 30-lap main event at the historic half-mile in Kansas City was a barn-burner between Johnny Scott and Thursday night's winn …
Series News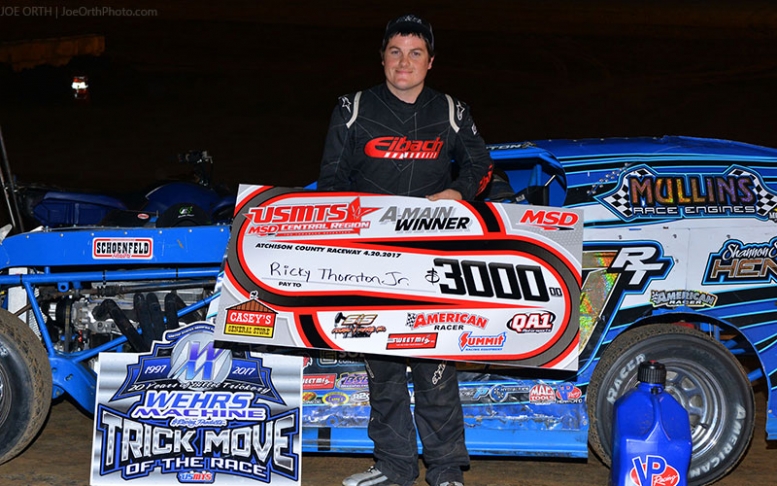 Friday, April 21, 2017
Thornton conquers The Cage
Twenty-six days of silence was broken Thursday night when the USMTS Casey's Cup powered by S&S Fishing & Rental invaded the Atchison County Raceway and refired the engines for the 2nd Annual Cage Match. The Scott brothers—Johnny and Stormy—filled the front row for the start of the 50-lap MSD Central Region main event, and Stormy Scott jumped out to lead the first 13 laps until the ra …
Series News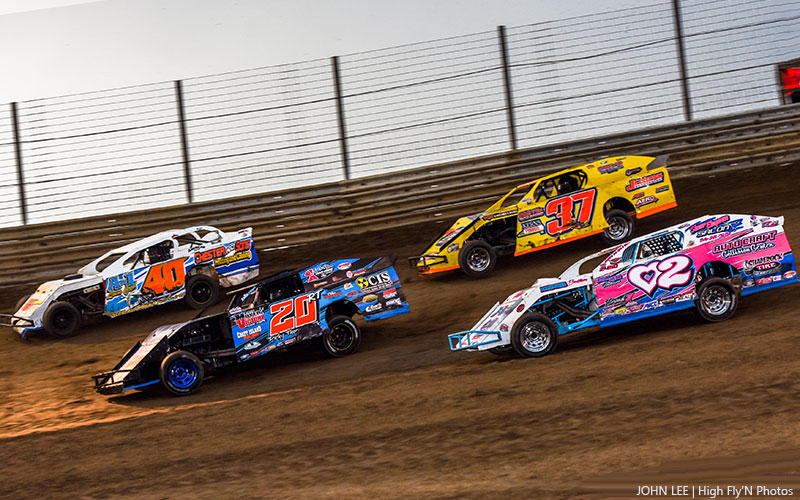 Thursday, April 20, 2017
USMTS ready for Thursday night rage in The Cage
ATCHISON, Kan. (April 19) -- The battling beasts of the USMTS awaken from their 26-day slumber Thursday night with a return to the exciting Atchison County Raceway to kick off a three-day weekend of racing in the tough MSD Central Region presented by Summit Racing Equipment. Following Thursday's thrash-fest, the tripleheader continues Friday at the Lakeside Speedway in Kansas City, Kan., and then wraps up …
Series News