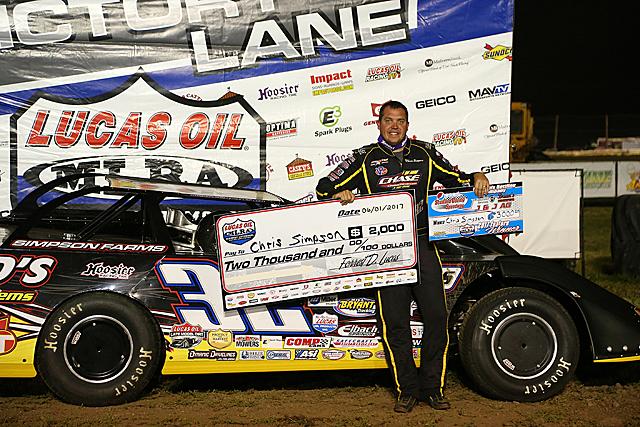 Thursday, June 1, 2017
Simpson is class of the field in Memphis
Memphis, Missouri (June 1, 2017) - Scotland County Speedway in Memphis, Missouri played host to the Lucas Oil MLRA Thursday night. Chris Simpson qualified on the outside pole for the 25 lap main event and immediately jumped out front. He set a blistering pace and walked away from the competition to score his second Lucas Oil MLRA win of the season. "I seen Jesse miss the bottom and slide t …
Series News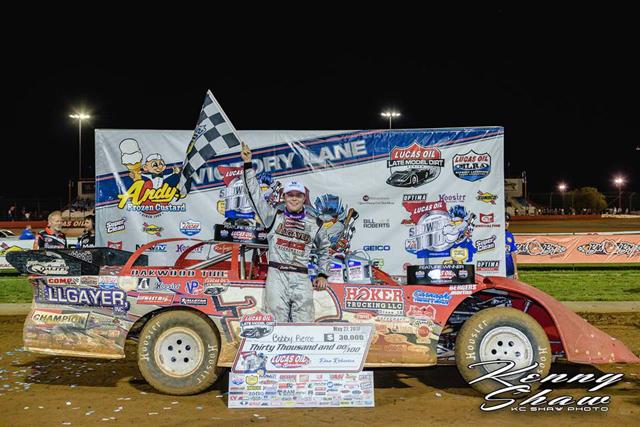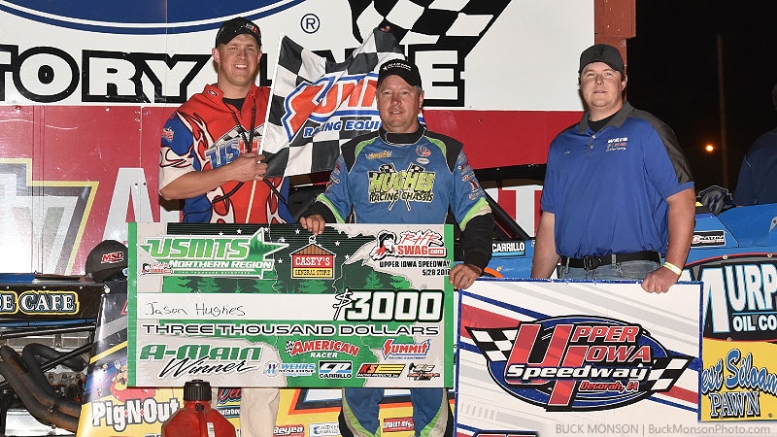 Sunday, May 28, 2017
Hughes rolls to Upper Iowa Speedway win
In search of his third straight USMTS National Championship and fourth overall, Jason Hughes rolled to his fifth victory of the season Sunday during the 10th Annual Nordic Nationals at the Upper Iowa Speedway
Series News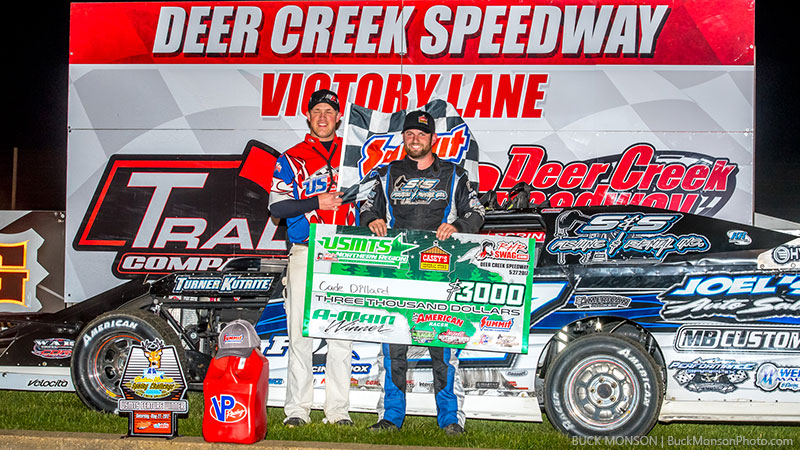 Friday, May 26, 2017
Dillard bounces back at Deer Creek
SPRING VALLEY, Minn. (May 27) -- Cade Dillard put the sour taste of Friday night's late-race collapse in the rear view mirror Saturday night with the sweet taste of victory at the Deer Creek Speedway. Dillard, who passed Josh Angst at the halfway point of the 40-lap main event, led the final 21 laps to score his seventh Casey's USMTS National Tour victory of the season and first in the RHRSwag.com Nor …
Series News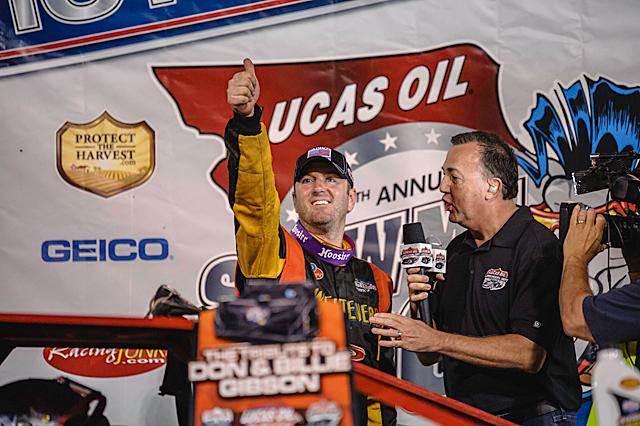 Friday, May 26, 2017
McCreadie captures Don and Billie Gibson tribute
Tim McCreadie took the lead on lap 30 from race-leader Jimmy Owens and then went on to win the 40-lap, Tribute to Don and Billie Gibson on Friday night at Lucas Oil Speedway. The event was co-sanctioned by the Lucas Oil Late Model Dirt Series and the Lucas Oil MLRA Series.
Series News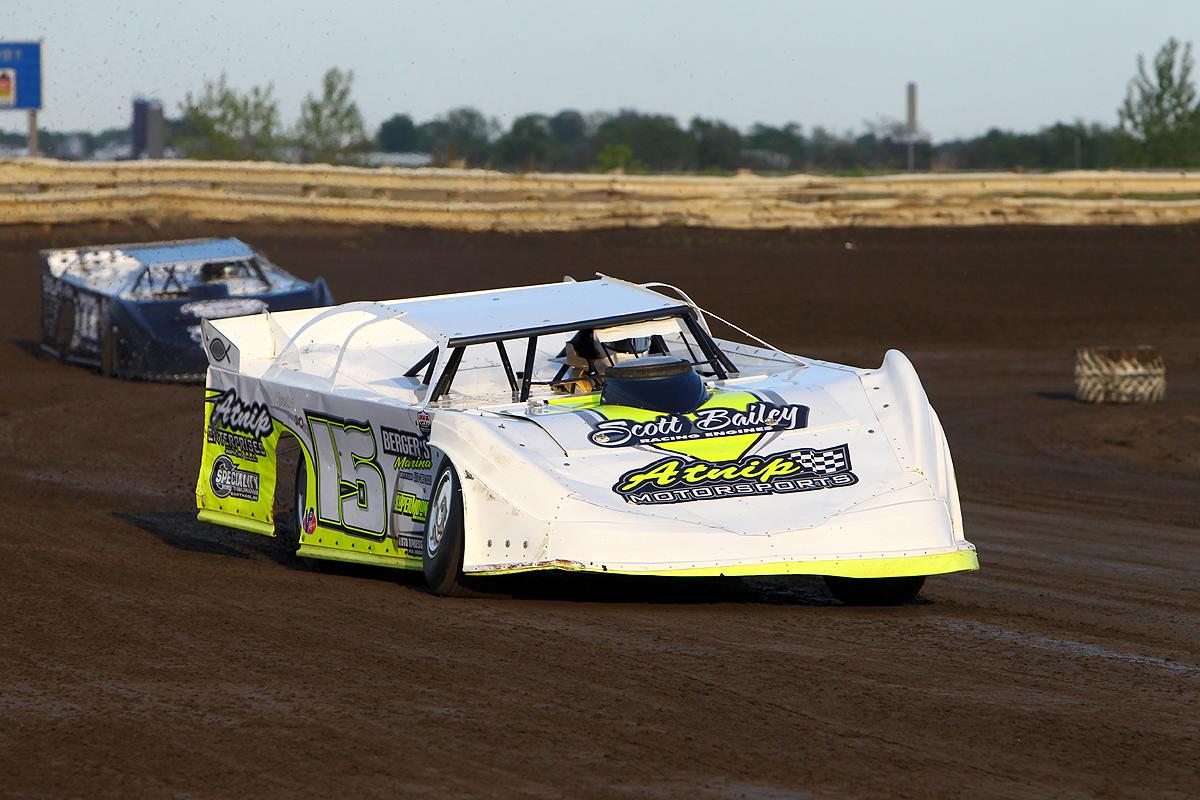 Wednesday, May 24, 2017
Looney and Grady ready for Show Me 100 weekend
Wheatland, Missouri (May 24, 2017) - This weekend is a big one for Dirt Late Model racing. The 25th running of the Lucas Oil Show Me 100 Presented by ProtectTheHarvest.com fires off Thursday evening, culminating with Saturday's $30,000 to win feature at Lucas Oil Speedway in Wheatland, Missouri. It is the first traditional Late Model Crown Jewel of the season. Thursday and Friday will feature $6,000 to wi …
Series News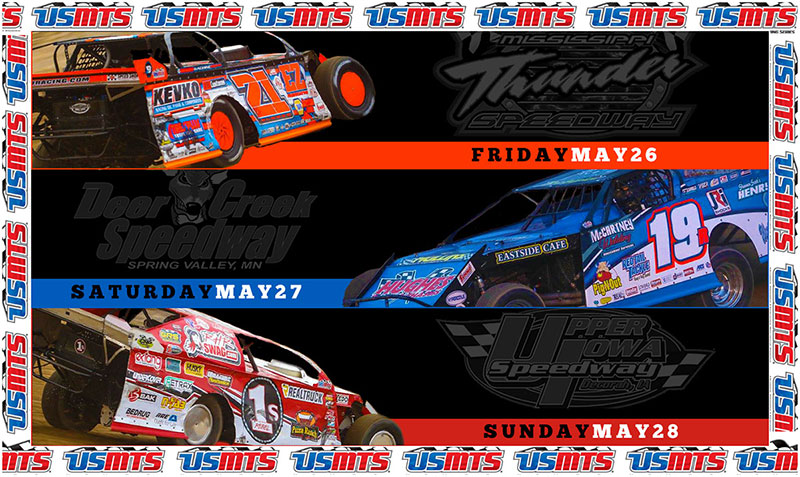 Wednesday, May 24, 2017
USMTS buckles up for Memorial Day Weekend tripleheader
FOUNTAIN CITY, Wis. (May 23) -- A tripleheader of events in the RHRSwag.com USMTS Northern Region are on tap for Memorial Day Weekend, May 26-28. On Friday, the series heads to Fountain City, Wis., to battle at the Mississippi Thunder Speedway, and then it's on to the Deer Creek Speedway in Spring Valley, Minn., on Saturday before wrapping up the whirlwind weekend on Sunday at the Upper Iowa Speedway in D …
Series News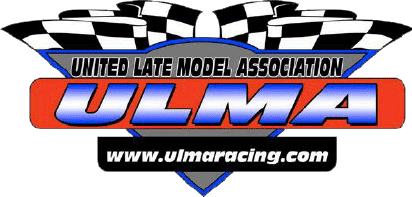 Tuesday, May 23, 2017
Fennewald, Marrant, and Hodges Latest to Score ULMA Victories!
Race numbers five, six, and seven recently produced three different winners during 2017 Lucas Cattle Company ULMA events. Despite some less than desirable weather in recent weeks, Callaway Raceway in Fulton and Lucas Oil Speedway in Wheatland hosted drivers and fans for their respective race programs.
Series News
Monday, May 22, 2017
Silver Anniversary edition of Show-Me 100 rolls into Lucas Oil Speedway for three big nights
WHEATLAND, Missouri (May 22, 2017) - One of the biggest weeks of the year for dirt-track racing has arrived and it's a special Silver Anniversary edition rolling into Lucas Oil Speedway, Thursday-through-Saturday. The 2017 Show-Me 100 Presented by ProtecttheHarvest.com marks the 25th renewal of the crown-jewel event which began in 1993 at West Plains Motor Speedway. The event is co-sanctioned by the Lucas …
Series News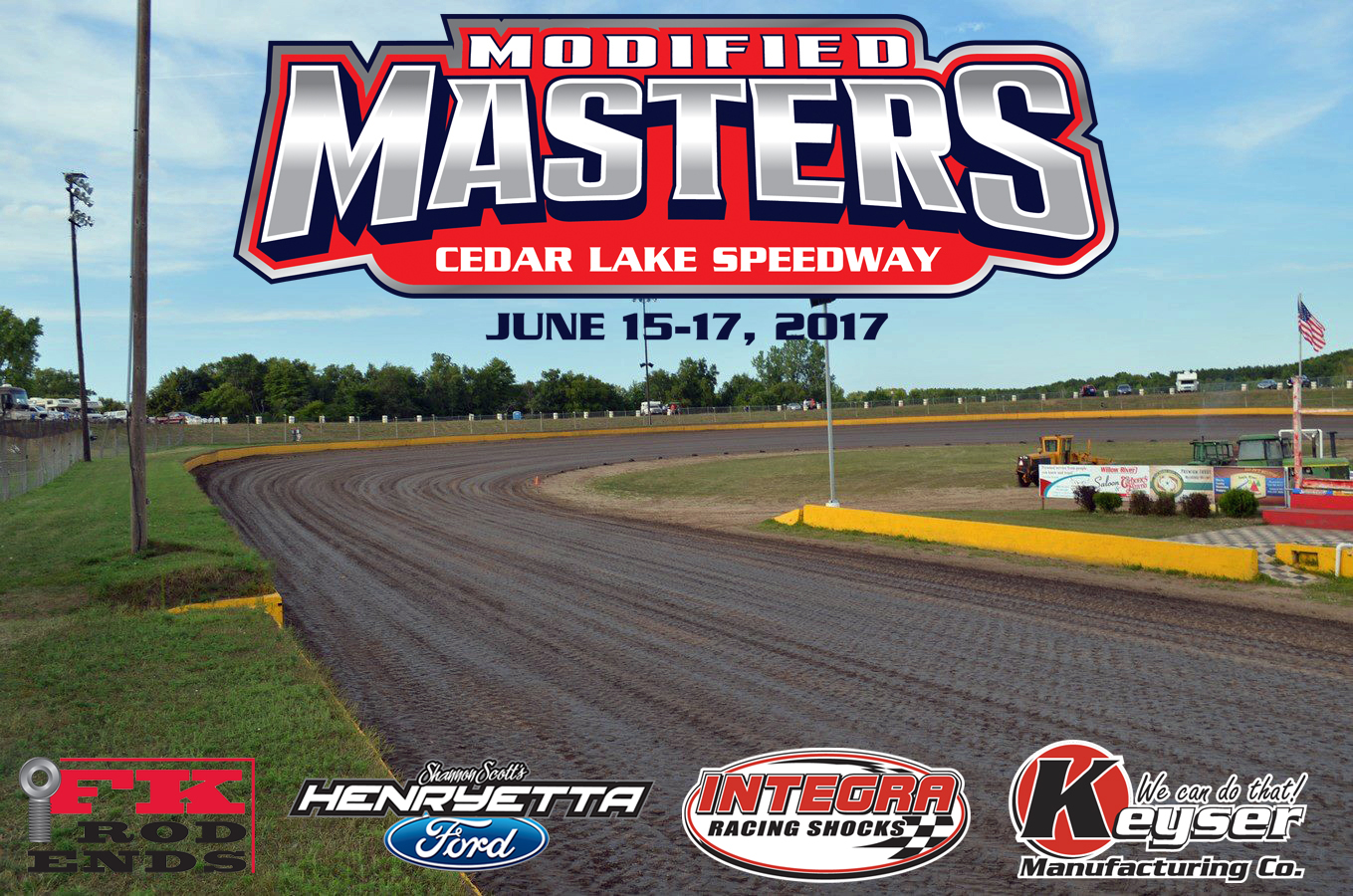 Sunday, May 21, 2017
Modified Masters Live on RacinDirt.com
With less than a month to go before the biggest race in the history of the USMTS, the dirt Modified world is busy preparing for the mega-event to be held at Cedar Lake Speedway in New Richmond, Wisconsin. Known for hosting a number of national marquee events, this is the first time in track history they have paid out $50,000 for a Modified event.
It all begins …
Series News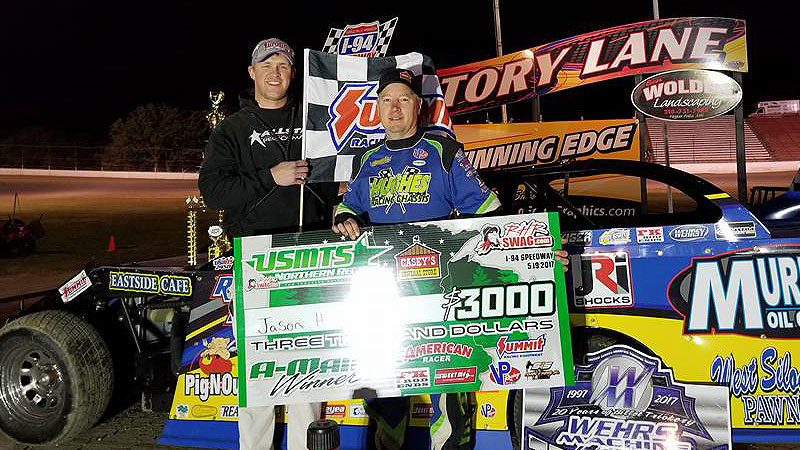 Friday, May 19, 2017
Hughes chalks up 150th USMTS win at I-94 Speedway
FERGUS FALLS, Minn. (May 19) -- Jason Hughes was behind the eight-ball all night Friday at the I-94 Speedway, but after the checkered flag waved the three-time USMTS national champion was in front of the cameras and standing in victory lane for the 150th time after a United States Modified Touring Series feature race. Meanwhile, a crop of rookie drivers took their shots at the front. Brent Dutenhoffer garnere …
Series News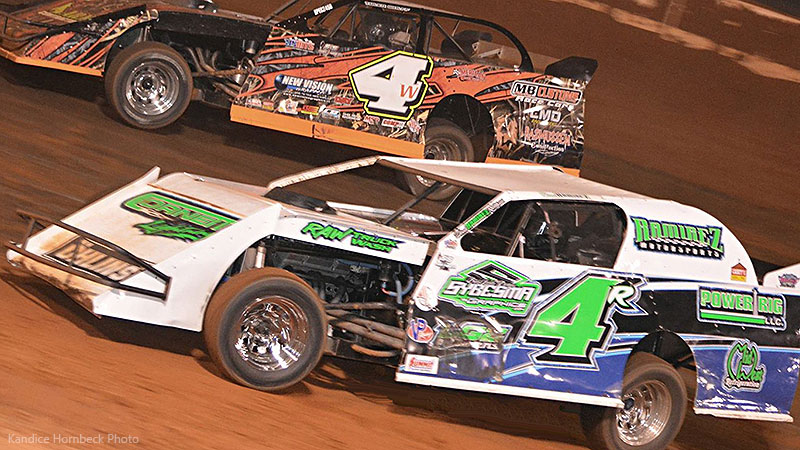 Wednesday, May 17, 2017
USMTS embarks on three-day swing to kick off RHRSwag.com Northern Region slate
OGILVIE, Minn. (May 16) -- We're not even to Memorial Day Weekend yet, and already the United States Modified Touring Series has 27 shows in the books, including the entire 21-race Summit Racing Equipment USMTS Southern Region. But now the snow is all but a memory and the earth is beginning to warm up farther north of the equator, so it's time for the Best of the Best in the dirt modified world to hel …
Series News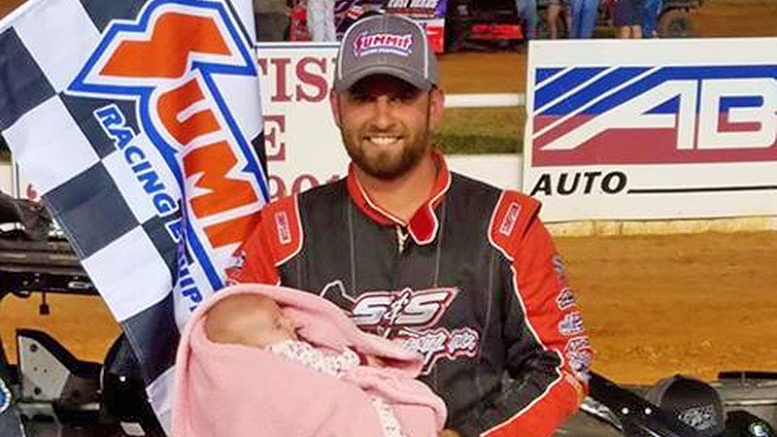 Sunday, May 14, 2017
Dillard takes 4th Annual Summit Spring Modified Nationals at Lonestar Speedway
Cade Dillard secured his sixth USMTS victory of the season Saturday night at the Lonestar Speedway after Jon Mitchell was denied the first of his career when he came up light at the scales following an apparent win at the 4th Annual Summit Spring Modified Nationals. From the outside of the front row, Mitchell led all 35 laps with Dillard close behind the entire distance, but during post-race technical inspect …
Series News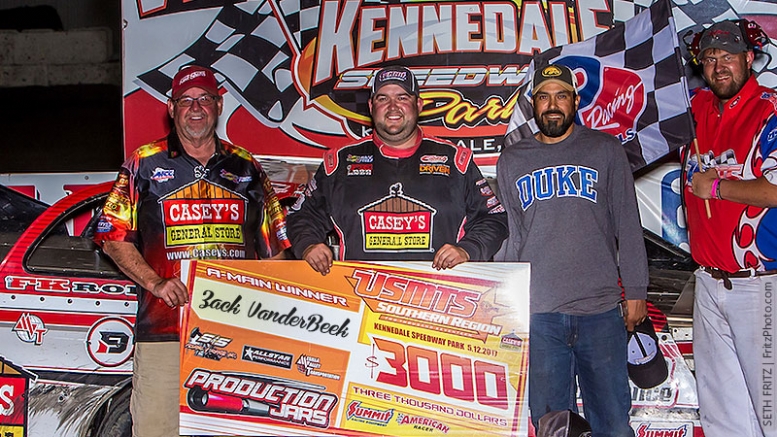 Friday, May 12, 2017
VanderBeek breaks through with Summit Showdown victory at Kennedale
One of the most entertaining main events of the season took place Friday night at the Kennedale Speedway Park, followed up by one of the biggest celebrations of the year after Zack VanderBeek notched his first United States Modified Touring Series victory since early last September. A top-to-bottom smooth, slick racing surface allowed drivers to race anywhere they felt good, and the usual suspects were in the …
Series News