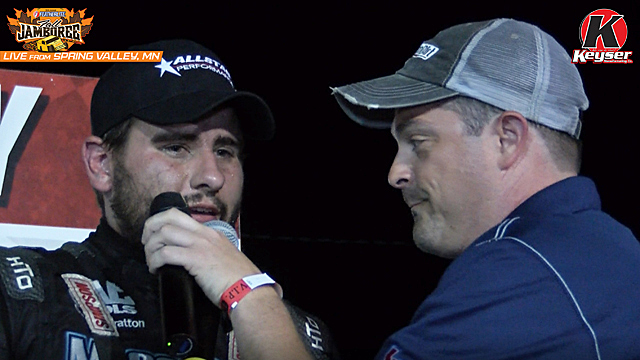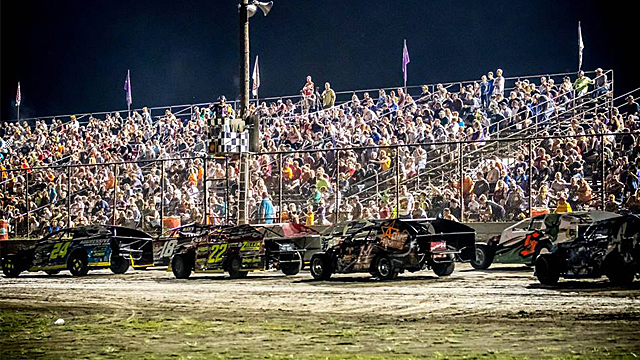 Friday, September 22, 2017
Mod Mania LIVE for the first time ever
For the first time ever, Tri-City Speedway in Granite City, IL will go LIVE for the running of the "Summit Racing Equipment Modified Mania Dirt Nationals." Held Thursday, September 28, through Saturday, September 30, this can't miss event is one of the largest Modified events in the country.
Track News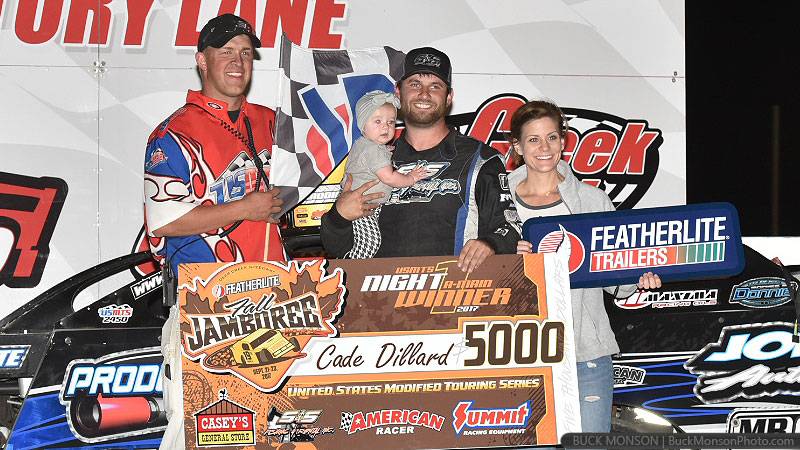 Thursday, September 21, 2017
Dillard wins the battle, Hughes wins the war in Featherlite Fall Jamboree opener
SPRING VALLEY, Minn. (Sept. 21)--In a repeat of opening night at last year's Featherlite Fall Jamboree, Cade Dillard won the battle but Jason Hughes won the war. This time, however, Dillard was not under the pressure of having to outrun Hughes for the chance at becoming the USMTS national champion, and Hughes needed no late-race heroics to hang on to his crown. When the night began, Stormy …
Series News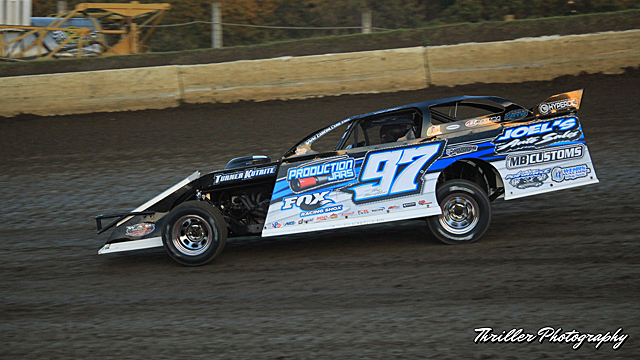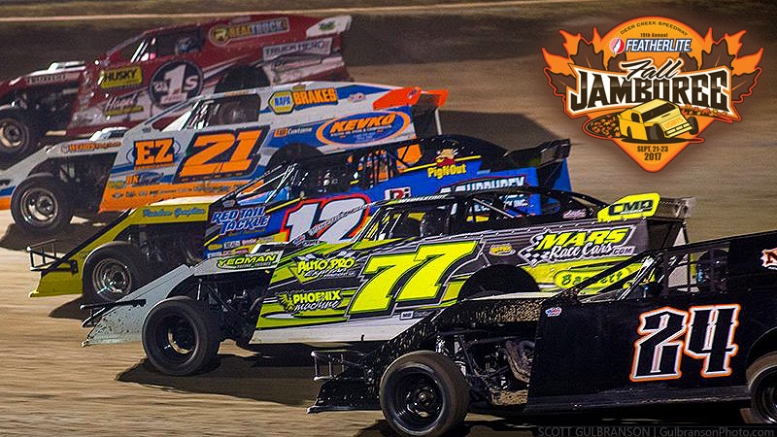 Monday, September 18, 2017
19th Annual Featherlite Fall Jamboree approaching fast
The 19th Annual Featherlite Fall Jamboree gets underway Thursday, Sept. 21, at the Deer Creek Speedway in Spring Valley, Minn., where the world's elite Modified and B-Mod drivers will be racing for three nights and nearly $150,000 in posted prize money.
Series News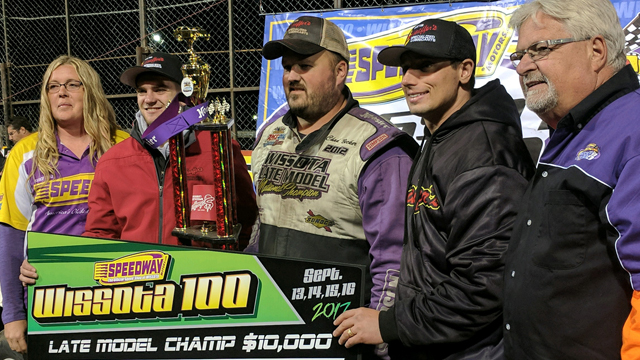 Saturday, September 16, 2017
Becker and Gilbertson highlight WISSOTA 100 finale
A great Friday night during qualifying, put Chad Becker in the middle of the front row for the WISSOTA 100 Late Model feature. He pulled away from the outset and lead every lap in the caution free feature. His dominant win was worth $10,000 at the Dakota State Fair Speedway.
Track News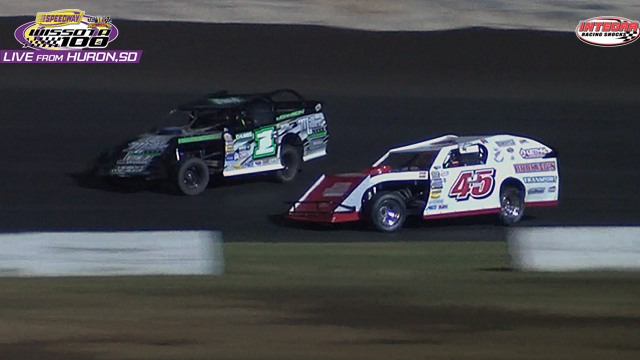 Thursday, September 14, 2017
Johnson and Provinzino top night two qualifying in Huron
Thursday at the 32nd Annual Speedway Motors WISSOTA 100 was qualifying for the outside row of Saturday's championship feature events. When the dust settled, Tim Johnson topped the Modified field and Jeff Provinzino showed the way in the Late Model ranks.
Track News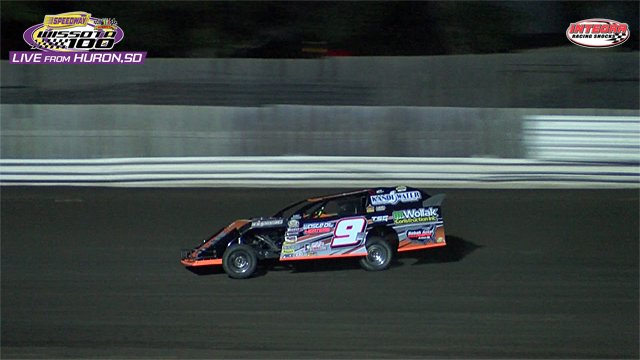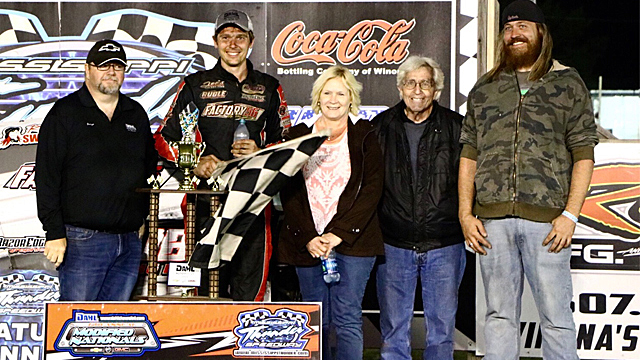 Sunday, September 10, 2017
Jackson knocks down MTS B Mod Nationals
With 100 feature wins in the B-Modified division going into Saturday night, Lebanon, Missouri pilot Kris Jackson came away with his richest win ever -- $10,000 -- for victory number 101.
Track News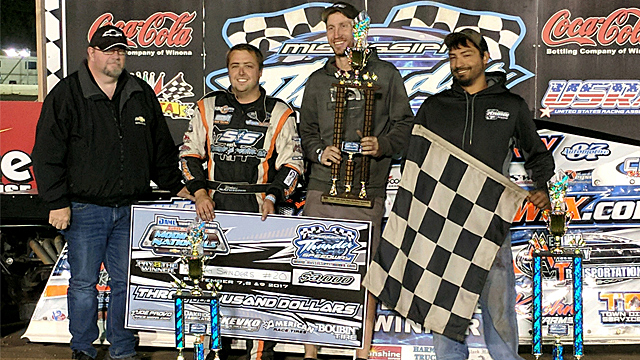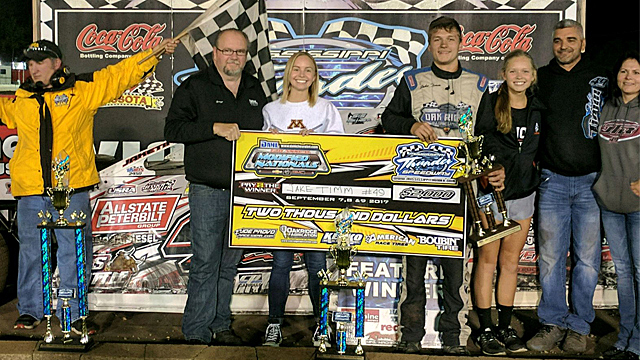 Thursday, September 7, 2017
Timm blisters field in Fountain City Opener
Thursday's opening round of the Mississippi Thunder Speedway Modified Nationals was all Jake Timm. He won his heat ealry in the evening and fired from the pole in the caution free 30 lap feature. Behind Timm, Adam Hensel and Jason Cummins completed the top three.
Track News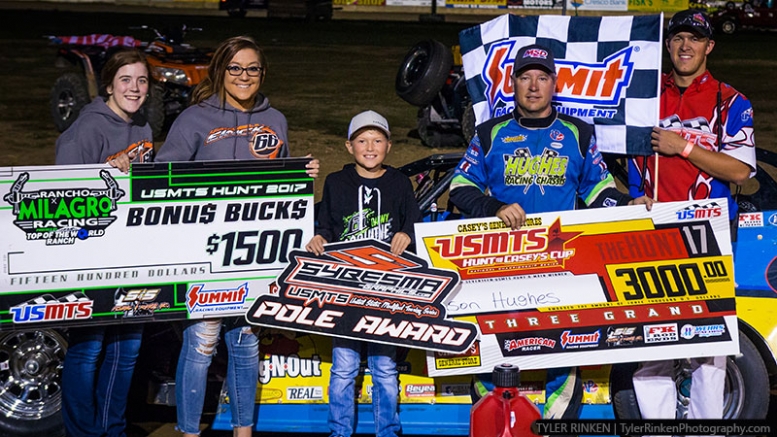 Sunday, September 3, 2017
Hughes nips Scott at Cresco, has fourth USMTS crown in his crosshairs
With Stormy Scott breathing down his neck in the points battle, Jason Hughes grabbed another gear Sunday night at the Cresco Speedway and led every lap of the main event to claim his fourth main event win in the USMTS Hunt for the Casey's Cup powered by S&S Fishing & Rental. At the end of the 40-lapper, Scott was still breathing down his neck but Hughes led at the finish with a 0.064-second marg …
Series News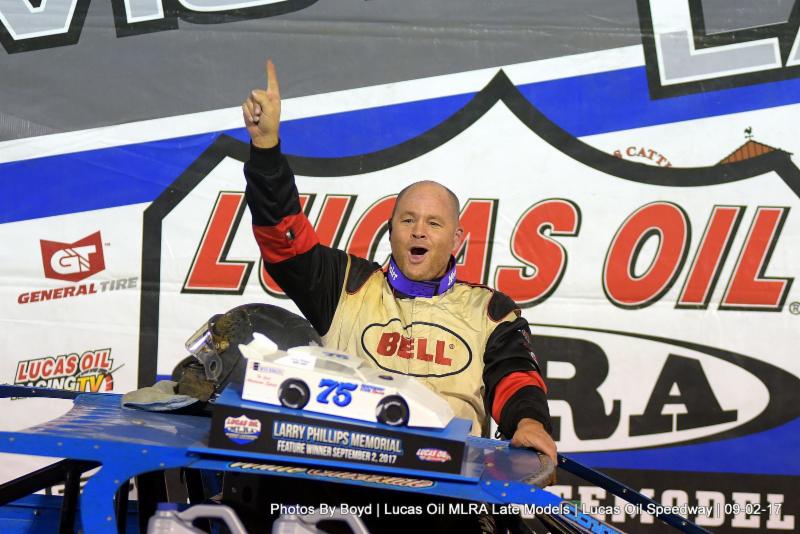 Saturday, September 2, 2017
Timms takes checkers in Larry Phillips Memorial
Wheatland, Missouri (September 2, 2017) It was all smiles for Randy Timms and his team following the running of the Larry Phillips Memorial, Saturday night, at Lucas Oil Speedway, in Wheatland, Missouri. Starting 14th Timms pushed forward early on and proved he was going to contend. The win for Timms is his first ever in Lucas Oil MLRA action. However, it took a crazy late race turn for the winner to emerge. …
Series News